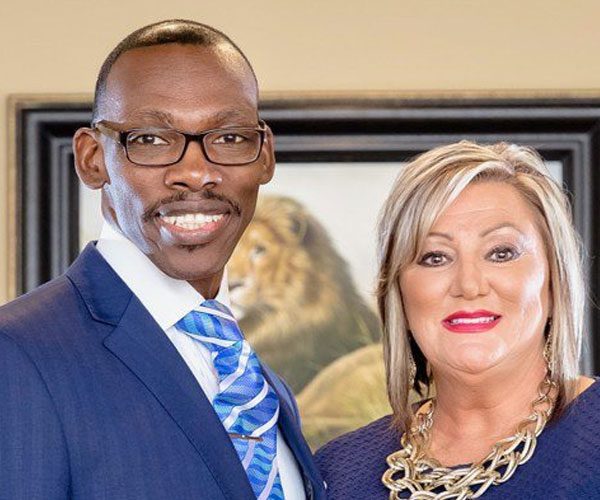 It's a new beginning for New Birth Missionary Baptist Church in Lithonia, Georgia after the passing of its founder and longtime pastor Bishop Eddie Long. The church announced today that Bishop Steven A. Davis has been selected to succeed Bishop Long. Bishop Davis was a pastor at an expansion church, which changed its name from the Refiner's House in Birmingham, Alabama and became a New Birth Church.
Davis was formally introduced as the new senior pastor this past Sunday during services at New Birth in Lithonia. His wife Darlene Davis will now become the first lady of the church as the couple takes on their leadership roles. According to the website of his former church in Birmingham, "A native of Birmingham, Alabama, Bishop Stephen A. Davis graduated from Pinson Valley High School. He also completed Seminary and Church Growth Courses through the International Pentecostal Holiness Association located in Montgomery, Alabama. He obtained his master's and Ph.D. in theology from the accredited and international New Birth Bible Institute … On Nov. 13, 2015, Apostle Long consecrated and ordained Pastor Davis as the fifth Bishop in the Global Apostolic Council which helps govern the Lord's Church."
Davis and Darlene have been married for more than 27 years and have three daughters and two grandchildren. The Davis' have also been foster parents and acted as surrogate parents for children in the community. Bishop Davis stated recently, "My wife Darlene and I are blessed beyond measure and thoroughly thrilled to serve New Birth Lithonia, building on the foundation that Bishop Long established for this amazing ministry."
Davis will face a daunting task as he rebuilds the image of the church that suffered in the wake of a sex scandal involving Bishop Long and four young men. The case was settled out of court but things were never the same for Long, as it took an emotional and physical toll on his health. Long died of cancer on Jan. 15, 2017, at the age of 63.