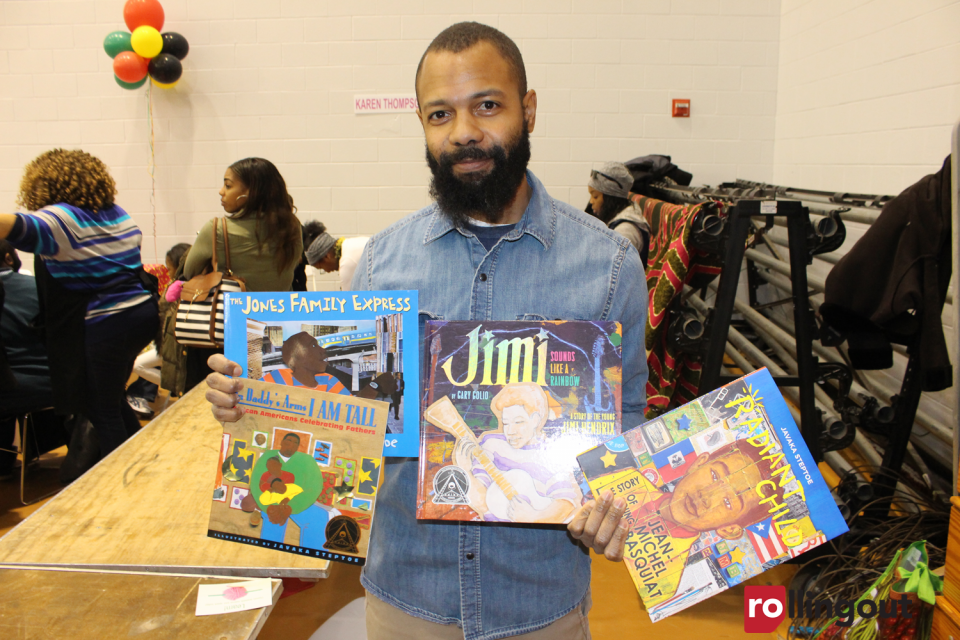 Javaka Steptoe is an award-winning, nationally renowned artist, designer, illustrator and author. He's received numerous awards for his work as an illustrator and as an author, including the Caldecott Medal for his most recent work, Radiant Child. Caldecott Medal annually recognizes the preceding year's "most distinguished American picture book for children." This distinguished award is given to an illustrator by the Association for Library Service to Children, a division of the American Library Association.
Rolling out had the pleasure of speaking with Steptoe about Radiant Child, which was inspired by famed artist Jean-Michel Basquiat. and his preferred writing style. See what else Steptoe had to say during his exclusive interview below.
Tell us about the books you've written.
I've been doing this for about 20 years. It's kind of daunting when you think about it. But I've been trying to create books that don't show the normal story that's told about African Americans. But it's the exceptional story, or a really interesting story. My first book was In Daddy's Arms, I am Tall and that won a Coretta Scott King Award. Then I've done maybe 13 books after that. My latest one is Radiant Child. This one won the Coretta Scott King Award and the Caldecott Medal, so that's a really big accomplishment. And this book is about Jean-Michel Basquiat, and he's a Haitian, Puerto-Rican, American-born artist that gained notoriety in the '80s and his artwork is all over the place right now, all around the world.
Why did you choose to write about Jean-Michel Basquiat?
I chose Jean-Michel Basquiat because I really love his [work] and I'm an artist, so, as an artist I gain inspiration from all sorts of places. But, I began to see his work as a teenager and he was someone that really helped me form my style. So, I just kind of wanted to give back and pay homage to him.
Speaking of style, what is your current writing style and how would you define it?
I would describe it as music. When you write a story, you're creating a tone, you're creating rhythm, you're creating nuance with the way you tell it, and there's music to that. It can be jazz music, it can be classical music, it could be hip-hop, it could be anything. But, I think of the way I write music. Also, I think about movies and theme music and how the music of the story is either creating excitement, or tension, or whatever it is that they want you to feel at that moment.
What do you find particularly challenging about writing or coming up with different concepts for your books?
That's the thing: concepts and ideas don't come when you want, and you just have to be open to it and you have to be a person of the world. Like, you have to go places and see things, and that's when all of a sudden you're walking along and like "Wow! That sounds really interesting," or "That looks really interesting. Let me investigate more." There has to be some sort of spark that creates the curiosity in you and it really becomes a passion for you. I think when you have that passion about writing or illustrating, that's when you do your best work.
In your opinion, a great book has what three things?
A great book? It has a really interesting concept to it. It has a twist. You know, they say that there [are] about seven stories. And the thing is, you can tell those stories in a really interesting way, or you can just say, "blah, blah, blah," and it's really bland. You want to find a new way to make these seven stories that are the seven stories that everybody tells in an interesting, a unique and a fresh way.
Where would you travel for inspiration to write your next book?
I have a lot of places that I want to travel to. I have some ideas where I need to be in Paris, France. I have some ideas that I need to be in Botswana, Africa. I have some ideas where I need to be in certain cities in the United States. So, I love traveling, and I think that maybe sometimes I choose projects so that I get to travel.
Javaka Steptoe and his collection of work can be found on his website www.Javaka.com, and he can also be found on social media via Javaka Steptoe.