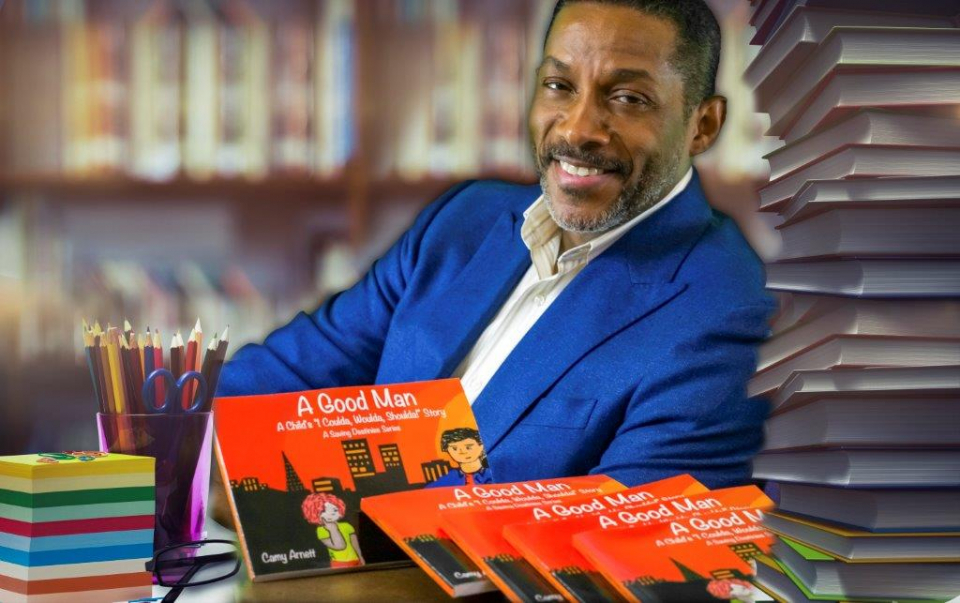 Camy Arnett is an award-winning actor in television, film and theater. A Port-Au-Prince, Haiti native, he moved to Atlanta in 1998. He and his wife BJ Arnett have built their brand in the industry together while raising five children. He is currently the CEO of Camy Arnett Production Studios (CAPS), a television, film and entertainment company. Arnett recently wrote a book titled A Good Man: A child's I coulda, woulda, shoulda story, a reflective piece on a man looking at his life and choices. He tells rolling out about the process of writing this book and what he hopes readers will gain from his story.
Why did you write this book?
I wrote this book because it is one of life's major dilemmas. One of the most declared statements uttered by men and women alike, "If I only knew then, what I know now." The book answers one of the most asked questions by anyone looking to make their way in life with the least mistakes as possible, "if you could change anything you have done in life, or do anything differently, what would it be?" So, knowing I could not know then what I know now, nor could I go back and redo anything, I did the next best thing, wrote, as if were, to my younger self, so he or she could know, what I know, now and therefore do better.
What's the story behind the title?
A Good Man: A child's I coulda, woulda, shoulda story. The scriptures tell us that a good man leaves an inheritance to his children and his children's children. In preparation for their prosperity, I leave first to them, the knowledge of proper life stewardship. The things, that if I would have done would have not only brought me a wealth of finances and material gain, but the joy and peace with which to enjoy them within a righteous and holy life lived, as well as a proper understanding of the true purpose for wealth as it pertains to society, and justice for the good of others.
What do you hope readers will gain from reading your book?
My hope is that parents would see this as a way to connect with their children for the unified purpose of a prosperous and fulfilling future, void of as many mistakes as possible. My hope is that children will see this as a way to bypass a possibly dysfunctional upbringing and surrounding. And, allow the knowledge and wisdom within this book to be a sort of surrogate parent. We have all made mistakes. And, our children will make their own. But, they shouldn't have to make the same ones we made, not while they have us, and now, this book.
How long did it take you to write this book?
Well, it can be said that it has taken me my entire life until this point to write this book. It contains past experiences as far back as I can remember up until the day I wrote the last page.
What was your regimen to complete this book?
I tried my best to think in chronological order and set titles of each thing I would talk about. But of course, sometimes, I had to go back and renumber chapters once other things came to my remembrance. Then I would write, think, rewrite, read, think, rewrite until I thought I had as much as I could remember at the time. Many times, I had to just walk away from it for a time, just to think of my past and allow time to give me the right words.
What separates you from others in your field? What is unique to the experience that you create?
I believe that what separates me from others in my field is that I don't see any field in which I am involved as the main thing. I think all fields of endeavor are just that, fields. The true purpose is how we serve, help, empower and treat the people we meet within that field. I am always more concerned with exemplifying love and care for people than accomplishing the need of that field. I think that is my uniqueness. Don't get me wrong, I totally believe in being excellent in whatever field I am in. However, to me, excellence in the field, without compassion for those within it, is to be unsuccessful.
How do you stay at the leading edge of your craft?
I stay on the leading edge of my craft by doing the things I have learned and placed within the book. Those principles are still true and good for today. Once I started applying, on purpose, all the things I have learned in life, life changed. Got better. Not overnight. But, always in increasing measure. And, it will be so for anyone who doesn't just read, but applies continually.
What does it take to be iconic? In your estimation, who has achieved that status?
Wow, iconic. Iconic is relative. Someone who is iconic to me may not be iconic to you. As well, someone can be considered iconic in one area of life and less than honorable in another. Who is iconic has to do with your personal value system and what you esteem as important and worthy of your aspiration. You may consider infamous, someone that I esteem as iconic. To answer the question, to be iconic, you must grow to the apex of your authentic self and give inspiration to those who aspire to reach and live within that same authentic space. Some who have achieved that for me are Billy Graham, Martin Luther King Jr., Andrew Wommack, Terry Mize, Daniel Day Lewis, Denzel Washington, C.S. Lewis, Ted Turner, Ron Howard, Steven Spielberg, Steve Jobs, Warren Buffet, Bill Gates, Dave Ramsey, to name a few. As you can see, my field is varied.