Beyoncé Knowles Carter attended the Alvin Ailey American Dance Theater show at the WACO Theater Center in Los Angeles.
Her mother, Tina Lawson, and her mom's husband, actor and master acting teacher Richard Lawson, joined forces to establish the new WACO Theater Center in Los Angeles.
In a photo posted today, the caption reads: "Backstage after the Alvin Ailey dancers performance it was magnificent. With my beautiful Tina's Angels and with a few of the mentors. My very gracious daughter who met the girls and spent some time with them and made their day!"
Tina's Angels and Richard's Warriors are WACO Theater Center's community mentorship programs which focus on the education and empowerment of 14-15 girls and boys.
"It is a proven fact that when you are exposed to the arts, you do better in other areas. We want to feed the mind of the entire young person from the arts to life skills. The mentoring program for young women will teach them everything from basic etiquette to public speaking.  Young people need to clearly see the best versions of themselves," says Knowles Lawson, fashion designer, art collector and philanthropist, of the venture.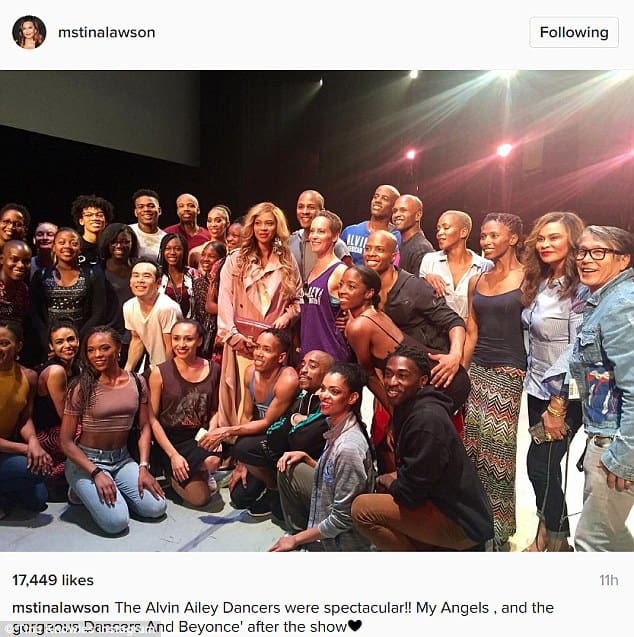 The second photo reads" "The Alvin Ailey Dancers were spectacular!! My Angels , and the gorgeous Dancers And Beyonce' after the show."
Beyoncé who covered her twins-filled belly looked pretty in a beige dress and pink raincoat at the event. Tina shared a group shot to Instagram on Sunday morning, March 12, 2017.
"We are truly thrilled to establish a new creative center in Los Angeles where art can occur," Tina Knowles Lawson says, alluding to WACO's acronym. "The purpose of this endeavor is empowering people to gain the skills and ability to identify and pursue their dreams no matter who they are or where they came from. It is also to give both professional and non-professional actors, artists and youth a place to celebrate their own talent and artistry." Richard Lawson adds, "WACO is our dream come true."