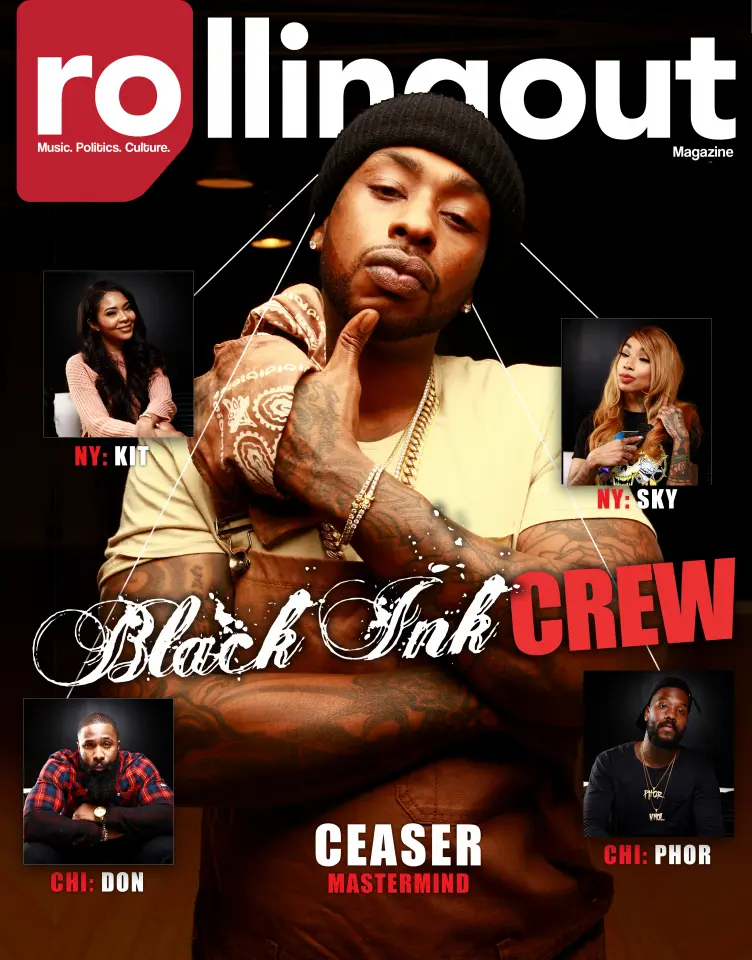 The VH1 reality television series "Black Ink Crew" has documented seasons of staff drama and tattoo shop operations. The cameras capture everything Ceaser Emanuel, the CEO and owner of Black Ink, has to do to guarantee the success of the Harlem, New York, shop. From building a brand and managing a business to leading his family and love affairs, and stopping fists from flying, Emanuel juggles it all.
According to Emanuel, a misconception people have about the shop is that it was easy to open and build. "A lot of people don't understand the struggle of this whole Black Ink thing. It didn't just start with me; it was a whole bunch of us," he said. "I pushed it, but people need to understand that it's hard to come out of your comfort zone."
The first shop opened on 113th Street, near one of the most notorious projects in Harlem. Emanuel hoped to shine a light in a neighborhood people didn't want to be in. Through growing the Black Ink brand on 113th, the shop made it cool for people to visit that area in Harlem. Furthermore, his success forced people to recognize that Black youth can become successful in a number of ways. After moving the shop to 125th Street, one of the most robust business areas in the city, Emmanuel began focusing on franchise opportunities.
"When you see a Red Lobster and a Bed Bath and Beyond next to you, you realize you are a franchise now. That's why I'm expanding the way I am. After I opened Atlanta, I'm now focusing on Orlando, then Houston. My goal is to hit 10 shops," he said. "I want to show kids in the 'hood that you don't have to dribble a basketball or go in the studio and rap. Look at me, I'm a tattoo artist, and I'm getting it."
While the shop has done a lot of positive things for Emanuel, the crew, and the community, the negative isn't that far behind. Fame has changed a lot of things for the young CEO, from his everyday life to his personal relationships.
"Having a relationship in the public is one of the most difficult things … it's hard," he said. When a public figure is in a relationship, according to Emanuel, attacks can come from anywhere. There are misleading photographs from paparazzi and untruthful tabloid stories. The young mogul explains that even his cousin was once mistaken for his girlfriend. "Nothing is the same anymore; everything is different. I can't even go to a Walmart because someone might write about me being in Walmart. But why can't I go to Walmart? They have lots of cheap things and I could use the things in there," he said.
The paparazzi and gossip online aren't the only issues. One of the things America watched develop on the hit series was the romance between Emanuel and Cristana "Dutchess" Lattimore, a Black Ink tattoo artist and CEO of the Pretty N Ink tattoo shop. The two went from friends to lovers, to ultimately being engaged, but things have not remained that way between them.
"There will be no wedding between me and Ms. Lattimore. We will not have anything, ever," he says, adding, "We don't even talk anymore. We walk past each other and don't say anything to one another. When they say there's a thin line between love and hate, it really is a very thin line."
Emanuel explains that his relationship with Dutchess has dwindled as a result of her use of social media to "take shots" at the Black Ink executive. He denied any and all allegations of getting anyone pregnant outside of his former engagement, despite Dutchess' accusations. But that drama is in his rear view now, Emmanuel has moved on and is currently dating again.
"It's been a while since I've been this happy," he said. "I'm just having fun and riding the wave. I'll see where things go."
Recently, Emanuel revealed that he'd been dating Karlie Redd, another reality television star from VH1's "Love & Hip Hop Atlanta," for a little over a month now.
With so much going, it's hard to imagine that Emanuel has time for anything else; however, he focuses on finding ways to get away from all of the drama and spend time with his daughter. "I first started doing tattoos almost 10 years ago. At that time my daughter was conceived, and I was running the streets. I couldn't let my daughter suffer the consequences of my actions, so I set up in a different career," he said. "Everything I do is for her."
Altogether, Emanuel continues to manage Black Ink and all of its related responsibilities. He keeps the business growing and continues to create a vast amount of opportunities for people in his community, and now communities nationwide. With the expansion of the Black Ink brand, he hopes to create a legacy he can leave behind that will make both him and his daughter proud. While he faces challenges in his love life and professional life, he makes it a point to count his blessings and continue to push his brand in a way that makes an impact on the culture.
Ceaser takes 4 with W. Neil
What separates you from others in your field? What is unique to the experience that you create?
The fact that I'm a real businessman and not just an artist is what I believe separates me from others in my field. I have seen a lot of artists come and go, but I feel like I'm on a great path crossing urban into commercial. We've brought value to an industry that thought we weren't valuable at all.
Please define your personal brand.
I'd say "Black Ink Crew" was revolutionary for the urban community. Personally, though, a lot of people don't know that I'm actually a dope artist. I haven't been able to portray a lot of that on the show, but hopefully, in season six you'll get to see a lot more of my creative side.
Are there any adjustments you've made in your day-to-day life since becoming a reality TV star?
My whole life was adjusted after becoming a reality star. Now I have to live in a different light, being from Harlem we already live a flashy lifestyle, but it's enhanced [by] being on TV. All in all, it's a blessing.
Name two of your top role models; one from your industry and one from outside of it.
Within my industry, I would say, Mya Bailey, because he was the first tattoo artist I looked up to. He set the tone for the next generation. He documented the history of the Black tattoo artist. He opened my eyes to different things.
Outside of the industry, I would say 50 Cent because he doesn't take s— from anybody and that's how you have to be in the entertainment industry. He is self-made and self-taught.
Cover story by Valerie Victor
Images by Royal Bridges