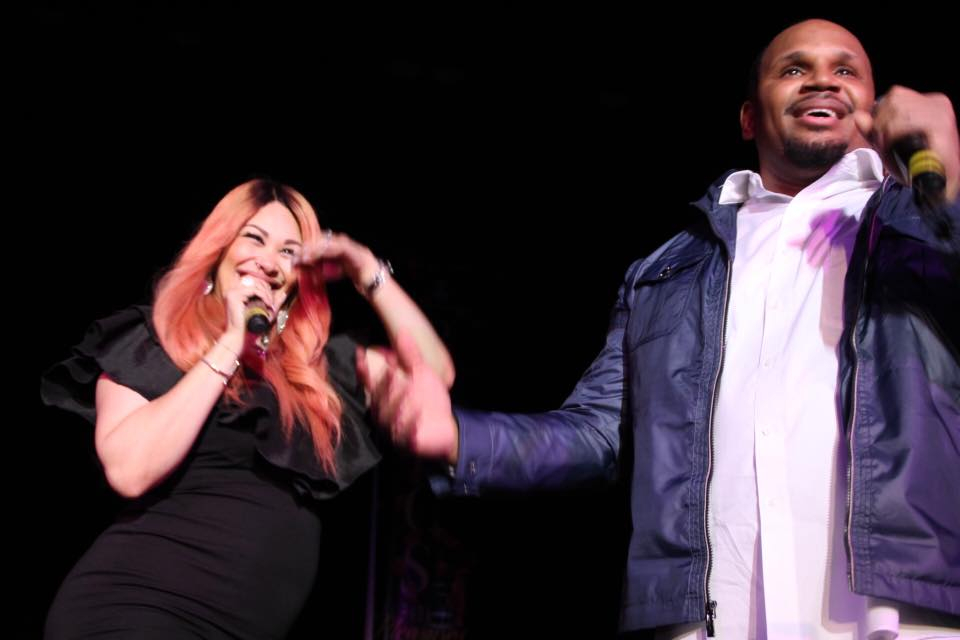 One of the best R&B duos! Keke Wyatt & Avant
(Photo credit: Anterlon Fritz)
Featuring R&B heavyweights like Bobby Brown, Kelly Price and Dru Hill, the Book of Pleasures concert series is one of the best to hit Detroit in a while. Presented by Fort Knox Entertainment, the series launched chapter two of volume one with Avant, Keke Wyatt and Angela Winbush at the historic Masonic Temple, last weekend. The intimate venue complemented a night of authentic artistry. With over 40 years in the business, Winbush's sultry vocals and vibrant energy were captivating as she blew classic hits such as "Angel" and "Smile." She attributes her longevity to "humility; don't take yourself seriously. Work at your craft.  It's 1 percent talent and it's 99 percent business. If somebody pulls the tape, or if they play in the wrong key, and you can't sing for real — you gon' have a problem."
As an ordained minister, Winbush keeps it 100 in and out of the pulpit. She won't likely release new music anytime soon because she's not "interested in having the machine chew me up." She graciously shared, "I'm gonna put out a gospel album and I might do one more secular —maybe."
Keke Wyatt continued the legacy of true R&B by enchanting the audience with her melodic vocals. "My baby bump don't get in the way of me sangin'," she said. Recently featured on Centric's "Being," the former "R&B Divas: Atlanta" star revealed that she has a line of baby products debuting soon. "I know how to keep your baby from going bald in the back," she said. "Ain't none of my babies ever been bald in the back."
Wyatt and Avant slayed the crowd with their romantic ballad "You and I" and their cover of René and Angela's [Winbush] "My First Love." When rolling out noted that it's one of the best covers ever, Avant explained, "A lot of people lose the integrity of the song and that's what I vow not to do if I do a cover. You have to keep that integrity."
Sealing the night's mature, yet sensual vibe, Avant charmed the ladies, many of whom have rocked with him since day one. Currently promoting his eighth album, VIII, he stays relevant because he writes "material that people want to hear, not just the catchy stuff.  I try to write from life — whether it's my life or someone else's. That's my main focus going into every album of mine."
Giving kudos to Wyatt, he insisted that he must come correct when approaching her with a song. "If it's something goofy that I'm messing around with, I don't even call her, 'cause I know she's bringing the real pipes," he said.
Beyond the musical sphere, the singer-songwriter expressed plans to pen a screenplay for a movie. He also shared his desire to work with Stevie Wonder.
It's rumored that the next chapter of the B.O.P.C.S. will include Tyrese. Visit, https://www.bopcs.com/ for updates.
Photo Gallery: Raquelle Harris for Steed Media except where noted