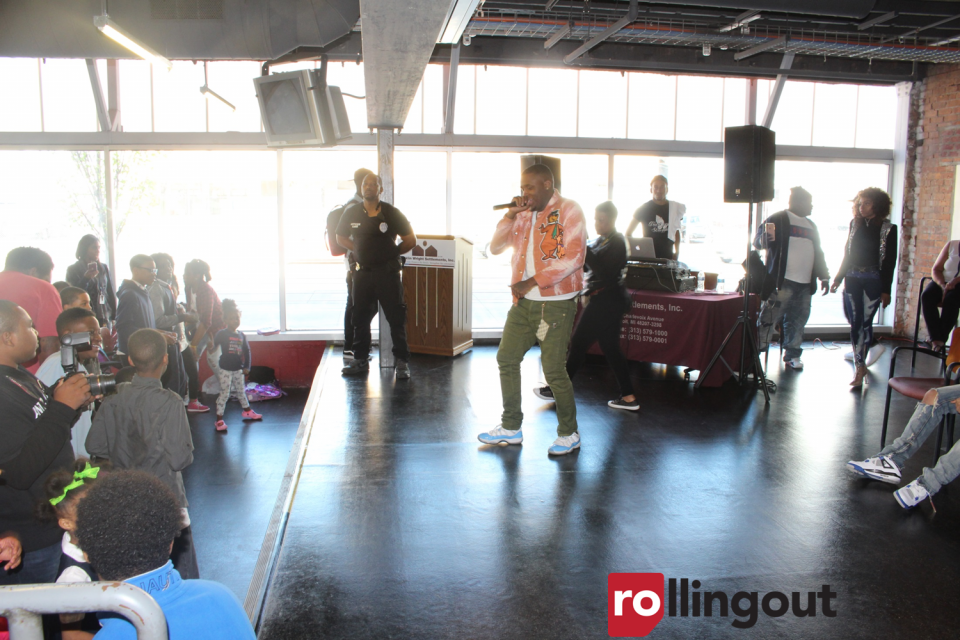 iAmDLOW recently visited Detroit along with the winners of Jermaine Dupri's hit show "The Rap Game" on the SoSoSUMMER 2017 pre-tour. The Atlantic Records recording artist surprised several area Detroit Public School students and youth on Thursday, May 11, as he performed his hit song "Do It Like Me." During his last performance of the day at Franklin-Wright Settlements, fans got a chance to actually participate in the dance routine right along with the budding star and had the entire place lit. iAMDLOW also performed with seasons one through three winners of Lifetime TV's hit series "The Rap Game" — Miss Mulatto, Mani and Nova. They all took group selfies while sitting on stage with all of their screaming fans.
Rolling out caught up with the well-known Chicago "Bop King" after his set to find out what he's been up to lately. Check out the exclusive interview below.
Welcome to the D! You have created quite a name for yourself. You've generated a lot of buzz with your dance craze and have everyone in the country "doing it like you." How would you describe your overall style and sound?
My sound of music is fun but turnt up. Whenever my music comes on, you are going to want to move and dance. So, I definitely have that dance turn up, [and] have a good time. I have a very unique style. It's Chicago. Chicago created this style called bopping. It's really energetic. So, you have to have a lot of stamina to keep up. I would say it's unique.
You have a really interesting and distinctive style. Describe your style of dress.
I am a really relaxed dresser. I don't do fancy clothes with the chains and jewelry. I am just a normal kid out here.
You're well on your way to massive stardom if you keep up what you're doing. You already have such a huge following, but if you had one wish to collaborate with anyone in the industry right now, who would it be?
Chris Brown for sure; he is a person I want to collab with for sure. I have been watching him since I was little. He is the guy I was watching crunk dance and learning all of his moves. So, collaboration with Chris Brown is my dream.
Where do you see yourself in five years?
I definitely want to know that something I did with music and in life had an impact on the mass youth. A movement that I created makes the youth want to do better things in life is what I want to be remembered for.
Where can fans find you on social media?
iAmDLOW it is the same on everything Facebook, Twitter and Instagram. I actually talk back to my fans. Follow me and I will follow you back. We stayed turned up!
Be sure to check out the photo gallery below and keep up to date with iAmDlow to find out where he will be turning up next on his website at  iamdlow.com.