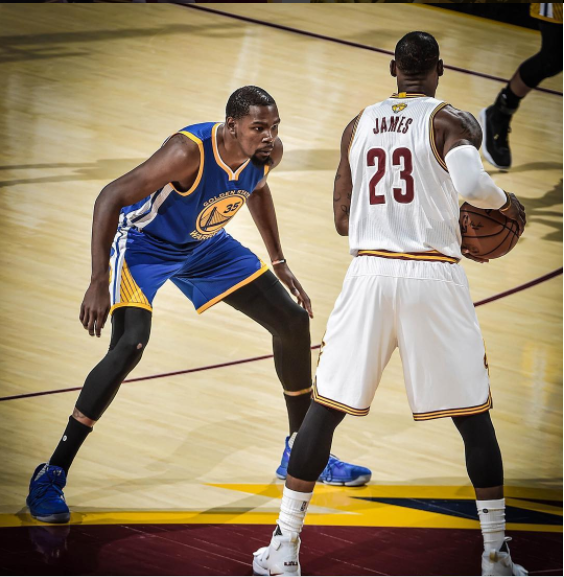 Up 2-0 in the series, the Golden State Warriors met the Cleveland Cavaliers in Game 3 at Quicken Loans Arena in Cleveland last night. On the 10th anniversary of LeBron James' NBA Finals debut, King James and the Cavs defended their home court and played entertaining, competitive basketball. Then, Golden State won.
With 45.3 seconds left, GSW newcomer Kevin Durant landed a pristine 3-pointer and scored 31 points overall aiding the team in securing a W with a final score of 118-113. Klay Thompson added 30 points and Stephen Curry 26. The Warriors trailed by six with three minutes of play left before Durant scored 14 in the fourth quarter. The win last night marks Golden State's 15th straight victory, earning them the longest postseason winning streak for any team in the four major professional sports.
LeBron James led the Cavs with 39 points and Kyrie Irving added 38. The Cavs led 113-107 with 3:09 left. Then Durant took over. As LeBron stated after the Warriors' victory in Game 1, this year, KD is the difference.
After the Warriors comeback in the fourth, Irving missed a 3 and the Warriors sealed their victory with four free throws in the final 12.9 seconds. Irving's missed 3 proved to be one of many missed opportunities for the Cavs last night. Despite leading in steals and points in the paint, Cleveland racked up the most turnovers.
A GSW victory in Game 4 on Friday night could expel the 3-1 lead jokes from last year's Finals. The Cavs are the only team in Finals history to overcome a 3-1 deficit, which clinched the championship for them in 2016.
For the love of basketball, let's hope the Cavs are triumphant in Game 4. No one is ready to resort to MLB games just yet. The Cavs and Warriors face off in Game 4 Friday, June 9 at 9 p.m. EST in Cleveland.