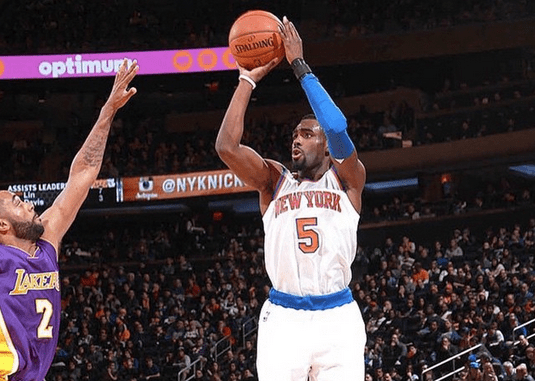 ESPN's Adrian Wojnarowski first reported that the New York Knicks signed Atlanta Hawks guard Tim Hardaway Jr. to a four-year, $71 million contract. The offer was signed two summers after the Knicks traded Hardaway from New York to Atlanta.
For context, the deal puts Hardaway in a position to make more money than Miami Heat guard Dion Waiters, Golden State Warriors guard Klay Thompson, Golden State Warriors forward Draymond Green, Phoenix Suns guard Devin Booker and New Orleans Pelicans center Demarcus Cousins.
Based on the Hawks' prior moves this offseason by trading star center Dwight Howard and not even offering star forward Paul Millsap a deal to re-sign, Atlanta probably won't match this particular offer within the next 48 hours. The Knicks didn't substantially improve their chances to become contenders in the Eastern Conference with this move. Last season, he averaged 14.5 points, 2.8 rebounds and 2.3 assists per game. His year featured a lot of highs, specifically the night he scored 33 points in a 25-point comeback win against the Houston Rockets on Feb. 2. He also had his fair share of lows too, averaging 12.8 points, 2.7 rebounds and 1.2 assists per game while shooting 33 percent from the field in the 2017 Playoffs.
This move means that star forward Carmelo Anthony is still very much on the trade market. The signing also shows that the Knicks are more concerned with making a potential playoff appearance as opposed to swinging for the fences with a big name at this point. The team in distress now looks at a team with maybe Anthony and Derrick Rose, who had his best season statistically last year since he won the 2011 NBA MVP Award, Kristaps Porzingis, a French teenage point guard not many people know too much about and Hardaway. In short, after this move, it's safe to say the Knicks are confused as ever in terms of the plans of the franchise's direction.