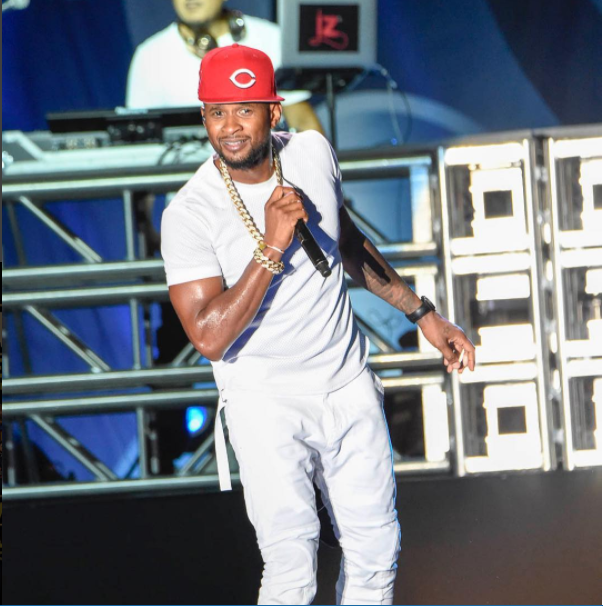 Usher is reportedly telling his inner circle that there is absolutely no way that he slept with one particular woman accusing him of sleeping with her without disclosing his alleged herpes status.
The reason is? She just isn't his type.
During a press conference held after she and another woman and man filed suit against Usher, Quantasia Sharpton claimed that during the celebration of her 19th birthday, the "Confessions" singer picked her out of a crowd during a concert. She claimed that he had security get her number and then called her and met up with her at a hotel, where they had sex.
Sharpton added that she has suffered severe emotional distress after she found out that Usher allegedly paid out more than $1M to an unidentified woman that the crooner supposedly gave the STD herpes to. Since then, three more people — including a man — have sued Usher through ambulance-chasing celebrity attorney Lisa Bloom. The woman who got the whole thing popped off allegedly was the bridesmaid of Usher's ex-wife Tameka Raymond.
Usher claimed that it was entirely possible that he pulled Sharpton onto the stage, because he "looks to bring a diverse group of people up onstage, not just supermodels," according to sources at TMZ.
One such source noted that Usher believes it is "an esteem booster" for various people to be pulled on the stage, which is why he does it.
Recently, Usher has been hit with lawsuits claiming that he did not tell his sexual partners that he allegedly has herpes. The lawsuits have come out of the woodwork after a recent report uncovering a 2012 lawsuit that Usher allegedly settled with a woman who claimed he gave her herpes. The settlement was for $1.1M.
At least we can say this: Usher was kind in his denial that he had sexual relations with Sharpton. Many Twitter users seemed to take a fiendish delight in body shaming the woman.