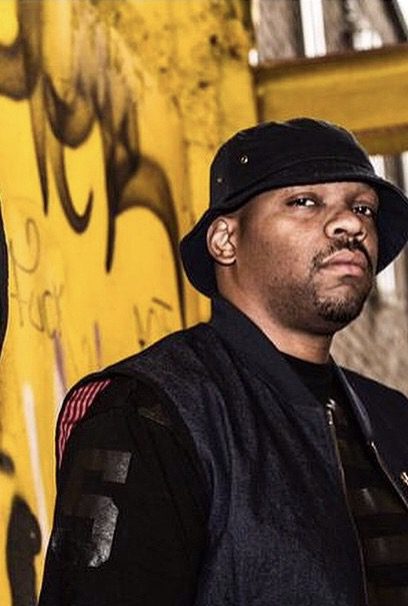 T3 of the world renowned rap group Slum Village is embarking upon his solo career in a major way. T3 is the only remaining original member of the group Slum Village, having been preceded in death by the late, great J Dilla and Baatin, and he's kept the group's legacy alive in the years since both group members' untimely deaths.
T3 is now ready to change the game again with his solo career and has already started with a name change from T3 to Trace, which is reminiscent of his childhood days. He's currently in the studio working on a couple of projects and has already hit hard with his new single "Turn Me Up," off his upcoming album Volume 3.
Rolling out sat down with the influential hip-hop vet to talk about his solo career and his new single, his upcoming album Volume 3, as well as his name change to Trace. We also spoke to Trace about his relationship with J. Dilla and where he thinks J. Dilla would be today if he were still here.
T3, what's good? What's going on with you now?
I'm good! I have two projects going on right now. I'm working on a project called Volume 3. And then I'm working on another project with this Canadian producer. So, basically, what I've been doing lately, I've been in the lab finishing up these projects and I'm getting healthy and eating right because you know health is the new wealth.
You're absolutely right, health is the new wealth. How is that lifestyle coming along for you?
You have to stay away from all these processed foods and you got to work out, at least get you 45 minutes of cardio a day. You gotta do it. That's what you gotta do. The older you get, there [are] just too many of us Black people that fall dead just for not taking care of their bodies.
Tell us what your diet and workout routine consists of.
I'm just eating chicken, fish and veggies. Keeping it fresh. I juice in the mornings, and I do my workouts once a day. And that's it, that's all you gotta do and you'll be good.
You have a new single — "Turn Me Up," which is fire! What was the inspiration behind "Turn Me Up," and who did you collaborate with to get it done?
First, I gotta shout out the producers, these two super producers that are coming up. One guy's name is @TeekoMusic and the other's name is @Ruckazoid. They're two up-and-coming cats, and they've worked with Jazzy Jeff and a couple other folks, and I collaborated with them. And basically, what happened with this record, by me stepping out and doing my solo career for the first time, I feel like this is my time where I want people to hear me. So, that's kind of saying "Turn Me Up." This is my time for people to listen to me by myself. So, I wanted to come out with a different approach, so I used the character, which is my alter-ego Trace, so that's why I changed up my voice for this record. I'm reintroducing myself as a solo artist, beyond the Slum Village history.
You just touched on your name change from T3 to Trace, why the name change? What's the significance of Trace? 
Trace is what they called me when I was growing up as a kid. It's a nickname. It's actually Tres, but in the 'hood, they ended up calling me Tray. It means three because I'm the third. So, basically, I get to say things I've never said with Slum. I get to tell my life's story on how I [grew] up. Now, being a member of Slum I never really told my story of how I came up as a kid and how I stayed away from drugs because I had music and friends to help me to come up. I get to break away [as Trace] and tell my story about coming up on the east side of Detroit and trying to stay focused and stay out of trouble and make music, and get out the 'hood that way. I also get to do different characters and have fun with it because that's how I grew up in hip hop.
You're the only remaining original member, and you've been there from the beginning — back in the days of the Conant Garden days, and since then, you've worked with all of the hip-hop greats, including Common, Kanye, Q-Tip, Phife Dawg and too many others to name. Who do you work with on your current album?
First off, RIP to Phife Dawg, that was tragic. But for this album Trace, I'm going back to work with my people I came up with first. So, it'll be like with my boy Que D, Frank and Dank, Illa J, all the guys I kind of came up with. And also a few celebrity guests too, but I can say [who they are] because everything's not solidified with those. But most of this album is based on my childhood. So, it'll be mostly friends that I really came up with on this. I think sometimes when we start over, some artists go to "feature heavy" right off the bat. And some of the greatest artists just start off their album with just them. And I think that's the way to go sometimes.
Volume 1 was recorded in 1996 in J. Dilla's basement, with all of the original members, and Volume 2 was released in 2000. How significant is it, as the only remaining original member of Slum Village, to come back with Volume 3 in 2017?
Well, Volume 3 has a double meaning. It means my independence from Slum Village. It means T3, me, standing out on my own. So, I think anybody who's a Slum fan will know the significance of Volume 3. I make sure that even with me out doing my own thing, me doing my solo career, I still have those lost members in my heart: J Dilla and Baatin, and I will always have them in my heart. And when I thought about making this project, I just sat down and thought about what made sense. And that's what came to me, Volume 3.
You just mentioned J Dilla. Let's touch on him for a bit. If J Dilla were here today, what do you think he'd be doing? Where do you think he'd be?
 I think if he were here today, I think he would be changing the game. I really think that he would go against the grain. Every time he came with [new] music, he would always come with a new approach. So, the main thing that I miss about music today is that sometimes I don't see enough artists take enough risks. And Dilla was a guy who would step out and do something way before his time. So, I think if he were here today he would just change the game in how people approach making music.
Let's get back to you. You have a huge fan base, especially overseas, and you continue to tour worldwide — you've toured all over Europe and Africa, and many other places too — and now you have an upcoming international tour in October with Frank N Dank, Que D & Illa J. Tell us more about that.
This is another family tour. Jay Dee made this tour. And you know J. Dilla created music for all of us. Basically, it's upholding our legacy. It's bringing our friendship together as brothers because we don't' see each other enough. One guy is in California, the other guy is in Canada, and the other one is in Texas, and [this tour] is a great way for us to get together as a family. This is one of my first solo tours, where I'm performing by myself, with my family, so I'm just excited about the whole situation. It's going to be fun.
When is the album dropping? What can fans expect to hear?
The album will drop late this year, or early next year, 2018. They can expect a grittier approach. They can expect the story of my life. I will be telling my story on this album, and they will also see the characters that I create, and the vivid pictures that I paint for people about coming up on the east side of Detroit and the things that I experienced at that time. That's basically what you're going to hear in the music.
What else would you like your fans to know?
I would like my fans to know that I'm still here. I'm not retired. And that I think you can make great music at any age. That's what I want people to know. And the rest, just listen. Keep your ears open. The music is coming.
Where can we follow you on social media?
You can follow me on IG @T3Slum, and you can also follow me on Twitter @T3SV or you can also find me at https://www.its3iller.com/ and those are the ways to contact me. So, I'm around.
Just in case you were wondering, you can listen to T3's latest single via the SoundCloud link below. Drop a line in the comments section to let us know how you're feeling it.