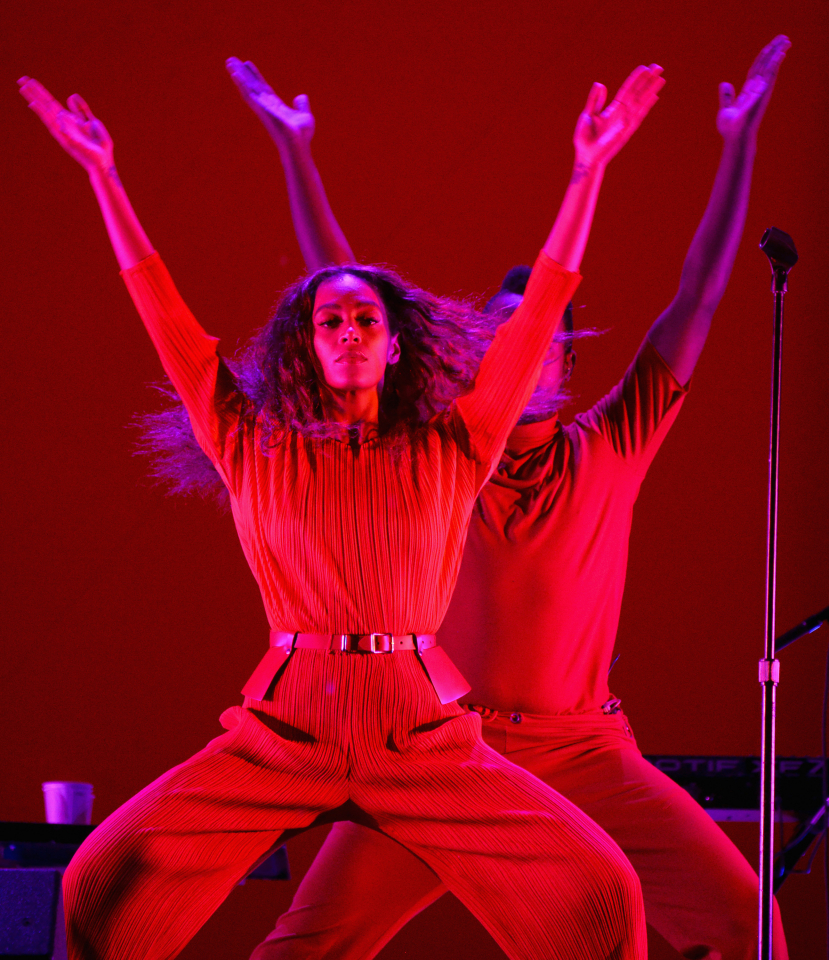 The first night of Jay-Z's Budweiser Made in America Festival in Philadelphia took on a political tone with Solange and J. Cole performing on the main stage. While Solange took on current events topics, J. Cole relived a police encounter that made headlines last year and also implored the crowd to live in the moment.
Solange is a true artist at her core, and it is easy to see when she sings, dances, or simply talks to the crowd. She discussed the White supremacists carrying tiki torches and more. "We got anti-gay and lesbian, anti-Muslim folks out here and we're not allowed to be mad. We got Confederate factions looking everywhere at our Black a—s but we're not allowed to be mad," she said. The singer then went on to perform "Mad."
J. Cole also got political, first imploring the crowd to live in the moment because of the unseasonably cold weather in Philadelphia and steady rain. The Roc Nation star said, "Whatever comes into your life when you are living in the moment, that means you are feeling the full weight of what is given to you." Before he started performing "Ville Mentality," J. Cole once again asked for the crowd's assistance, saying, "Don't leave nothing on the table. Don't have no regrets."
North Carolina's native son then went on to describe, in detail, the inspiration behind the song "Neighbors." "It's always been a dream of mine to have a crib with a studio in it," he said. Cole fulfilled that dream and bought a house in the suburbs and installed a studio.
He continued the story, asking, "Tell me why Philly, one day, out the blue, about 15, 16 SWAT police officers show up to the house?" Cole then showed the video on the stage. 
A neighbor alarmed by the constant traffic of Black men entering and leaving the studio called the police. 
It served as a great introduction to the song "Neighbors" but it also shed light on the false assumptions made about Black men and the unfortunate repercussions that are far too often the result. This writer confronted a group of non-Blacks who felt the story was too long. Just want J. Cole to rap and sing but not share his experience? It served as a reminder that not all the diversity you see at hip-hop shows translates to support for Black liberation. See the video of the police raid below.