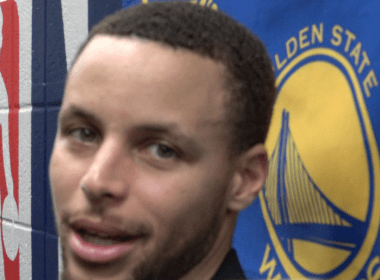 The play in Week 1 of the 2017 season was ugly without a doubt, even Stephen Curry could tell. The Golden State Warriors point guard went to a nearby San Francisco 49ers game to watch his hometown Carolina Panthers. Starting 49er quarterback Brian Hoyer went 24-for-35 for 193 yards with a 68.6 completion percentage and one interception with no touchdowns.
While watching the Panthers blow out the 49ers 23-3, Curry posted a simple message with his view from the game.
Steph Curry with the shot pic.twitter.com/PDcTtz6EEW

— Marcus Thompson II (@ThompsonScribe) September 10, 2017
The Charlotte Observer spoke with Curry on a number of topics, including free agency's top quarterback.
"Obviously his stance and his peaceful protest when he was playing here kind of shook up the world and I think for the better," Curry said, according to the Observer. "But hopefully, he gets back in the league – because he deserves to be here and he deserves an opportunity to play. He's in his prime and can make a team better."
Curry, who wasn't necessarily known for speaking out early in his career, has made a couple of stances publicly this year. In February, he denounced Under Armour's CEO endorsement of Donald Trump. He later applauded the company when it parted ways with Trump. He said that his relationship with Atlanta Hawks guard Kent Bazemore isn't different after Bazemore came out publicly supporting Trump.
Colin Kaepernick retweeted the Know Your Rights Camp thanking Curry for his support and he remains relatively quiet since becoming a free agent this offseason. Baseball legend Hank Aaron said he was joining the protest of the NFL in a movement encouraged by the likes of Spike Lee and Shaun King. Fellow quarterbacks like Joe Flacco, Aaron Rodgers, and Cam Newton all said that Kaepernick should be in the league right now.
Colin Kaepernick's QB rating for '16 was 90.7.

18 starting QBs (combined HOU QBs) did worse in Week 1.

Stop saying he isn't good enough.

— Adam Best (@adamcbest) September 11, 2017
Many said going into the season that Kaepernick will never get another chance in the league, but if the pressure from the public, along with the play on the field continues, he just might get a contract.