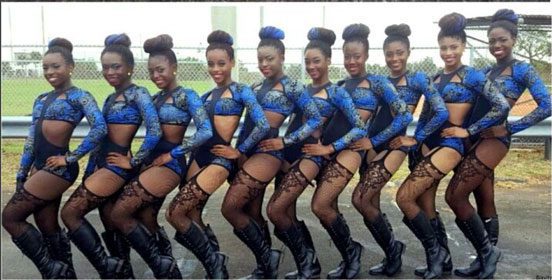 The video of a Miami high school dance team went viral this week because of their outfits. The teen girls clad in lingerie, boots, fishnet stockings and garter belts caused many to call the routine inappropriate and to question the judgment of all adults involved in the decision process to allow the risqué routine.
Now the school has been identified as  Miami Northwestern Senior High School. Even though the school dress code on its website states that unacceptable dress includes sandals, flip-flops, slippers, high heels, stilettos, sheer clothing of any type, skirts or dresses or shorts one inch or more above the knee, the teens were still allowed to perform.
Principal Wallace Astride has released a statement about the incident stating that the parents of each of the girls on the dance team had signed off on the costumes in advance:
'While all the parents of the dancers who participated in the event approved of the attire, we understand the concerns that have been raised and sincerely apologize for any offense this may have caused. Looking ahead, we will implement a more comprehensive and stringent uniform approval process to ensure an appropriate representation of our school."
Apparently, however, some feel that there was nothing wrong with the teenagers routine and felt that if Beyoncé and others can dress like that in popular culture teen girls who are performing for a crowd should be able to do the same. The question must be asked: Is it OK to sexualize teen girls for the sake of pleasing a crowd at a high school football game?