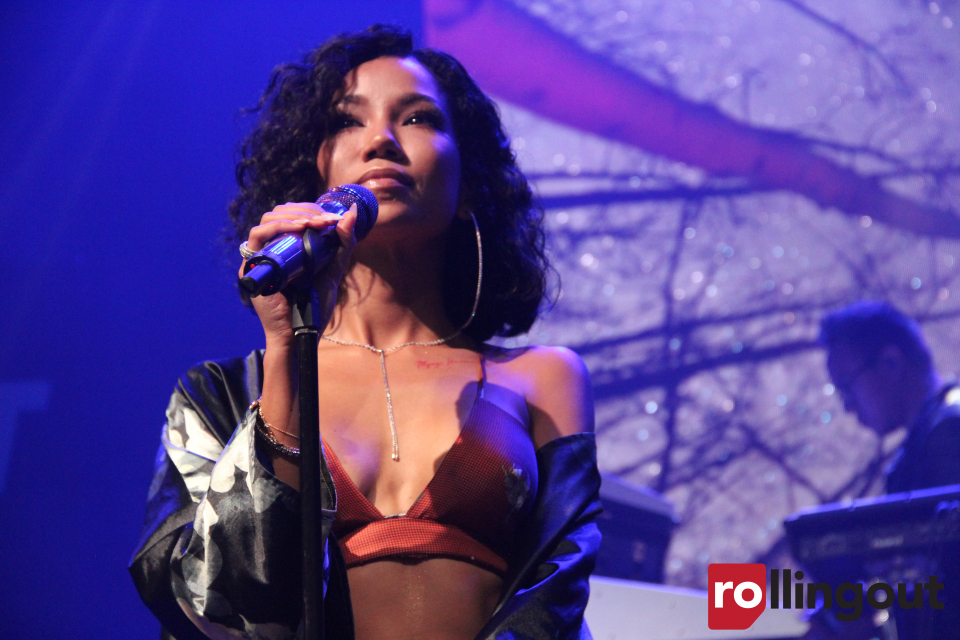 A testament to self discovery and a cautionary tale, Trip, Jhene Aiko's sophomore 22-track LP, transforms her grief and the hallucinogenic highs weed, LSD, and shrooms into matchless, seemingly effortless, sound.
Last month, Aiko released two parts of a three-part project that she refers to as MAP, an acronym for "Movie, Album and Poetry" and a literal map of how Aiko coped with her brother Miyagi's death from cancer in 2012. The short film and album, which features collaborators Rae Sremmurd's Swae Lee, Brandy, John Mayer on guitar and her boyfriend Big Sean, are out now. Aiko's poetry book is set for a fall release.
From wrestling with the concept of suicide, inspired by Japan's Aokigahara forest, to a trippy jam session with her estranged father, to harmonizing with her daughter over piano chords, the project follows the singer-songwriter's journey through authentic healing. Trip is the culmination of it all.
Below, she discusses the release, her poetry and Trip's intended impact.
Your latest album, Trip, is being praised by fans and critics. What was the process creating this piece of work?
Trip was basically five years in the making. I've been keeping notebooks since I was a preteen and after I did my first album, Souled Out, I took a little break mentally and physically because I had been going through so much in my personal life.  I decided to start working on a short film. I wrote a short film and then we filmed it and then I scored it and started working on music to put in the short film. [Initially] I was like 'maybe it can be a soundtrack to the short film', but then I just got in a really good groove, and I have a studio in my house now, so I kept recording and recording and I was like, "Oh, this is an album now." I was just referring back to these notebooks that I have been keeping since my brother passed and even before that. I also have the poetry book that is coming this fall so it's not just an album that I've been working on. It's the movie, the album and the poetry book. It's all a trip.
What message did you want to give with the short film Trip?
Everything I do really is for me. It's literally me healing from the loss of my brother. He passed away in 2012. Since he passed away, [I've] been trying to navigate through my feelings and trying to get back to a healthy mental state and in doing that, it's just me expressing my pain and suffering and even my joy and happiness when it occurs. I wanted to get it out because it was a heavy road for me and I felt obligated to share because I know that other people go through the same things or will go through losing someone close to them even if they haven't gone through it yet. [Loss] is something that is inevitable in this life. I want people to take from it whatever they can, some inspiration to let them know they are not alone [and] some comfort to stay calm and find a better way. It's almost like a cautionary tale because I'm talking about experimenting with different substances that are not the answer. I find that out by the end of the album. I hope people actually go on the trip when they're listening to the album and find the light at the end of their own tunnel.
Your poetry book plays a major role in the film. How has poetry given you balance?
Poetry has been something I've turned to ever since I was in the second or third grade when I first learned about writing. I feel like that for me that's always been my way of expressing myself because if I didn't, I'd  just be holding it in and be off balance. [Poetry] has been my way of centering myself and it's just all about expressing yourself. Some people express themselves by dancing, my way has always been writing and I've always wrote in rhyme ever since I was little that was always my thing so poetry has been that thing for me. It has been my best friend.
How do you want the Trip project to be remembered?
I want it to be remembered as something lots of people could relate to and connect to and as an authentic piece of work. I worked hard on it, harder than I've worked on anything before in my life, and I just want people to dive in and take whatever they need from it. I feel like it's at least one song on that album for every person in the world and I would want it to be remembered as that – an album that any human being can relate to. It comes from a 100 percent real, authentic place. None of these songs on here are fluff. It's all real and honest and I hope people will appreciate that in a world where you never know what's real or fake. This is really my life on the line or on a rack.