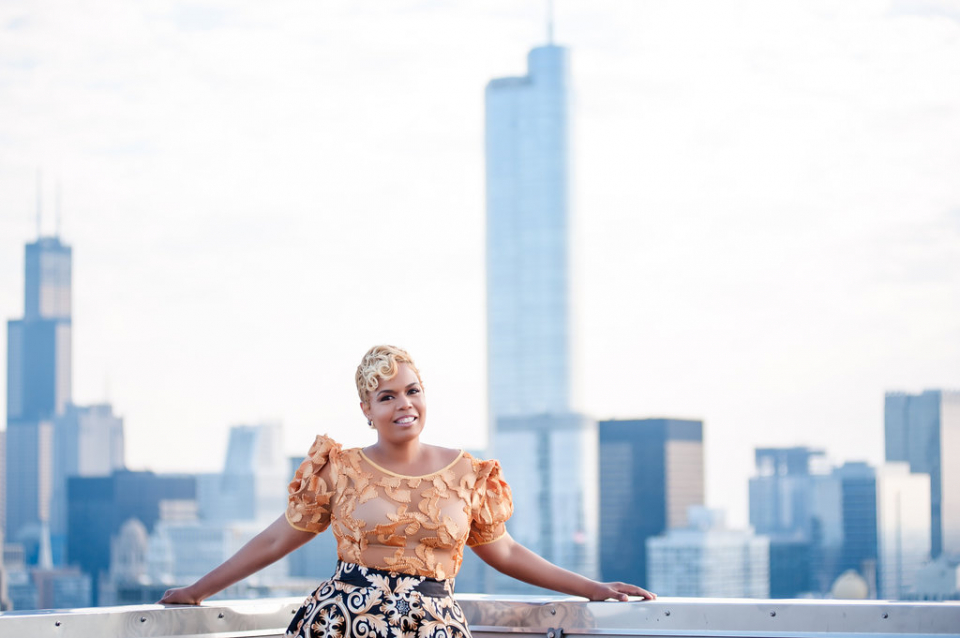 In Chicago, when your dad is a superstar athlete and your mom is a fashion goddess, being fly is in your DNA. That's little PJ and he celebrated his 5th birthday and boy did he celebrate. This year, guests were wowed with a lavish Jurrasic World-themed party. Absolutely no details were left out. So the million-dollar question of the night was, who organized this party?
Rolling out found out this event was produced by none other than celebrity event planner Nicole Marie Pittmon.
Pittmon, affectionately known as the "planners planner" and is in the business of creating events with flawless execution. She cultivates experiences and masterfully curates each detail, striking the right balance to create a tailor-made event with incredible energy from start to finish. Pittmon is known for planning "that was amazing" events with only the best in the business.
How did you get into this business?
I've had a passion and creativity for planning and styling events for as long as I can remember. I've been the "go-to" person for friends' and family's birthdays, wedding and parties starting all the way back in college. On June 15, 2015, I finally took the leap into full-time entrepreneurship … I've never looked back
How do you handle stress in the business?
There are several ways I try to handle stress. First and foremost, I always accept that nothing will go as planned; then I take a breath and focus on solutions. Secondly, I'm relearning to take care of myself. As an event professional, we tend to serve our guests and often forget about ourselves. I'm being conscious [of] eating healthy, exercising and most of all spend[ing] time with those I love — family and friends.
What is the biggest hurdle you've overcome since being in business? 
There are days when I can hardly believe I get paid to do something I love; then there's the not so glamorous side — not what you see in a movie or event better what I portray through my social media channels. While there are so many hurdles to mention — the biggest for me would be finding a work-life balance. However, I'm learning to set boundaries and prioritizing.
What is the biggest achievement you've accomplished in your business? 
My biggest achievement I've accomplished with my business was being the lead planner for the Obama Presidential Center Reveal. I am humbled and on the quest for the next.
In your opinion, what is the key to success?
The keys to success, especially within the event planning industry, is to embody many different skills. To be a successful event planner you must have several characteristics — availability; flexibility; organization; time management and ability to multitask, optimism; creativity; leadership; accountability; detailed-oriented, business savvy, eye for design; vision and intuition; responsibility and self-control; and most importantly — passion. These attributes have allowed me to continue to be successful.
What is the best business tip you could give to someone looking to merge into your field.
Cultivate a team of kickass vendors. Any planner worth their salt knows you are only as good as your team.
What's a quote or mantra that motivate you? 
"Someone's sitting in the shade today because someone planted a tree a long time ago." – Warren Buffett
So tell us about Little PJ's Lavish event.

Derrick Rose and Mieka Reese celebrated their son PJ's fifth birthday with a kids' themed "PJ's World Jurassic Experience." Rose had had a Dino-rific 5th birthday with big Jurassic World influences. Derrick and Mieka spared no expenses and hired Nicole Marie Events who adorned the party with details galore. including five celebratory dinosaur birthday cakes, 9-foot dinosaur skeleton display, customized miniature red jeep and a dessert table filled with enough sugar to satisfy any sweet tooth. As a nod to Jurassic World, PJ's party featured a grand wooden gate entrance as he arrived riding on the back of a lifelike dinosaur affectionately known as Tinkerbell. PJ's guests sat at pint-sized tables and chairs that displayed their personal swag — custom cookies, safari hats, canteens, and binoculars in a PJ's World jute tote bag.
Follow Nicole:  IG handle: @nicolemarieeventschicago