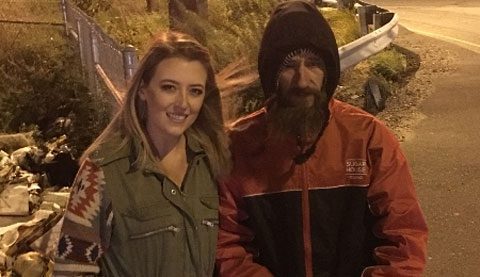 A simple act of kindness by a homeless veteran has changed his life forever and created a social media blessing after a GoFundMe campaign. Earlier this month, Kate McClure was traveling on I-95 in Pennsylvania when her car ran out of gas in a rough area of Philadelphia. She began to walk down the road to look for a gas station when she encountered Johnny Bobbitt Jr., along the way. She explained to him that she had run out of gas and Bobbitt told her to get back in her car and lock the doors. The homeless vet then spent his last $20 to buy gas for the stranded woman.
Over the next few days, McClure returned to the area with food, clothing, and cash in an attempt to repay Bobbitt for his kindness. Then she and her boyfriend decided to take it a step further and started a GoFundMe campaign to raise money for Bobbitt's living expenses and to help his current situation. McClure posted to GoFundMe:
"I am raising money for Johnny. With the money, I would like to get him first and last month's rent at an apartment, a reliable vehicle, and 4-6 months worth of expenses. He is very interested in finding a job, and I believe that with a place to be able to clean up every night and get a good night's rest, his life can get back to being normal. Truly believe that all Johnny needs is one little break. Hopefully, with your help, I can be the one to give it to him."
Originally, her goal was to raise $10K, but as word of the story spread through social media, donations exceeded the original goal. As of the writing of this article, the campaign has raised $297K for Bobbitt, totally changing his life. Bobbitt is a veteran of the Marine Corps and former EMT that was well liked on his job. But he fell on hard times and soon he found himself homeless. Because of the outpouring of donations, Bobbitt has a new lease on life.