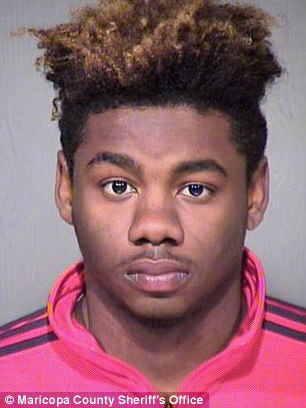 Varsity football players at Hamilton High School in Chandler, Arizona, are accused of slapping other players with their genitalia, urinating on each other in the shower, and eating feces on a dare.
Attorney Dan Raynak represents four of the six victims in a civil lawsuit against Chandler Unified School District, who claim ongoing sexual abuse involving the school's football team in the locker room. It's a startling story that first made headlines in February 2017. The principal Ken James, athletic director Shawn Rustad and coach and teacher Steve Belles at Hamilton High School were reassigned within the district because they reportedly didn't take any action to stop the abuse that according to ABC 15, started in September 2015. Police have recommended charges against three administrators for the alleged cover-up and willful ignorance.
Nathaniel William Thomas, 17, is accused of sexual assault and multiple counts of molestation, kidnapping and aggravated assault involving alleged attacks on three people his junior. He is being charged as an adult and has pleaded not guilty. Thomas has been deemed a troublemaker and was recently banned from a local Chick-fil-A for alleged verbal attacks and intimidation.
Two other players, both 16, were charged as juveniles with kidnapping, aggravated assault and assault. The terrorized victims were under the age of 15. Some of the attacks, which were sexual in nature, were broadcast on social media sites.
According to a 700-page report released by the Chandler Police Department, nearly eight months after the initial allegations were made public, freshman players were known as "Fresh Meat" and would be assaulted before being told "welcome to varsity," which reportedly made the younger players fearful so they showered in their boxer shorts.
Coach Belles was reportedly approached by concerned parents of freshman players as early as October 2016 and he allegedly responded: "it's not my team" referring to the freshmen team.
The report also says that mid-season in 2016, Belles addressed the whole team saying, "… a bunch of [expletive] Sanduskys in here. Putting fingers in [expletive]? Are you guys [expletive] gay? Cut it out."
When an investigation of emails was made by police in April 2017, they uncovered deleted emails of concerned parents that were never reported to law enforcement.