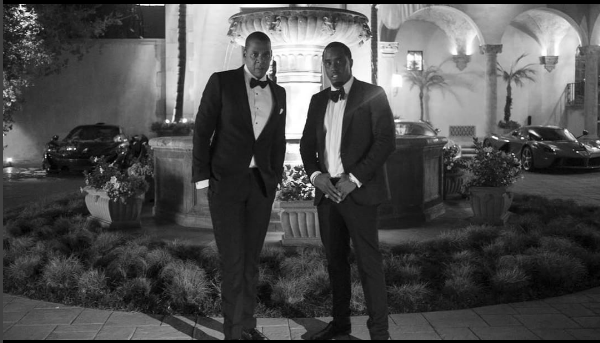 When Diddy made a sincere declaration that he wanted to purchase the Carolina Panthers after its scandal-plagued owner announced he was selling the team, Sean Combs became the subject of abject "hateration." But it was surprising that the denunciations came from an African American news reporter.
While breaking down the news during a Kron4 broadcast, the Bay Area reporter Henry Wofford laughed off and severely ridiculed Diddy's announcement, asking: "How can we take him seriously?" before suggesting that Combs looked like "high in that video" and joking he had been "smoking blunts and drinkin 40'." And then he kept going as his fellow White anchor continued to laugh.
Needless to say, Wofford's words brought a swift and brutal rebuke from observers:
Diddy is almost worth 820 million dollars his companies over 2 billion but white people still talk about him like he's a hoodrat, not a multimillionaire business man who continues to top each year with the most money made by any other entertainer. Shows how white people view us. pic.twitter.com/JSw0NHAFUU

— Tommy Rosiers (@tommyrosiers) December 18, 2017
Soooooo @HWoffordKRON4 that part about him looking like he's been smoking weed and drinking a 40 was taken out of context too?? A misunderstanding? Please your statement was very clear. You a whole clown.. #HenryWofford #Diddy #firethemboth

— justabi92 (@justabi92) December 19, 2017
Good job shucking and jiving for the white folk. I hope massa gives you a raise on your salary! #henrywofford

— IG: mc__lovin_ (@TacosxCocaine) December 19, 2017
What is it about the Trump presidency that brings so many coons out?🤔#HenryWofford pic.twitter.com/5t6J0ZL8bR

— SonOFdaSun (@pheno_mene11) December 19, 2017
#HenryWofford like "I'm not black I'm a reporter" pic.twitter.com/aHLAsRIhbq

— Hussle Crowe (@akaGhostWriter) December 19, 2017
That reporter, KRON4 newsman Henry Wofford, had to withstand tornado-intensity backlash for his imprudent attempt at jokes that relied on antiquated stereotypes.
Although it was said in an attempt to be funny, I realize insinuating a person may be drunk or on drugs is nothing to joke about. For that I sincerely apologize to Mr. Combs, his fans and everyone who was offended. Dozens of Diddy's twitter followers have accused me of playing on racial stereotypes. That was not my goal. But I understand my comments had that impact and for that I sincerely apologize.
Sean Combs has a long history of success in the music industry and he has done a wonderful job investing millions of dollars in multiple businesses. He has a great reputation for making large donations to help the community. He's a man who has worked from the bottom to the top and for that I respect his accomplishments. My comment was never intended to downplay what Diddy Combs has accomplished as an entrepreneur nor was it intended to question what he's capable of accomplishing in the future. Sean Diddy Combs has the work ethic, wisdom, dedication and contacts to be a successful NFL owner.
Wofford followed up with another apology on his Twitter accounts: 
Diddy is a businessman who has the work ethic, success & contacts to run an NFL team.My response to @DaryaKRONFolsom question was regarding if he's serious about buying the team. She laughed at my joke. The snippet takes things out of context. Sorry for any misunderstanding.
— Henry Wofford (@HWoffordKRON4) December 18, 2017
Despite his pleas for forgiveness and desperation to return to normalcy, the devastating Twitter hits just kept coming from everywhere like a blizzard, so Wofford was finally forced to delete one Twitter account and privatize the other.
Check out Black Twitter lambasting Wofford into oblivion: 
@HWoffordKRON4 we dont need the damage control apology. You are in a position to help us shine brother but you rather tap dance. This was a coon move. #HenryWofford
SF TV anchor apologizes over comments about Sean Combshttps://t.co/nydp1tBc6z

Shared from my Google feed

— Sublime520 (@eallenz) December 19, 2017
If y'all don't know who Henry Wofford is. He's the coon face nigga that was on the news talking about diddy "smoking a blunt & drinking a 40" cooning to his white employees #HenryWofford #kron4news pic.twitter.com/zs0I49fzHm

— Hussle Crowe (@akaGhostWriter) December 19, 2017
Saddens me 2 see this.This is why no one else will take us seriously. Your initial comment gave way & permission 2 further disrespect a very capable & human African American man. Still not clear on what was entertaining about it.It should have offended YOU. GREATLY! #HenryWofford

— Gina Denise (@niecey0308) December 19, 2017