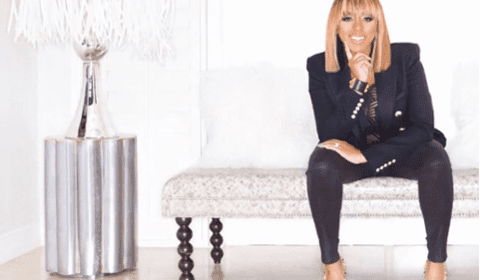 Kijafa Vick is much more than a "baller's wife." The wife of former NFL quarterback Michael Vick, Kijafa is using her professional skills and entrepreneurial mindset to create opportunities. Quietly, she is proving herself as a show producer. Her first experience came as the executive producer of "The Mike Vick Project," and now alongside her husband, she is the executive producer of VH1's "Baller Wives." She is the co-owner of Pnk Elephant and My Hair Closet.
A wife, mom and entrepreneur, Vick is tearing down the many cliches that are attached to ballers' wives. Rolling out had the opportunity to speak with Vick about her career, savvy business sense, and the passion she brings to her work every day.
What inspires you to show up for work every day?
Knowing that children are watching me. I want them to know how important it is to have something that you call your own.
How did you determine your career path?
I wear many hats but my most recent title addition is executive producer; this has always been a dream of mine. In the past, I co-produced "The Michael Vick Project," documenting my husband's return to the NFL after being in prison for two years. I am currently one of the executive producers, along with my husband on VH1's new hit show "Baller Wives." I am intrigued by the television and film industry. Although the process is long, the rewards are worth the late nights and early mornings.
Describe the skill sets that you think will be essential to future business leader and innovators.
I would say reading and in-person networking. The world is so consumed with social media and digital gadgets that people aren't reading to feed their minds. I am not excluding myself from this. We need to put down the phones sometimes and connect with people and read on people who have mastered the industries we are aspiring to grow in. I think this is fundamental and informative to the success of our future leaders.
Please describe the goal setting methods that you use and the metrics that you use to evaluate your success.
I like to set short-term and long-term goals. For example, I break my business down into small parts. With My Hair Closet, I might set a monetary goal and let my team know we will focus on body wave and loose curl to attain this goal. This has always worked for me. I also like to dig into my business reports and figure it out from there.
Name your favorite role models for success in two different industries.
My mother was an educator. She worked hard and made things happen. She instilled in me the importance of education. Even though she is no longer with us, I will forever be grateful to her. Michelle Obama would be another role model for me. I had the opportunity to meet her in an intimate setting with some influential business ladies on three different occasions. She carried herself with such poise, class, style and she was authentic. What I took away from listening to Mrs. Obama is that you can support your husband, but do not get lost in his legacy. Being married to a successful husband, although her struggles far exceed mine, I admire her strength and hard work in supporting President Barack Obama.
What three books changed your outlook on life and that you recommend to others?
1.    The Bible: A spiritual foundation is important for anyone.
2.    The 5 Love Languages: This book taught me a lot about not only listening but also learning what makes your spouse tick.
3.    The Purple Cow: This book taught me about marketing, how to stand out in a crowd and how to really get your point across.
Describe the voice of success that you hear in your head.
I handle things in black and white with no stress. I deal with the facts, so if something doesn't add up, I readjust the plan. Emotions are always put to the side on the road to success.
Success based on what you do in the community means what to you?
What you do for people that possibly can't do the same for you says a lot about your character. Giving back means very much to my family and me.