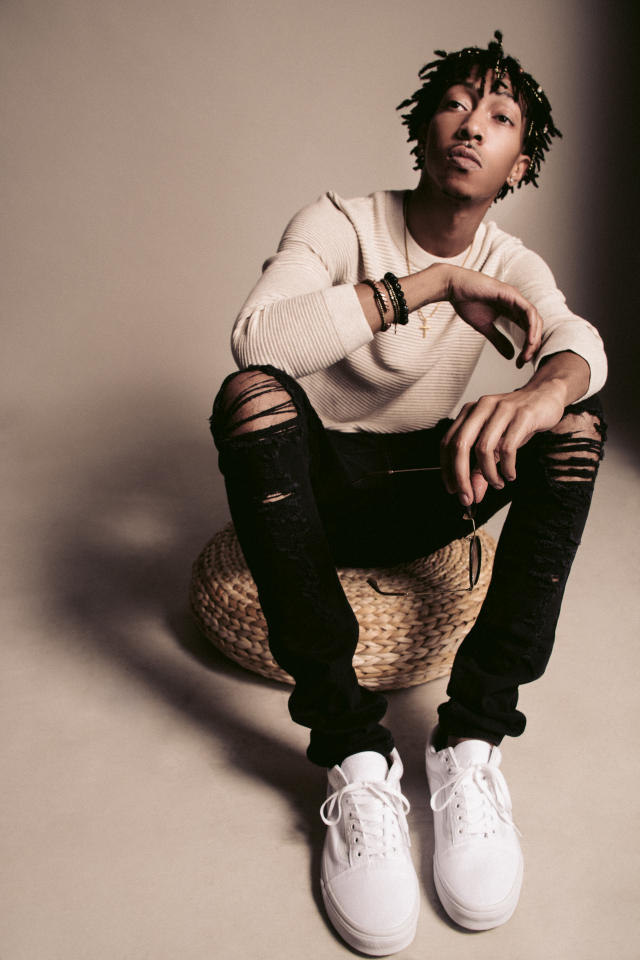 Singer, songwriter and producer A-Lex ended 2017 with a Grammy nomination and is looking toward more success starting in 2018.
Born and raised in Decatur, Georgia, Alexander Lloyd has been writing music since 2008. Lloyd has been on a steady climb making his name known with his work instead of his flash. In that time, Lloyd gained the opportunity to work with Musiq Soulchild on his recent album, Feel the Real.
Tell us something about yourself.
I'm a pop-soul singer, songwriter, and producer from Decatur, Georgia. I've written and done vocal production for artists such as Musiq Soulchild, Austin Mahone, T-Pain and Keke Palmer just to name a few.
Your stage name is a derivation of your government name. How did you decide to use that and what is the proper pronunciation?
My government name is Alex but I had a few friends that would call me A-Lex back in high school. They'd say it in a joking way but I liked how it sounded so I just ran with it. It's pronounced the same way you'd say Rolex, but it's A-Lex.
Who are your biggest influences?
I've been influenced by so many different artists but the main few are Musiq Soulchild, Pharrell, and Andre 3000. I've always liked the soul and versatility of each of them. Also, being able to work closely with Musiq has helped me gain an even higher respect for him than I already had. When we're in the studio, I can literally feel myself getting better as we go.
You've worked with Young Dro, T-Pain and Musiq Soulchild, which has earned you a Grammy nomination. What have those experiences been like?
Every time I get in the studio with an artist, I look at it as a learning experience. The work ethic that they have has shown me what it really takes to be successful as a recording artist. It's taught me to be patient because sometimes you can write a song with an artist and it may not come out for two years, if ever. I've been songwriting since 2008 and just this year I got my first Grammy nomination for being a part of Musiq Soulchild's latest album, Feel the Real. There's a song on the project that we wrote together called, "One More Time" produced by David Luke. I feel super blessed and I'm constantly inspired by the experiences I've had.
You've released two singles, "Get Away" and "Empty Space," two tracks with a lot of grooves and energy. How do you describe your writing and production style?
I like to describe my sound as pop-soul with a little bit of hip-hop influence. I'm really into artists like Jorja Smith, Goldlink and Jai Paul. I like how in their production they take a blend of genres and turn it into something of their own. "Empty Space" is a reflection of that in my sound. There's a little hip-hop, a little R&B, and a little pop all in one song. When I'm producing and writing, I like the process to be as authentic and creative as possible while still aiming to reach the top of the charts.
Of the songs that you have released or are on the way, which is your favorite and why?
Of the songs I've released so far, "Empty Space" feat. Chancer Smith and Cantrell is my favorite. "Empty Space" is a fun and energetic, yet deep and thought-provoking song that really represents what the project is all about as far as substance, creativity and collaboration.
The whole project is strong but there are a couple other songs that I really look forward to sharing. One with Musiq Soulchild called, "Goals"(official video in January). Also another called "Sleepwalking" featuring my sister, Athena Renee.
You mentioned an upcoming project, what is the name of it and when can we expect it?
Yes, "Empty Space" and "Get Away" are both a part of a compilation album that I've been working on since October 2016 called, Layers Vol. 1. This album features myself, Musiq Soulchild, and many other talented singer-songwriters [who] are in my immediate circle. We want to contribute to the culture, not only in Atlanta, but across the world and the best way to do that is by coming together. That was my mindset behind creating this compilation album. I expect to release the full project in January 2018. Until then, you can look forward to the official video for "Empty Space" on Christmas Eve.
Lastly, where do you see yourself in the next five years?
In the next five years I see myself as a multi-platinum, multiple Grammy award-winning, and wealthy recording artist/songwriter, and executive producer. I'd like to follow in the footsteps of Babyface as far as creating a lane for myself as an artist while also developing stars and coordinating full albums. Additionally, I see myself running my own music publishing company to create opportunities for other songwriters and producers to build a fruitful career in music.
Both singles, "Empty Space" and "Get Away" can be found on all major streaming platforms and more updates concerning Layers Vol. 1 will be posted at @lexontheboard.