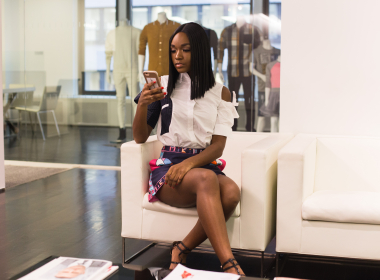 When you were elementary school you were probably worried about homework, video games or your favorite Saturday morning cartoon. Well, Savannah Britt was running her own magazine. Britt founded online and print magazine Girlpez at age 11 and was crowned the "Youngest Magazine Publisher in the World." Girlpez was a publication designed to empower teen girls through self-esteem development, fashion and beauty.
Surprisingly, Britt's magazine was not her first paying job. Feeling like a total slacker yet? Kitchen Table News, a local NJ newspaper, hired Britt at the tender age of 9. She was a paid published writer for children's book reviews. When the publication went out of business, Britt found herself unemployed. Determined to develop her own voice through writing, she decided to start her own magazine.
During her tenure as CEO of Girlpez, Britt caught the eye of, then-Teen Vogue editor, Amy Astley. Astley would serve as one of her mentors for many years after.
In the summer of 2009, Britt traveled to Johannesburg, South Africa, to study at the University of Witwatersrand as a part of LEAD Global (Leadership, Education and Development Programme). This was alongside the Oprah Winfrey Leadership Academy for Girls (OWLAG). Due to the lack of diversity in the corporate world, the program was designed to teach high school students about the foundation and basic fundamentals of business to help them with making a better decision in choosing a university or career profession.
While venturing off to college at Rutgers University, Britt decided to switch gears. She folded her magazine in 2012 and her love for communications led her to PR. As a college freshman, she started her firm, GP & Britt Public Relations, right out of her dorm room. During college, she became a serial networker which has now made her a popular socialite and PR guru. "Building my network was essential to building my success," she explains. "My networking has strengthened my ability to showcase my creative side. I love lending my expertise and now I get to do that with people I grew up idolizing."
GP & Britt PR has worked with big names such as DJ Khaled, 2 Chainz, Fat Joe, Ryan Leslie, Lil Yachty and Pelle Pelle. The firm specializes in brand management, marketing, content creation and public relations specifically with clients in fashion, lifestyle and entertainment industries. "I do it all," Britt says confidently. "If I'm not curating intimate fan experiences, I'm accompanying an artist to fashion week or servicing a new artist's album release in the digital space, and much more …" She laughs, "I definitely need more than 24 hours in a day."
The mantra that drives Britt is "Nobody cares. Work harder." "I live by that quote. Truly, no one cares. It's all about you getting the job done and being responsible for yourself."
2017 was coined another "The Year of the Woman" and according to this lady boss, "2018 is going to be even better. I have so many projects and I'm adding more stamps to my passport. I'm ready to jump right in."