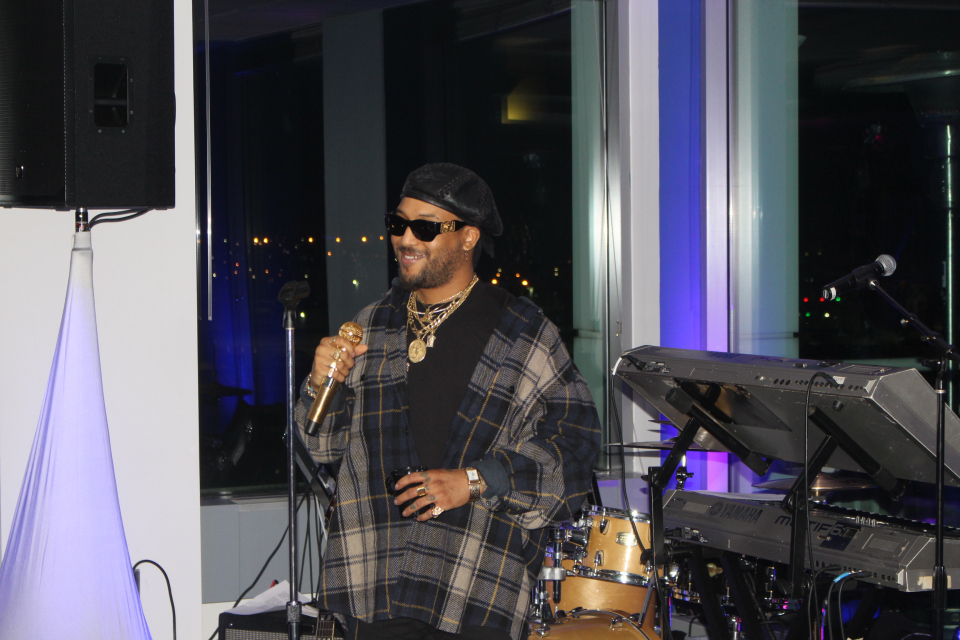 You probably know him best by his unique, soulful R&B sound that often gets him compared to the late, legendary artist Prince. However, according to him, he has a style that's distinctively all his own. His name is Ro James, and he's a millennial artist that's on a mission to bring back the soulful and good-feel vibrations of R&B music. You're sure to know exactly who he is once you hear his immensely popular song, Permission – better known by its catchy hook: give me that green light.
Recently, the Panamanian singer performed for an exclusive Ford Motor Company sponsored VIP, invite only crowd, held at the UAW-Ford National Programs Center in Detroit. His performance was in conjunction with kicking off the North America International Auto Show (NAIAS) media preview week.
After his private set, we talked with the crooner to get a feel for the type of artist he perceives himself to be, his brand of music, his style of dress and so much more. When we asked him if he had any New Year resolutions, he assuredly said to "… focus on myself more this year." The laid-back artist also spoke openly and candidly about his humble beginnings in Panama, his newest projects, and more. Check out the interview below to see what James had to say.
How would you best describe your brand of music?
Genre-less. It's just very difficult because being genre-less takes a lot. People want to put you in a box, that's how people understand you. I guess, my idea is genre-less, but people can put me in R&B, but you can't call it R&B because it still has a grit to it. It's not so R&B, it's more rock. Then you can't call it rock, because it's still smooth, but you can't call it gospel because it has a feeling. You know what I mean? So, it's just a melting pot of all the genre's. I thrive off of that, just being myself and dressing how I feel. My jewelry, I'm Panamanian, so that's why I have a gold tooth too. Like this watch, I've had it since I was 14 years old, it's from Panama. My great-grandmother gave it to me before she died. My earrings, I've had forever. All these things just lend to my style.
Some people may say you have more of a Neo-Soul type of sound. What do you have to say about that?
Neo-soul is cool, but I feel like Neo-Soul is such a box. When I think of Neo-Soul, I feel like it's an older genre that people put you in when you have soul, but they can't box you. So, they call it Neo-Soul. I'm soulful, but I have songs on my album that don't feel like they're Neo-Soul. But, is it just because I have soul that it's called Neo-Soul? It's a constant battle. I try to get out of it. But I feel like I'm not even mad at having the word or the description of soul, because that is what it is at the end of the day. If that's what people want to box me in, [that's fine] as long as they put me as new Neo-Soul. I relate music in colors. When you say Neo-soul, I see browns, and like mahogany's, and dark brown's and fuschia's. That's more Neo-Soul. But with me, I'd like to describe my music as red, black, as electric, as neon, because it's different. It's not like [anything] you heard, and I do that purposely to not be like anybody, just do my own thing.
How about your personal style? How would you best describe your style?
My personal style is just that. I would say individual, being myself. I don't have a stylist. I never had a stylist. I dress myself every day, every award [show], every show,  I do me. I feel like that's important because I feel like the way you dress is a resemblance of your personality, your mood, how you feel. One day I might want to put on a flannel [shirt], or I might feel good [that] day and I might want to put on a suit. I might want to put on some boots, or some Tims. It's just about how you feel in a day, and I think you have to be honest with yourself like that.
Who's your biggest inspiration?
I have a lot of inspirations, I have a lot of people that I admire. Artist-wise, my dad [Ronald] sings , so he was the first person that was my inspiration. He's a family man, he took care of us. He made sure that we put God first. He told us we could do anything we wanted to do. But, Prince, Marvin Gaye, Stevie Wonder, Otis Redding, Deangelo. I love soul music, and I love artists that really were individuals in themselves, and really carved out their own lane. It's crazy, I get these Prince comparisons, then I get the people who say "…stop trying to be like Prince," and I'm like "Bro, what are you talking about!? I'm being me." I can't help that I know how to use my falsetto. My tone is my tone. Prince is Prince. There's only one Prince, one Lauren Hill, one Deangelo, one Ro James. So, that's where I'm at. Just trying to make sure that I continuously be myself, and carve out my own lane.
What projects are you working on?
I'm working right now. Actually, I've been wanting try to finish by February 1st, and put something out by Valentine's Day, and [put out] my album [named Romantic MP3], probably by March. I got it all planned, and I'm about to start shooting the visuals.
I'm also working on my own brand of clothes. The name is Nineteen, XIX. I was born November 19, I was 19 when my grandfather died, he was a big influence in my life. Nineteen [when I had my] first love, first heartbreak, [when] I wrote my first real song. So, 19 for me represents the beginning of my journey.