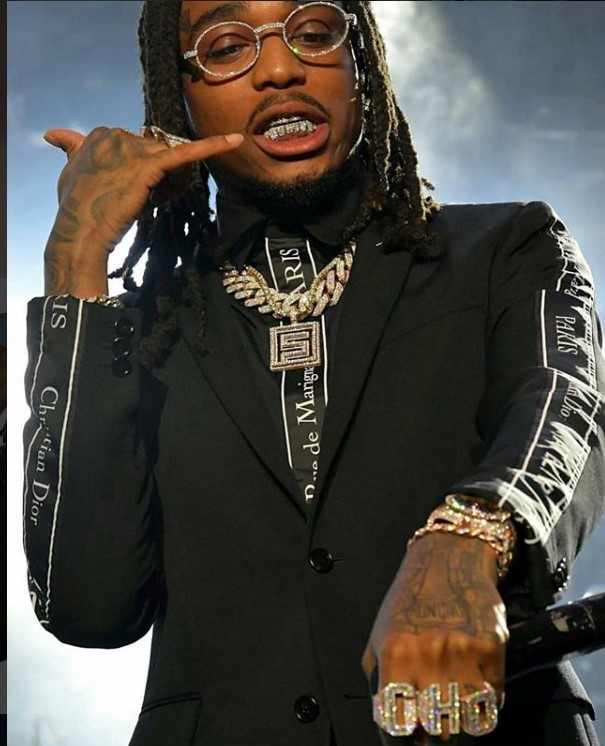 NEW YORK — Rapper Quavo is the member of the superstar rag group Migos who mainly supplies the beats for the Atlanta-based trio. But he allegedly put those same diamond-decorated paws on a famous jeweler during a Grammys after party at 1Oak in Manhattan, TMZ reports.
According to law enforcement sources, Eric the Jeweler reported the incident to New York Police Department on Tuesday, saying he and Migos were in the club around 4:30 a.m., Monday morning when smack talk over money Quavo allegedly owes Eric turned physical. The jeweler to the stars told police he was jumped by Quavo and another man who was partying with the group. Sources in the club say this other man was neither Offset nor Takeoff.
Eric, who has made expensive jewelry pieces for Snoop Dogg, 50 Cent, French Montana and a legion of entertainers, left the venue with minor injuries to the face, but noticed his $30K chain was missing.
According to TMZ, the NYPD wants to talk to all the members of the group as well as their manager. Officers also want to review security cam footage from 1Oak.
This isn't the first time Migos has been involved in drama that got physical. There was Quavo and Offset attempting to jump a bouncer outside of a club last year, which didn't have cops involved. Neither did the confrontation between Migos' entourage and XXXTentacion in LA. The footage was released slowly over three days before it was finally revealed that the trio wasn't involved in jumping the controversial Florida rapper. It appears that may not have been the case this time though. Hopefully, everything can get cleared up as soon as possible. Between this and Offset's "queer" controversy, the Culture 2 album cycle is getting a bit sidetracked from the music.
Stay tuned for updates on this developing story.