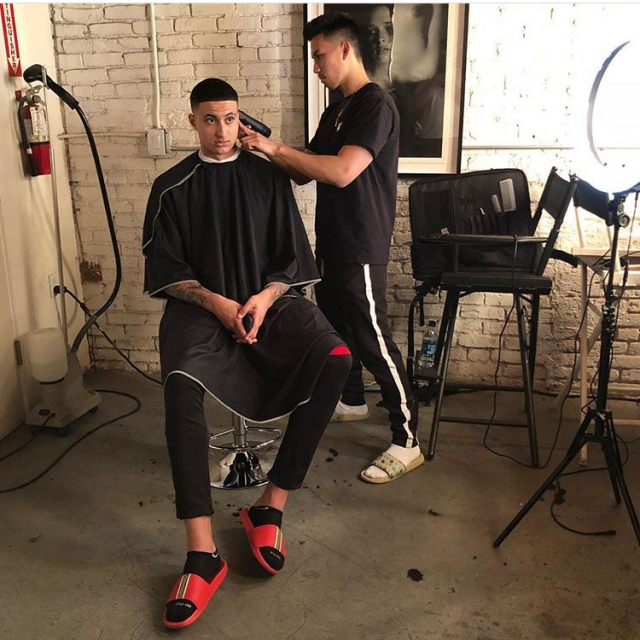 Los Angeles is known for fashion trends, warm weather, and A-list celebrities. With so much excitement in one city, entertainment is on every corner, so stars are always keeping themselves groomed to look their best, especially the NBA players. L.A. being the home of the Lakers makes it likely for any of the players to be caught by fans or paparazzi, so players reach out to their barbers for the freshest cut to stay camera ready. Ray Santos, a barber based in L.A., is the man that many professional basketball players love to come to. Santos has cut hair for Kyle Kuzma, Lonzo Ball, Isaiah Austin, and Josh Hart through the connections he has made in the barber industry.
Check out his journey as a barber.
How did you begin your journey as a barber?
My journey started at the very bottom. There's no such thing as somebody picking up a pair of clippers and being so good at it. It takes time. Offer people like your friends or family haircuts to practice on, and from there you just work your way up. It's one of those things where you don't pick it up right away. I say six months to a year, but it takes time and practice. It's a skill you have to work on to master. That's how I got started.
What's your biggest win to date in your career?
My biggest success story is nourishing the relationships I built. I say that because I'm a big believer in your network is your net worth. I've met a lot of people throughout the years. I've been cutting for eight years now. The number of people that I've met and the relationships I've built have taken me where I am today, so I would say it's the relationship building.
What's your biggest challenge?
My biggest challenge is me trying to expand my network from the people and the relationships I've built as a barber to something bigger. It's one thing meeting all these people doing their hair, but trying to take that further to grow myself personally is the biggest challenge I face and I still face.
What advice would you give to the younger you? Why?
The advice I would give to my younger self is first to set your standards higher than what you think you can do and know your worth at the same time. I say that because back in the day, I knew what I wanted for my bigger picture but I didn't work toward those goals hard enough. So if you set your standards even higher to what you want to achieve, then you can reach to the top. But if you fall short, you're still at a higher spot than what you planned to be.
Where do you see the barber industry heading? Why?
I see the barber industry going up. A ton of people in the world want to be barbers, whether it's the need for people to get their haircut, or it's a cool thing, whether people think it's fun, and they can make money doing something that they think is fun. But I believe the barber industry keeps taking off higher because there's so much more than just getting a haircut. I live in L.A. where it's a must to stay clean. From my point of view, a lot of people are going to need a barber, and the barbers that have been around for a while can teach the younger ones that are coming up. It's so many products, it so much more than barbering, it's male grooming to it, too. All that combined, it's going to be a higher demand for us barbers. There's only a win in the industry if you're doing a good job, because there's just so much that people need out of a barber.
How did you meet Kyle Kuzma?
I first met Kyle Kuzma in Las Vegas during the NBA summer league. I was on my way to cut Lonzo Ball, which is one of his teammates. I was in the elevator going to his room. I knew who he was. I keep up with the Lakers, and I'm a Lakers fan. I pretty much just let him know that I'm a barber in L.A. taking clients and taking new clients. Letting him know that when he needed somebody when he moves back to LA to hit me up. We exchanged contacts, and from there everything was good. I've been cutting his hair since then.
What direction do you see your career going now that you are a celebrity barber?
I want my career to go regarding barbering to being a personal barber. I don't see myself cutting too many hours as time goes on. If I'm meeting the right people and putting myself in the position where I should be, I should be able to step a little bit off the chair. I do have some personal clienteles to sustain that, but if I keep building, then I'll be able to achieve that barber vision I have rather than being a traditional barber at the shop. There's nothing wrong with that, but I want to step away from the chair and be more of a personal barber.