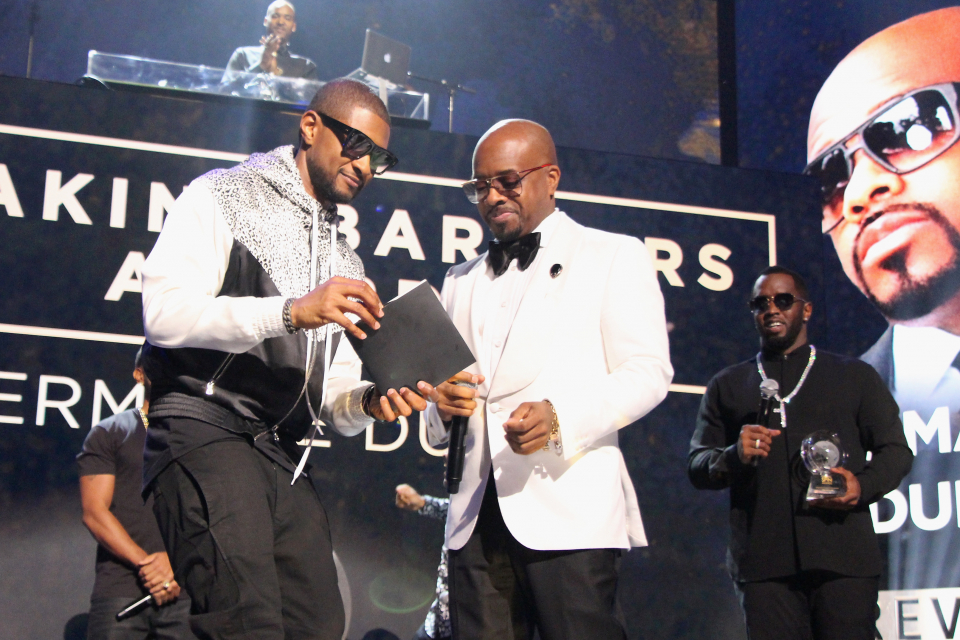 Revolt and the Global Spin Awards joined forces for the sixth annual show honoring the most dynamic and talented DJs from around the world. The Global Spin Awards took place in Los Angeles on Feb. 15 at the NOVO at LA Live. Entertainment icon and host Snoop Dogg, also known as DJ Snoopadelic, presented the 2018 Global Spin Award recipients: DJ Khaled, DJ Camilo, DJ Carisma, Diplo and more.
In addition to recognizing DJs for their significant role within today's culture of music, the show honored two timeless legacies from the industry: Usher presented Jermaine Dupri with the Breaking Barriers Award and Pharrell presented Timbaland with the Lifetime Achievement Award.
Jermaine Dupri said, "I'm truly blessed to be honored with the Breaking Barriers Award. I've worked with so many talented artists and DJs to produce great music over the years. The secret to breaking musical barriers is simple — practice makes perfect. For all the DJs out there that have supported and accepted me, I thank you for playing my records and sharing it with the world."
Lifetime Achievement honoree Timbaland added, "I love music. I was a DJ first, and when I didn't like the music out there, I decided to make beats and create music for the fans. I'd really like to thank all the DJs that have played my records, and continue to play my records every day. It feels a little weird receiving this Lifetime Achievement Award because I feel like I'm just getting started."
Sean "Diddy" Combs, Jermaine Dupri, Snoop Dogg, and Ludacris took the stage for a legendary performance of "Welcome to Atlanta (Coast to Coast Remix)." The show also included an epic performance by Fabolous and Jadakiss with additional performances by Nipsey Hussle and A Boogie.
Presenters for the night included GSA founder Shawn Prez, Victor Oladipo, Vashtie, Justin Combs, Quincy, Nichole Scherzinger, King Combs, Young M.A., Angela Simmons, Vanessa Simmons and more.
King Combs also took the stage during the Global Spin Awards pre-show hosted by Revolt's Hannah Rad, airing Thursday, Feb. 22 at 8:30 p.m. E.T. The pre-show will feature celebrity interviews and give viewers an exclusive sneak peek of the 2018 Global Spin Awards.
The 2018 Global Spin Awards winners include:
DJ OF THE YEAR- DJ Khaled
NATIONAL CLUB DJ OF THE YEAR – DJ Camilo
FEMALE DJ OF THE YEAR – DJ Carisma
DJ RECORD LABEL OF THE YEAR – DJ Drama/Don Cannon – Generation Now
HIP HOP DJ OF THE YEAR – DJ Khaled
INTERNATIONAL DJ OF THE YEAR – Diplo
The Global Spin Awards airs Thursday, Feb. 22 on Revolt at 9:00 p.m. E.T./6:00 p.m. P.T.