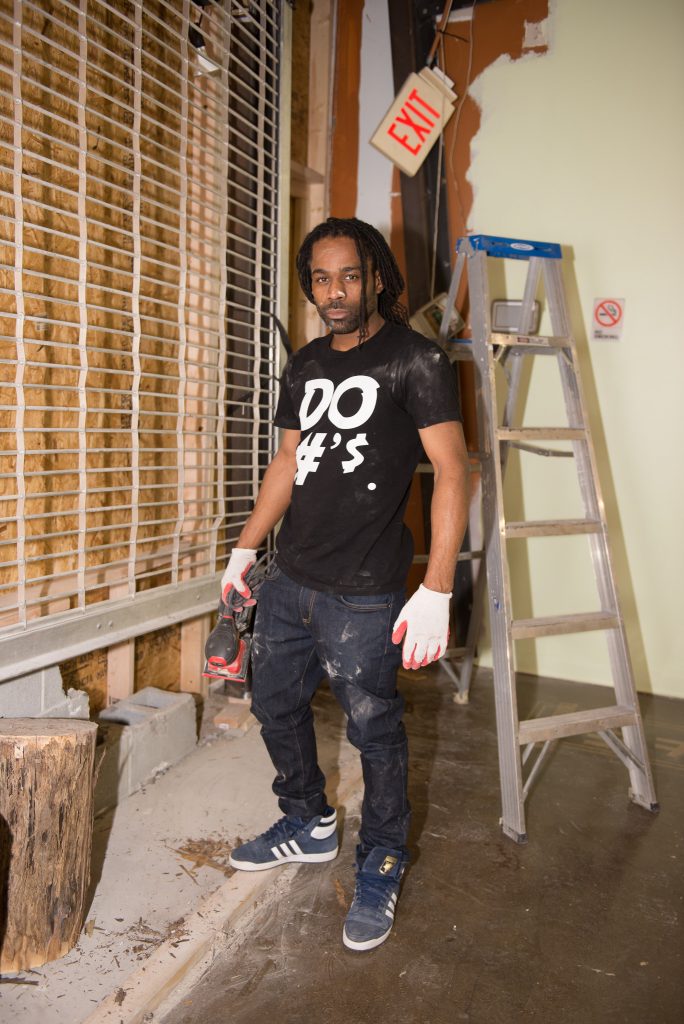 The Three Thirteen store and Clement "Fame" Brown, founder of the Detroit centric apparel brand, have been connected and respected in the urban fashion industry and Detroit community at large for years. From the basement to the avenue, the urban fashion pioneer has overcome obstacles that would break most entrepreneurs. After suffering a major loss resulting from a smash and grab robbery back in January, Brown is set to reopen his brand's flagship store on March 13 at 2642 E. Jefferson Ave. with a renewed spirit in a remodeled space.
In celebration of the grand reopening of the downtown Detroit store, Three Thirteen will host a soft launch on Friday, March 9, and an in-store performance by a local R&B artist, and a special appearance by 107.5-FM radio personality DJ BJ on Sunday, March 11 before ending the weekend's festivities with the brand's grand reopening on Tuesday, March 13. Also known as "313 Day" to Detroiters, March 13 not only represents Three Thirteen's rise above adversity but will mark its third anniversary. When the 38-year-old trailblazer could have easily thrown in the towel or relocated from the Motor City, he chose forgiveness. He chose to stay in Detroit.
"Our community is quick to have this negative narrative that we don't support each other, we can't have nothing and every time we try, someone will tear us down … I can understand why people that feel that way but it's not my narrative," Brown says. "It's never been my narrative. I've always been stereotyped as that person. … The truth is we do support one another. For two and a half years straight, we didn't have any break-ins [before this]. We didn't hear this conversation because I've always  [received] support. I've always had business in Detroit. When you're 12 years old, you don't have a choice of what city you [start in], you just start where you are. I don't subscribe to the narrative that as a people we ain't nothing [and] as a community we can't have nothing [or] I wouldn't be able to do what I'm doing [to build other brands and help them succeed]."  
That narrative of entrepreneurship in the city and sense of community began at the tender age of 7 for Brown, and it helped shape an integral part of Three Thirteen's brand philosophy. While raising millions for others, his father instilled in him the possibility that he could be wealthy. Brown recalls his "godfather" and business mentor telling him that he would never get rich working for him or anyone else. Under the guidance of a businessman respected by everyone in the community, the future entrepreneur learned production, retail and wholesale at a young age. While his peers sold drugs, selling T-shirts kept Brown out of trouble and sparked the start of what would eventually become a million-dollar business. There was no other option for Brown but to launch his own business.
With a new addition to the Three Thirteen family tentatively slated to open in 90 days on Detroit's historic Avenue of Fashion (located on Livernois Avenue), the budding fashion mogul's meteoric rise continues. The Three Thirteen location on Livernois will boast a larger retail space, later business hours, family oriented merchandise geared to men, women, and kids and more of a community feel than the Jefferson Avenue store.
"The Avenue of Fashion for me, growing up in the city, has always historically been a place for retail. I moved here [from Buffalo, New York], when I was 7 or 8 years old and started selling clothes at 12," Brown shares. "To say that we have a store on the Avenue of Fashion that carries local Detroit brands, that are up and coming as well as national, seasoned brands that are prominent is a testament to the hustle and grind I've been putting in since I was a kid. Where a national chain store might look at Livernois [at the intersection of 7 Mile] and say 'OK, whatever,' to me it's a huge deal. It represents more to me symbolically than just another street."
The growth speaks to Three Thirteen's resilience in overcoming years of struggling with inclusion within the Detroit retail landscape, at a time when promoting Detroit wasn't "cool" and it meant possibly being blackballed in the fashion industry. Much has changed since Brown first patented the Three Thirteen trademark back in 2009. Nine years later, the revolutionary retailer is emerging as a recognized player in Detroit's resurgence and has plans on eventually expanding nationally.
"Detroit is the Renaissance City. We're the city of new beginnings and what's going to be next, whether it's publicized or not, it's always been that way," Brown proudly stated. "Coming from a small town like Buffalo, New York, Detroit has always been a place of opportunity and excitement. I always thought of Detroit as a place where I can make it so I can understand the excitement people have [who are] coming to Detroit from other places. I had that same excitement as a child. It's very important that guys like me and the brands that I represent are included in the 'hype.' "
Twenty years in the making as a self-proclaimed "brand warrior," Brown continues to put the city on his back as "Detroit's Brand Name."
Drop into Three Thirteen at 2642 E. Jefferson Avenue starting Friday, March 9 for prizes and special discounts before the grand re-opening kicks off on Tuesday, March 13.
For more information, please visit Three Thirteen at www.threethirteenstore.com and on social media as @famelifellc on Facebook and @threethirteen2015 on Instagram.