Roc Nation's pretty purple unicorn Justine Skye is headlining her very own national tour along with actor and R&B singer Trevor Jackson ("Grown-ish") and Kayla Brianna, daughter of former NBA champion, Kenny "The Jet" Smith. The tour kicked off in Washington, D.C., and has made stops in several major cities including Philly, New York, Chicago, Toronto, Detroit, Atlanta, Dallas and Houston.  The tour concludes this weekend with stops in Los Angeles on April 7, and San Francisco on April 8, where the Bay Area's own Marc E. Bassy will make an appearance.
The concert was majestically electric. Opening for Skye was the beautiful Kayla Brianna, with her sassy and melodic sounds and Trevor Jackson with his smooth, perfectly tuned and, well, grown-ish sounds (pun intended). Both singers brought the heat and warmed up the stage and the audience for the gorgeous Skye. Skye hit the stage with her perfect purple ponytail, symbolizing her unicorn avatar, and commenced to rock the house. Pandemonium erupted in the place, as she effortlessly smashed fan favorites such as Jezebel, Back For More and Don't Think About it. She commanded the stage and put on one hell of a show. The crowd sang along with every song, from start to finish, and by the end of her performance, some fans were even seen crying in admiration of simply being in the purple unicorn's presence.
Rolling out talked exclusively with Skye after her Detroit performance to learn more about her majestic style, glean some beauty tips, find out about her record deal with Roc Nation, future projects and more. Check out the exclusive below.
Take us back to when you found out you would be signed to Roc Nation. What were you doing? How did you feel? Was it a dream come true?
Oh, man! Definitely was a dream come true. I was actually in my kitchen when I found out. I knew it was a conversation, but I didn't know that it got confirmed and I didn't know that it was actually going to happen. But my mom was like, "Oh, by the way, you have to sign this contract, you're going to be signed to Roc Nation," and I was like "wait, what!?" So, it kind of was like "WHOOO," but I panicked in my room, it wasn't like a big huge celebration the day I found out. But obviously we celebrated for a long time, and we're still celebrating …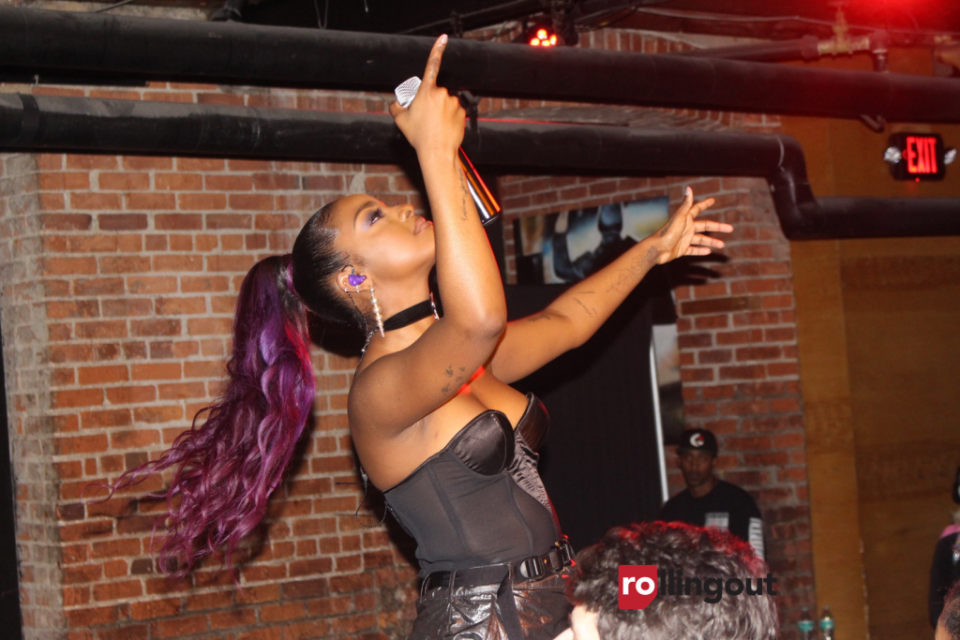 How is it to work with legends in the business such as Laurie Ann Gibson?
Working with Laurie Ann is definitely a dream as well. I mean, like you said, she's a legend. And she works extremely hard. I've learned so much from her, when it comes to just being confident in myself, to my dance moves, to just the way I breathe, to even to just the way I communicate with guys now.
Now, let's talk about your album. We read somewhere that the title of your album, Ultraviolet, is named after the brightest hue of purple that exists. What's going on with you and the color purple?
So, the color purple kind of just came about in my life because one, I never liked the color at all, and so I wanted to dye my hair so badly, and that was the only color my mom would let me dye my hair, probably because she knew that I didn't like it, and she didn't think that it would actually happen. But I wanted to dye it so badly that I didn't even care. So, I just started dying my hair purple from the tips, and then every time I would come home, it would just get more and more purple. Sometimes I would change the shade of it, and it just became my thing. Everyone was like "hey! That purple-headed girl," and then it went from "that purple headed girl" to "Justine Skye with the purple."
We've seen your video Back For More, featuring Rotimi, and it was hot! Congrats! But the song itself is empowering for young women. Tell us what's the message you want females to walk away with from this song.
Well, what I want women in general to know is, and I think that most of us do know, we feel like it's the end of the world  when it comes to a breakup with a guy, like we're just sitting there sad, in our rooms, eating our ice cream and our hot Cheetos and whatever it is to get over the pain — and then you get that text, like "Hey, what's up, what are you doing?" And it's kind of like they'll always come back. Even if it's not a text, maybe it's them liking your photo's or they're looking at your Snapchat or something, they'll always be back, they'll always be interested in what you're doing. So, you shouldn't trip about it. You ain't gotta trip girl, they'll be back for more!
Great message and I hope some girls get that message too. But, let's go back to the album, which song would you consider to be your favorite song?
I don't think I necessarily have one favorite song — it's my album, I think I love every song. But, I feel like depending on my mood, or what's happening [at] the moment, I have a different favorite song. Currently, being on tour, and performing the album to everyone, the song that I love to perform the most is "Push Ya." I wrote on that song and basically, it's about being in a relationship that's not going your way, but you're so in love with this person that you're going to fight for this relationship, you're going to push him to love you. Like I said [in the song], "I'm trying to be the one to make you fall, even if I gotta push ya."
Let's talk about your stage presence. It was on like a million. When you get on stage, do you turn into another person, or do you take on another persona? How do you project such confidence onstage?
That's Justine Skye! That's Ultraviolet. That's who you're' getting when I'm onstage. I mean, when I'm around my friends, I'm Justine Skyers. I'm just like the goofy, shy, whatever. And then as soon as I step on to that stage, there's no turning back. It's like, this is it. This is my job. But not a job like, oh, I hate it. Because I feel like your job should be something that you love to do. It shouldn't be something that you dread. So, when I step onto that stage, it's like mode, like I'm on!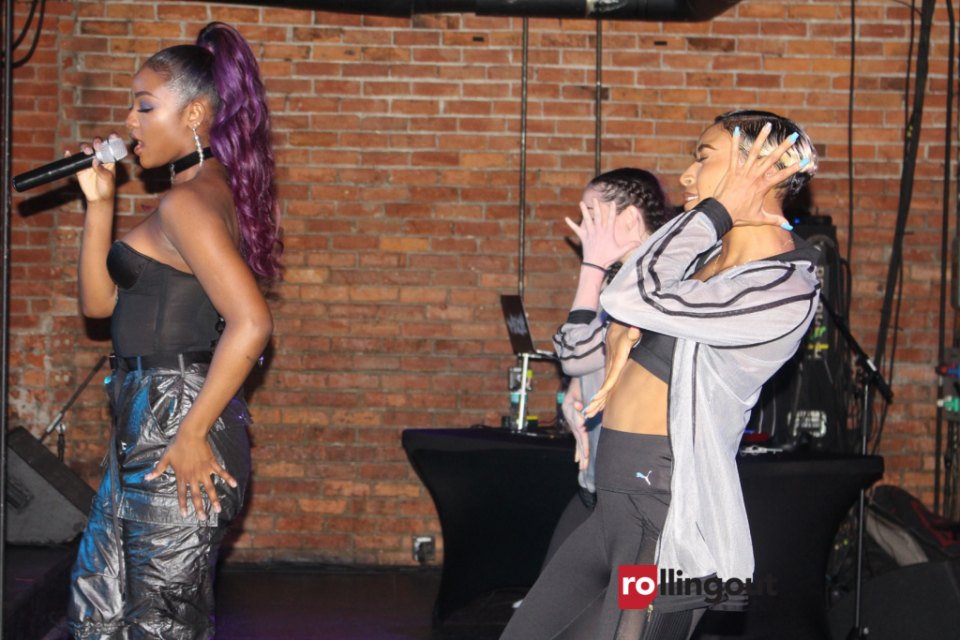 Speaking of being on, we've looked at your IG account, and you're definitely a trendsetting role model. You're both classy and trendy and have a spunky edge to your style, all while remaining a consummate professional. Along those lines, how would you best define your style?
I would define my style as depending on my mood. When I'm on stage, I have my performance outfit. I want to be a little bit extra, a little bit sexy, but still chill because that's me all around. I'm a very chill person. As soon as I get off that stage I'm in my sweatpants, I'm in my cozy clothes. I try to be as comfortable as possible, even though I know as a woman that it doesn't always work like that, we gotta put on eyelashes, lip gloss, and it's definitely a transformation, but we love to do it, it's fun. Where I'm from has a lot to do with [my style] too. I'm from Brooklyn, so I like being obnoxious, very extravagant, but still very tom-boyish as well. But then I also like to be very glamorous as well, like a little princess sometimes, and that's when I go to [events] where I get to wear gowns and stuff, and I love that type of stuff!
And you pull it all off so effortlessly. And speaking of being effortless, let's talk about your beauty. Flawless comes to mind when we're looking at your beautiful skin. How do you get your skin to glow?
Shout out to my make-up artist Rebekah Aladdin. I will also shout out my mom for that when it comes to genetics and also, I steal her skin products, we use Clinique, and we dabble in [other] stuff here and there. I don't really pay attention to it, I just follow whatever my mom does and it works, so that's what I stick to.
Well, it's definitely working for you because your skin is beautiful. Do you have any projects coming up after your tour? Movies maybe?
Well yeah, I do have a movie that I filmed last summer, and it's called Green Dolphin. I'm really, really excited about that. I don't have a date for you guys but it's definitely going to be fire. And obviously, continuing to work on music, my debut album Ultraviolet is out now, so you guys can check that out and just stay tuned.
Where can we find you on social media?
You can follow me on IG, Twitter, Snapchat, everywhere, @JustineSkye