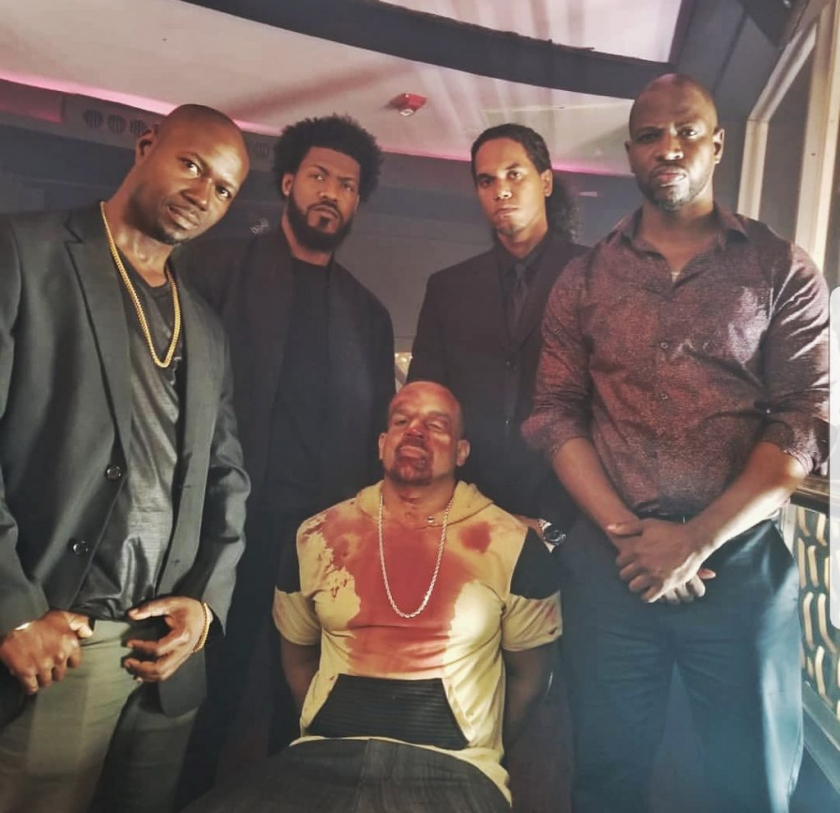 Kwame Patterson is no stranger to the small screen. Currently, the "The Oath" star sizzles as the cutthroat kingpin Neckbone in the dark, riveting drama centered around a cop gang inside the LAPD. From climbing up the ranks of the grimy Baltimore streets as Monk Metcalf in HBO's hit, gritty street drama "The Wire," to holding his own opposite Liv Schreiber as the no-nonsense Re-Kon in "Ray Donovan," the Baltimore native reveals to rolling out why people won't be able to take their eyes off Neckbone.
How did you get cast as Neckbone? What is your character like?
I actually went in for the role of Detective Damon Byrd but they decided I was better suited to play the character Neckbone. Neckbone is a very calculated and menacing guy, but at the same time very smart. If he was born on the other side of the tracks, he could run a Fortune 500 business. His presence demands attention. When he speaks, you listen.
What aspects of Neckbone's personality are most like your own?
I would say my presence and attention to detail.
Many viewers know you from HBO's "The Wire" as Monk Metcalf, a lieutenant in Marlo's (Jamie Hector) street gang. Besides being a ruthless street boss in "The Oath," how is your character Neckbone different from Monk or any other character you've played?
Neckbone is different because he's a boss and a businessman. Monk was just a low-level street hustler.
Being from the streets of Baltimore, how do you pull from any past life experiences to add layers to your characters and have you had any experiences first hand or that you have witnessed like Neckbone?
I grew up around people like Neckbone and people like Monk from "The Wire," so I experienced [things] first hand and witnessed plenty of situations to draw from when I'm playing these type of characters.
We hear that the show almost didn't get finished because of the hurricane in Puerto Rico. What was that experience like going back to complete filming after the devastating hurricane crippled the island?
It was a blessed and beautiful experience working in Puerto Rico. When the hurricane hit, it was devastating but the people of Puerto Rico always stayed in great spirits. It was sad to see what happened to the island but we all tried our best to give back and help out as much as we could with relief efforts while we were there.
What can viewers expect from season one of "The Oath"? What makes it stand out from any other gritty cop drama?
They can expect a roller coaster ride of emotions. "The Oath" will have you trying to figure out who are the cops and who are the bad guys. It teeters on a fine line between good and bad.
What was it like working on set with 50 Cent, Sean Bean ("Game of Thrones," Lord of the Rings) and Cory Hardrict (American Sniper)?
I'm a huge "Game of Thrones" fan, so it was an honor and an amazing opportunity to work with Sean Bean and I already knew Cory Hardrict. He's my brother. So down to earth, humble and just a super talented guy. It was great to be able to work with one of my friends.
If you can tell fans of the show anything, what would it be? Critics?
I hope the viewers will gain a sense of empowerment and inspiration in their lives to reach for their goals and dreams, to keep moving forward. If a kid from the streets of Jersey and Baltimore can do it, you can too. And for the critics, see you at the Emmy's. #TheOath
What's next on the horizon for you?
All I can say for now is stay tuned. Big things are coming.
Catch Kwame Patterson as the ruthless crime boss Neckbone in "The Oath," now streaming on Crackle. Follow Kwame on social media as @kwamepatterson on Instagram and Facebook.