"Motherhood: All love begins and ends there." – Robert Browning
Tameka "Tiny" Harris is in love. The gleam in her eyes, the sincerity in her voice, and the gentleness of her touch confirms it all. But this love doesn't mirror the type she's sung about on countless hits with legendary R&B group Xscape over the years. No, this is the purest form of Storge and Agape love that one can find. Perhaps the greatest representation of that love was shown to us in the moments before her cover shoot. The setting and circumstances — while simple, said it all. While in the dressing room preparing to step out in her first look, a little voice rang out. "Mommy … mommy … I lovvvvvvve you."
It didn't stop. Over and over again, Tiny's seventh and youngest child Heiress wanted her mother to know just how much she loved her. And what was Tiny doing at the time while her toddler was showering her with affection? She was right there, with Heiress in her lap, hugging her and repeating, "I love you too." The scene was remarkable because it highlighted a side of her — and by extension her husband T.I. — that the world can sometimes forget. These are real people. And she is a real mother and lioness who is fiercely in love with her pride.
The following is an excerpt from our time with Tiny, during which she opened up about the true loves of her life: Her children.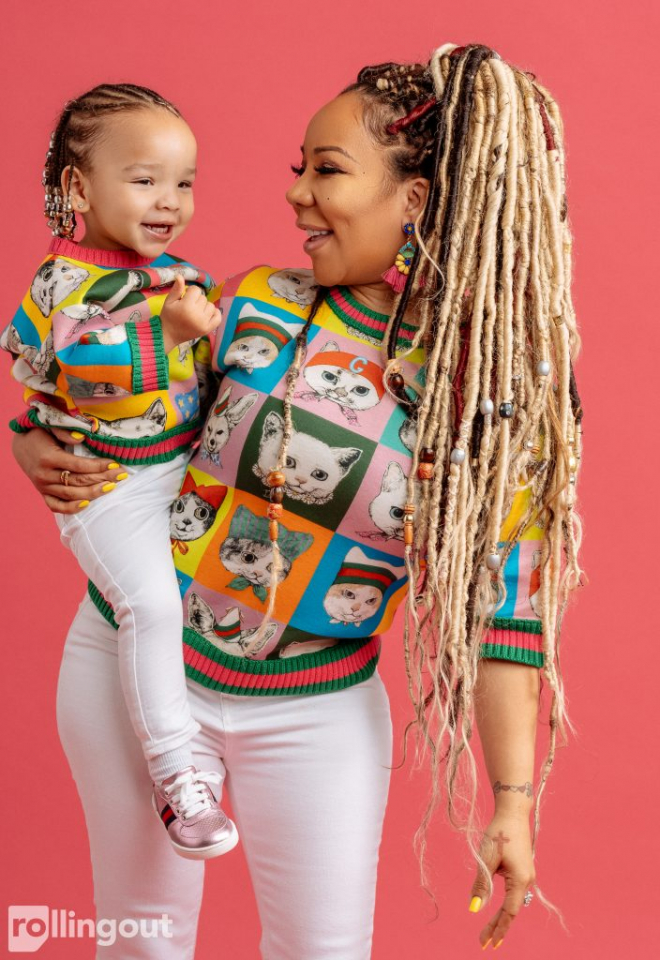 You have always exhibited a pride in your family — specifically your kids. But there's been something really special about your bond with Heiress. Can you share more about the relationship between you and your youngest child?
This time around has been a more fun experience because I'm able to enjoy being older and enjoying motherhood from an older perspective. She came at a time that was perfect. She is the best gift ever.
Tell us about the significance of the name.
All of our kids have strong names with strong meanings. She is the heir to the throne.
Are you already starting to see some of your personality come through in her?
Yes! She's so sweet. Everyone that's around her always comments about how she's such a sweet baby. Of course, she gets all of that from me.
Did you always want to have a big family, or did life just evolve in that way for you? 
I always wanted a large family,  because growing up it was just me, my brother and sister. I always wanted at least five kids, and now I have seven.
How difficult is it to raise a family while still pursuing your goals as an artist and entrepreneur?
It's only difficult if you make it difficult. Me and my other half don't always agree on travel arrangements, but it's really what you make it. Whatever I'm doing, I always wanna bring my kids, which can be challenging. But it's a challenge that we always get through!
How do you make sure that you are not only being a good mother but also taking the time to take care of yourself?
I'm in my own world when I'm working. But when I 'm done,  I'm back on my momma duties. In my world, working is my ME time.
As a mother, how important is it to take time out for self-care?
It's very important.  Exercise is key, as well as maintaining healthy hair, skin and nails. All of those things are important to just spoil yourself, and make yourself feel good.
Your kids all seem to be ambitious in their own ways. How do you encourage them to pursue their dreams?
I encourage them to start now! They don't have to wait until their older years. If you feel it, then you pursue and put the time into it. I tell them stories of how my mom had me in activities growing up, and how that helped me perfect my craft. I hope they see that and learn from it when they are pursuing their own goals.
Tell us about the new business endeavor with Heiress.
She has nail polish line, and a baby product line called "Major Baby" that includes shampoo, conditioner and body lotion. We're really excited about it. When I was pregnant, I had the idea of an organic line, and this is the by-product of that. She loves to get her nails polished, so we wanted to create something that other little girls could enjoy as well.
What advice would you give to mothers who also want to be entrepreneurs?
Put your child into activities that they are interested in, and help them grow within them. Whatever it may be, I would just encourage them to build on it their talent, and push them in that direction. It could go a long way in helping to shape their future.
And since we have Mother's Day coming up, let us know both what your mother means to you, and also what it means for you to be a mother.
Out of everything that I've accomplished in life, being a mother is the thing that I'm most proud of. I wouldn't trade being a mother for anything on the planet. As far as my mother goes, she means everything to me and has helped me to become the woman that I am today. Happy Mother's Day to all of the mothers out there!
[cigallery]