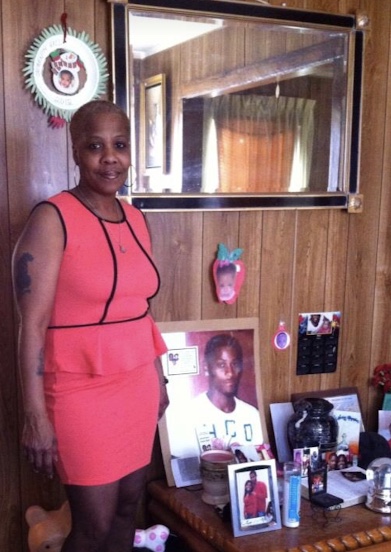 Chicago continues to be an example of what happens in disenfranchised communities. Crime and poverty run rampant in certain parts of the city, while other areas are perpetual tourist destinations. According to heyjackass.com, 142 people have been killed since the start of the year in Chicago. Marshall Hall, the son of Donna Hall, became one of these statistics in 2013 when he was gunned down in a Popeyes. We spoke to Ms. Hall to share her son's story, explain who her son is and what she feels during holidays like Mother's Day.
What happened to your child?
My son's name was Marshall Hall. He was killed Jan. 18, 2013 at 5500 West North Ave. inside of Popeyes restaurant. He was sitting inside a Popeyes with some friends and some guys start shooting and he got shot three times — once in the hand, the shoulder and the back.  
What would you like people to know about your son?
Marshall had a good heart. Marshall was a family man. Marshall, he will give you the shirt off his back if you asked. He was so proud to learn that he was going to be a father.
How do you feel when holidays like Mother's Day come around?
Holidays are the worst. Mother's Day is really the worst for me because Marshall always gave me one particular rose and a card, every year on Mother's Day.
How do you cope with your emotions when you think about your child?
I thank God for the waves, because it hits me in spells and I just let it out. I scream and just say God let your will be done, but please have mercy on me.
What would you like to say to people who have no idea what you are going through?
What I have said to people is that this pain is so real. You'll never be that person you used to be. If you never lost a child, you couldn't imagine the pain. It's a forever pain in your soul until you close your eyes for the last time.