The Dekalb County Police Department has announced that missing Georgia State University student Jason Williams has been murdered.  Williams was the victim of a gas station shooting late Tuesday night in Decatur, Georgia only 30 minutes from his home in the city of Ellen wood.  Williams and another man drove to the gas station, went inside and purchased drinks, Channel 2 Action News previously reported. At some point, the other man fired shots at Williams and left the scene, police said.
Jason Williams, 24, a senior at Georgia State University, was last seen Monday, May 14, 2018, around 4 p.m. near his home in Ellenwood, Georgia, fifteen minutes outside of Atlanta. This is the first occurrence of Williams ever being missing. Williams had informed his parents about a job orientation he was scheduled to go to that Tuesday morning. However, he never made it to the job orientation, and all calls began going straight to his voicemail, with neither himself nor his car to be found.
Williams' parents, close family, and friends have been sharing emotional posts on social media to spread the word in hopes of helping assist with his safe return.
Williams is a light-skinned African-American male, 5'9, 150lbs, and drives a red 1998 Toyota Camry with license tag #PDC6704. Anyone who has seen Williams or may know where he might be is encouraged to call the Henry County Police Department at 770-288-8200.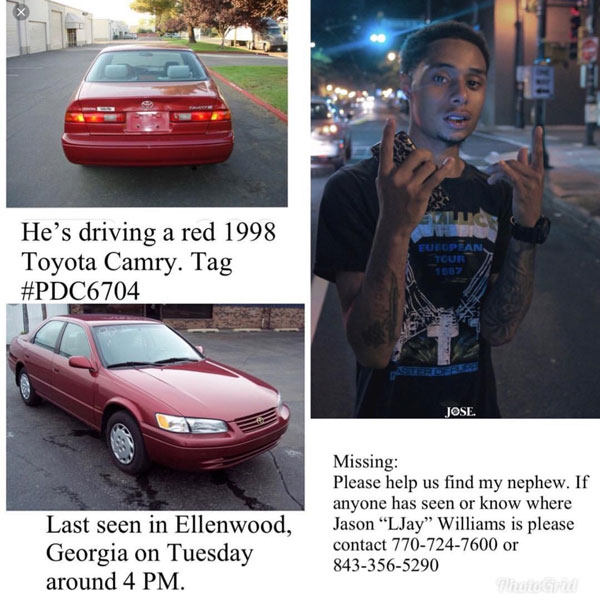 For further media inquiries, contact family relative Marcellus Womack at [email protected] or call 850-322-9024.