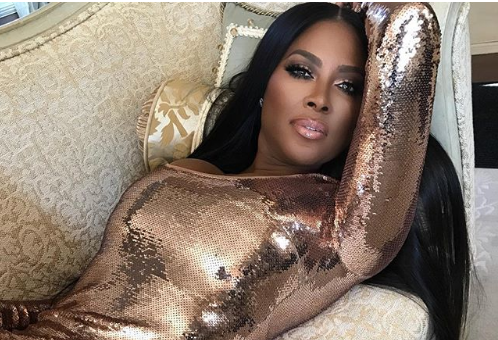 Kenya Moore, the bombastic, belligerent and bodacious member of the "Real Housewives of Atlanta," has been reportedly demoted to a "friend of the show," and now she is firing back with an ultimatum to the Bravo producers of the ultra-popular reality series.
As rolling out previously reported, the Detroit-born and bred beauty queen has had her peach snatched out her hand. She was not welcomed back with the other cast members during the mandatory post-season meetings. She did not receive a pick-up letter for season 11 and, without a peach, Moore can only appear on RHOA as a "friend" of the show.
Moore fired up the internet today to say that she's channeling her inner Allen "A.I." Iverson, declaring that she is standing her ground and that either she'll be returning with peach in hand or won't return at all. Iverson, as most NBA fans know, was still a serviceable player during the lateral stages of his career. However, his oversized pride prevented him from coming off the bench, and he opted for retirement rather than to be a well-paid millionaire backup.
All the women on the show who are regular cast members have a peach in their hands to open up the show.
Moore posted a montage on her Instagram page with the following declaration of defiance:
"No one has EVER asked me to be a friend to show… .fact: I am THE housewife that has had THE highest rated episodes the past 3 seasons… even last year having missed 3 episodes.🤔 .#Fact: the Barcelona Lineup didn't work… ratings slipped. The fans have spoken. I've never been called boring 💅🏾 .#Fact love me or hate me I may not be the "fan favorite" (my sister @kandi is and well deserved) but thank you for being invested in my life and continuing to contribute to the success of #RHOA and my success in my career on all levels .Don't worry #teamtwirl you will get to see #babytwirl and all that I'm experiencing as a new wife and mother-to-be one way or another .You will see my raw truth… the good the bad and the ugly one way or another ☺ .Fact# I am good effing TV! ❤ .Fact# I will be a HW or nothing at all. 😘
Fact# I don't discuss business but know that I know my value
#queen #👸🏾 #kenyamoore #truth #shadequeen #shadeassassin #blameitonmyhormones #letaBishknow."
According to Straight from the A, Bravo producers have already starting shooting season 11, and Moore has yet to film a single scene.
What do you think will happen? Will Moore come back or nah?