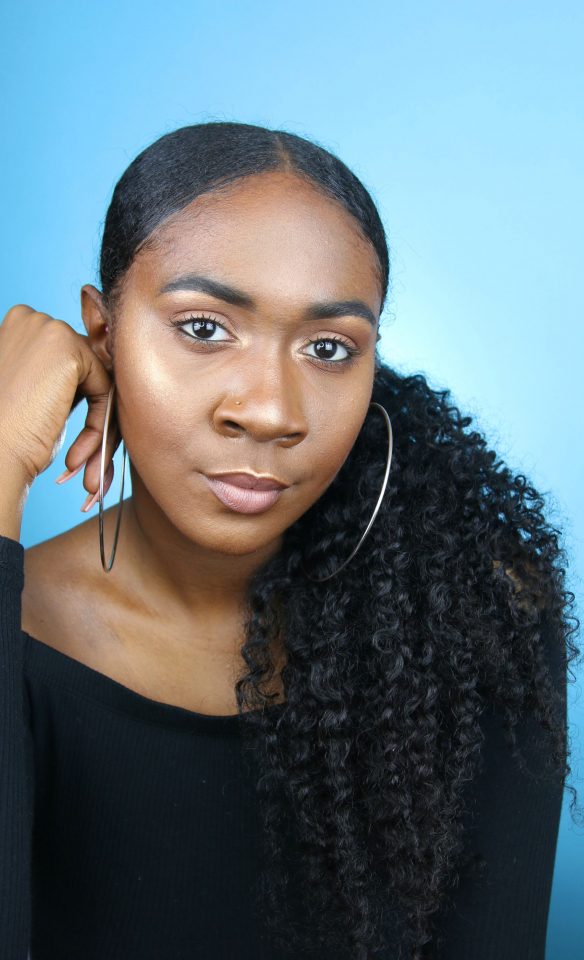 Nia Wellman is a 21-year-old entrepreneur and a natural hair and beauty influencer. A Hampton University senior majoring in communications, she balances her full-time class load along with numerous campus activities, which include being the chapter president of Campus Curlz, director of homecoming affairs and communications secretary for the Freddye T. Davy Honors College.
Despite her demanding schedule, she still makes time to develop herself as a millennial entrepreneur. Wellman is the founder and chief executive officer of Campus Curlz Inc. and CEO of Hair Days, a natural hair app. Dedicated to building her brand, she has amassed more than 100,000 subscribers on YouTube, with nearly 9 million views on her channel alone by creating beauty tutorials, documenting her life experiences and discussing issues she faces.
Wellman told rolling out about her brand, balancing her classes and campus involvement, and being a CEO.
How do you define your brand?
I define my brand as everything that I love: beauty, curls, education, girl power and self-expression. I believe the best way for your brand to be authentic is if it's a direct reflection of who you are.
What is Hair Days, and how does it work?
Hair Days is an app that allows you to track hair growth [and] hairstyles and document your favorite hair products. You also have the ability to connect with other naturals and see what tips, tricks and products work best for their hair. Users are also able to share their hair types and porosity.
What was the driving force behind creating Hair Days?
I am currently the CEO of Hair Days, not the founder. However, I know one of the co-founders, Tiffany St. Bernard, wanted to create a safe space where naturals can journal and document their journeys.
What has been the biggest challenge in being a millennial entrepreneur?
The biggest challenge being a millennial entrepreneur would have to be being broke and getting others to see your vision. We often see the glitz and glam of entrepreneurship, not the struggles and sleepless nights. I've had to come to terms with working hard now and seeing the fruits of my labor later. Also, getting others to back your ideas can be difficult because they might think your vision is too large or impossible. I had to realize that, if they don't understand now, they will once my vision turns into a reality.
How do you feel that your experience at Hampton University has helped you to accomplish your goals?
I feel that my experience at Hampton University particularly has helped me accomplish my goals because I've been placed in an environment where we're all big fish in a little pond, so I have no other option but to succeed. I've also been fortunate enough to be surrounded by friends and professors who challenge me intellectually and push me to apply to competitive programs and conferences.
Speaking of that, you were accepted into Harvard Business School's Summer Venture in Management program. Can you tell us more about that?
SVMP is a one-week residential educational program for rising college seniors designed to increase diversity and opportunity in business education. I was 1 of 180 students selected into this year's program. I was able to develop a broader understanding of the many dimensions of the business world, the challenges business leaders face, and the impact that I can have on my community through business leadership.
You are the CEO of Campus Curlz. Tell me about this organization.
Campus Curlz Inc. is a natural hair and service-based organization whose goals are to enhance, educate and uplift individuals on campus and in the community through educational support and service. We host fun, engaging and educational events and programs on campus and in our neighboring community to rewrite the Black narrative. We also raise awareness to inform our peers about the importance of healthy hair,  being self-aware [and] how to efficiently navigate through professional spaces as Black and Brown individuals. One of our nationwide programs, Natural Hair Inside Out, provides members and attendees with a complete guide on healthy hair tips, Black-owned natural hair businesses as well as resources to make their natural hair journey easier. Another nationwide program includes Brand Like A Girl, a professional development, networking, and women empowerment conference to enhance members' and attendees' knowledge of personal branding, entrepreneurship, social media etiquette, and workspace readiness.  Lastly, we host panel discussions focused on issues we have realized have plagued Black and Brown communities, including colorism, financial literacy, child and teen development, college readiness, mental health, domestic violence and more.
How do you feel your experience attending an HBCU has shaped your outlook?
I feel like my HBCU experience has shaped my outlook by making me become an even harder overachiever than I already was. Growing up, I was placed in magnet and gifted programs that challenged me intellectually. Now being at one of the top HBCUs in the country, I'm surrounded by the cream of the crop, which provides me with healthy competition to do my personal best.
What do you hope people will gain from your work?
I hope that people are able to see what I do and use it as fuel to transform their dreams into reality. It's so important that we stay focused in our own lanes and use those around us as inspiration and not competition.