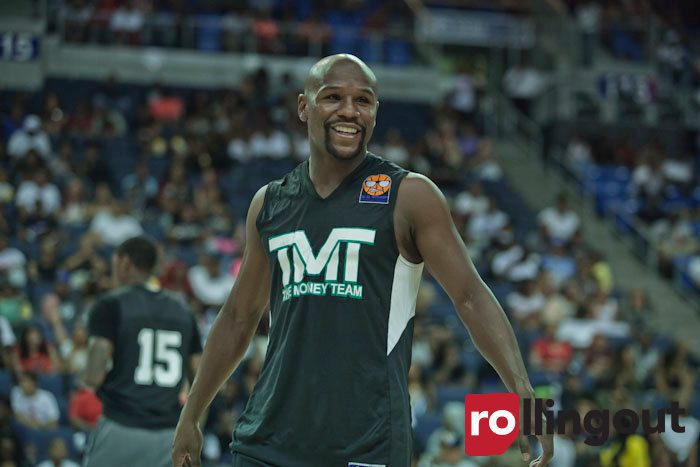 Some pop culture observers are startled at the depth the 50 Cent-Floyd Mayweather social media beef has degenerated to.
Gone are the days where Curtis "50 Cent" Jackson, 43, and Floyd "Money" Mayweather, 41, were smacking one another on social media with relatively harmless swipes of each other's perceived or real shortcomings. The former BFFs had a tumultuous falling out several years ago and have been clawing at each other's jugulars ever since, fangs and all.
Now it's gotten bloodthirsty.
In this corner, the Grand Rapids, Michigan-born pugilist Mayweather (the only man to ever go 50-0 in professional boxing history) is accusing the "In da Club" rapper of being broke, having an STD and being a deadbeat dad, among an assortment of other insults.
In this corner, the New York-born Jackson (star rapper and co-producer of the blockbuster cable series "Power") is accusing Mayweather of being the man who sparked a murder-suicide because of his propensity to bed married women and enraging jealous husbands.
There is no question they are now trying to draw blood out of each other. Have these two high-profile firecrackers journeyed to the land of no return with their vicious shots at each other?
It's hard to determine which round this heavyweight bout of words is in, but the latest scrape has Mayweather telling Fifty this:
Jackson, who has never met a beef that he didn't like nor resist (remember, he attained overnight international fame when he destroyed former star rapper Ja Rule in a classic rap beef, punctuated by the hit single "Wanksta," back in 2004) came out firing with both barrels at Mayweather. He critiqued Mayweather's alleged illiteracy with this caption to the above post:
"This was Floyd rough draft before he got his ghostwriter involved.😆 LOL 😆get the strap #lecheminduroi."
But 50 didn't stop there, not hardly:
Jackson captioned the above photo: "Floyd, you are the champ but you a sucker at heart. You want it all. I know, I watched you do some foul shit to Reala and he is your best friend. When he broke up with his girl Jessica, you kept her around, got her an apartment, bought her a car because you wanted to fuck her. Reala ain't sweat it. He was keeping it, playa. Haze just wasn't built like that. Tell everybody why you was on FaceTime when he killed Stephanie and himself. Because he was confronting you about fucking his wife. You was pumping all that Trey Songz shit, get the fuck outta here. You didn't give a fuck you just went to watch the ball game. 🤨get the strap #lecheminduroi. "
50 cent also had this to say: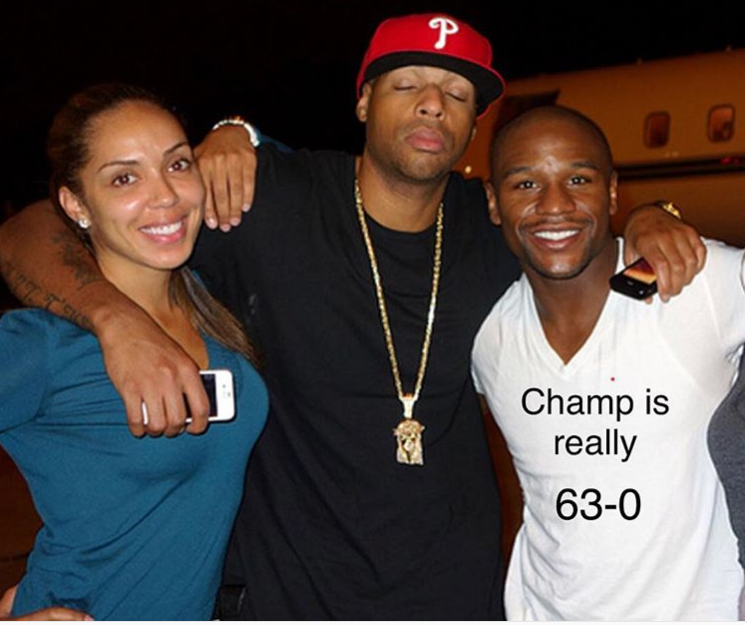 50cent

He beat 50 men, 11 women and caused 2 body's keep calling me and I'm gonna show champ. 🤨get the strap," Fifty said.
Mayweather, whose personal fortune is in the hundreds of millions and was listed by Forbes as the highest-paid athlete this past year, has nothing to do in retirement but work his fingers furiously on social media. He stormed back at 50 cent with these two hard-hittiing IG posts and corresponding captions:
"The Biggest Rat Sweepstakes" … To Enter: 1st, Tell me how many rats are in this picture? 🐀."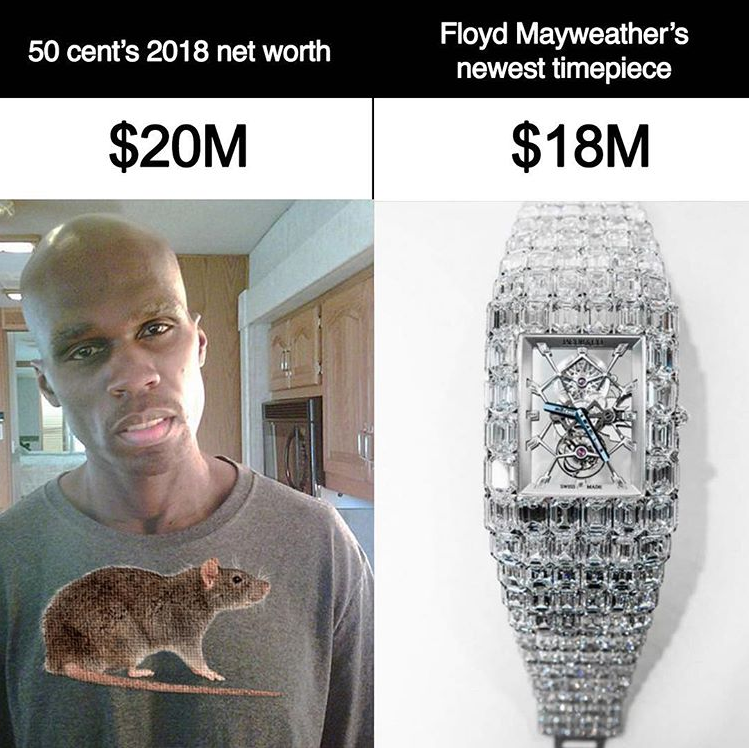 "You're Not Supposed To Be Beefing With Me. You're Supposed To Be Beefing With My WATCH. Me And You Are Not On The Same Level!!!," Floyd spat at his "frienemy."
What do you make of this latest outburst from the two men? Are you concerned it's going to get physical between them?