Serena Williams sounds off after getting 'randomly' tested for drugs again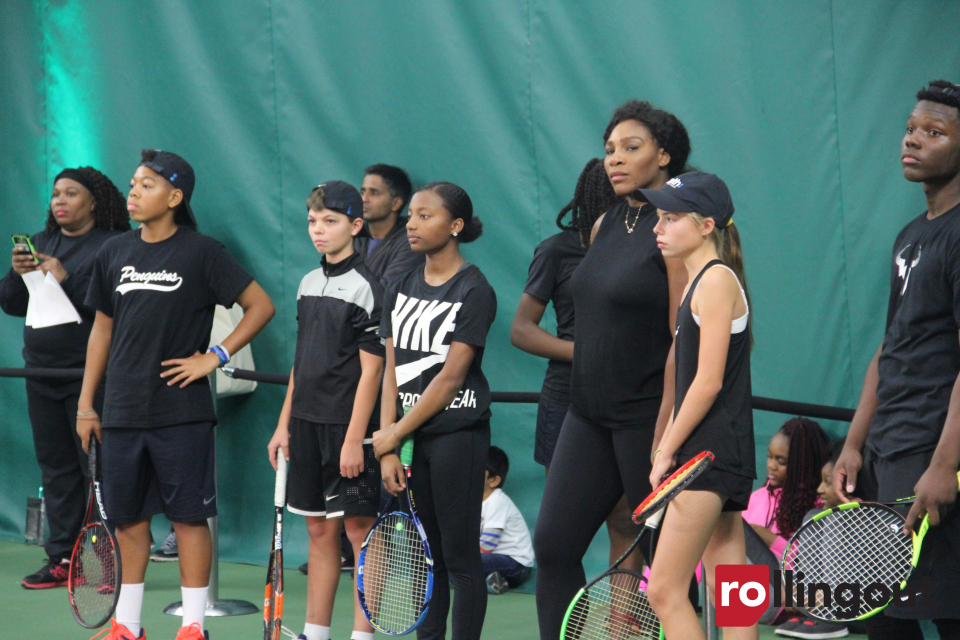 Check out this outrageous dichotomy involving living legend Serena Williams. On one hand, she's the most decorated player in the history of the Women's Tennis Association. On the other hand, Williams is also the most drug-tested athlete, by far, in the entire sport, and this includes the men's and women's circuit.
Serena, 36, as she is most often referred to, has complained on social media that it's "test Serena" time again as she once more discusses the frequency with which she is selected for anti-doping tests.
The younger sister of Venus Williams, 38, has won 23 Grand Slam titles, more than the towering icons of the sport such as Martina Navratilova (18 Grand Slams), Chris Evert (also 18) and Steffi Graf (22). Yet she and her immense fan base feel Serena has not been accorded the treatment commensurate with her accomplishments, her stature and her importance to the sport.
Serena took to Twitter on Tuesday night after she received another visit from a tester.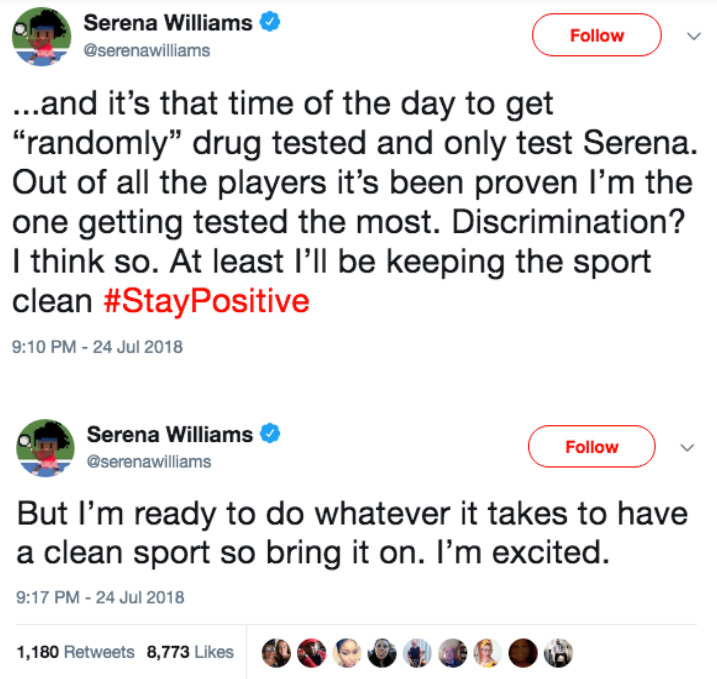 Keep in mind that Williams has never failed a drug test. Her "archrival," Maria Sharapova, however, has failed a drug test and was banished from the sport for two years because of it. Williams is still being tested more than Sharapova and the others who have come up with dirty urine.
Williams has complained before about being drug-tested more than other American tennis players this year.
"Just test everyone equally," Williams said on the eve of this year's Wimbledon, where she lost to Angelique Kerber in the final.
Deadspin broke the story that Williams had been checked five times in 2018 by June, more than other U.S. women and men in the sport.
Esteemed rapper Common, Serena's former boyfriend, clearly thinks she is targeted because of her ethnicity. He told TMZ that "as a Black woman, do you think she's getting discriminated against? YES."
"If they're testing her more than anyone else, [there's]s a reason for that. And there's conscious and subconscious and I would say conscious is the fact that she's a Black woman and they're looking for some reason to be able to take her down and discredit her … but she's the queen!"
Williams returned to competition this season after missing more than a year preparing for her first baby with husband Alexis Ohanian. She gave birth to her daughter, Alexis Olympia Ohanian Jr., last September.
As part of the U.S. Anti-Doping Agency's "intelligent" out-of-competition testing program, they said it is not unusual for top athletes to be targeted for more tests than their less-accomplished counterparts.
Serena's next Grand Slam title would tie her with Margaret Court for the most with 24.