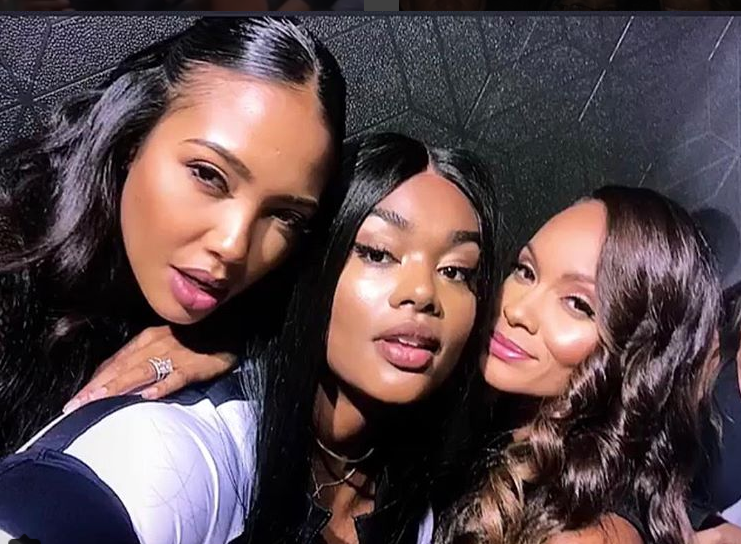 After putting up with Evelyn Lozada's histrionics and bullying for years, "Basketball Wives LA" fans now want her ousted from the reality show after her latest transgression. Not only has she bullied new BBWLA cast member CeCe Gutierezz, she also made racist comments to the Filipina that fans say cross the line.
This is not the first time Lozada has done this to Gutierezz. Earlier, Lozada and Jennifer Williams made the racist joke that Gutierezz, who is a nurse, gives "happy endings" for her patients at the hospital.
In the latest episode of BBWLA, Lozada called Gutierezz out of her name during a recent dinner, calling her "Lee Lee" on live TV.
"You always have a problem, Evil-lyn," Gutierrez says after Lozada calls her "fake."
"No, I have a problem with you. I have a problem with you, Lee-Lee," Lozada says.
Check out the heated dinner exchange below:
Shaunie O'Neal, who is a cast member in addition to being a producer of the show, remained silent during the fracas, though she chastised Lozada off-camera. The other women's mouths were also muted during the exchange.
Fans began sounding off on Lozada almost right away:
#BasketballWives it is a disgrace that Evelyn got away with that. Shame on every single person sitting at that table!! Especially Shaunie who OWNS this train wreck. It was racist comment and it's not ok!
— MrsBundrige (@bigsisternes) August 27, 2018
Fans also ripped O'Neal for doing and saying nothing after Lozada sprayed ethnic insults at her adversary.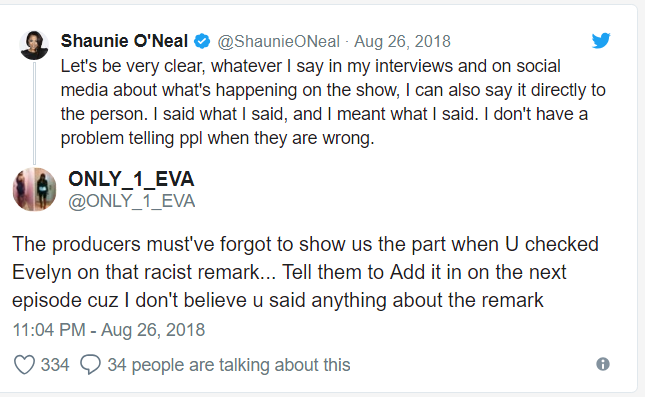 Since fans have announced that they've started a petition to have Lozada ex-communicated from the show, the ex-wife of Chad "Ochocinco" Johnson has now offered up an apology for her behavior on her Instagram account: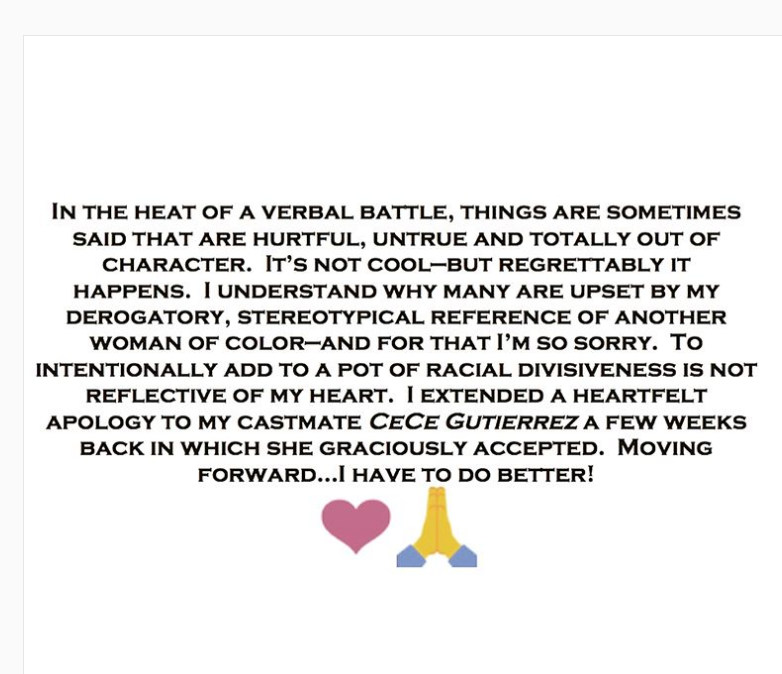 Lozada also captioned the above post with this: "I sincerely apologize to everyone that I have offended, especially CeCe. It's not my intention to hurt anyone. ❤🙏"
Many fans aren't feeling Lozada's mea culpa and continue to push for her ouster: