Fans can't help but smile and fawn when they peep the sculpted, hourglass physiques of Jada Pinkett Smith, her mother and daughter at the same time.
The three generations of women have already struck social media gold with Jada Pinkett Smith's wildly popular Facebook Watch show, "Red Table Talk." Through that intimate talk show, Pinkett Smith (Set it Off, The Matrix, Menace II Society) and her family have delved deep into issues that folks only discuss in hushed tones behind closed doors.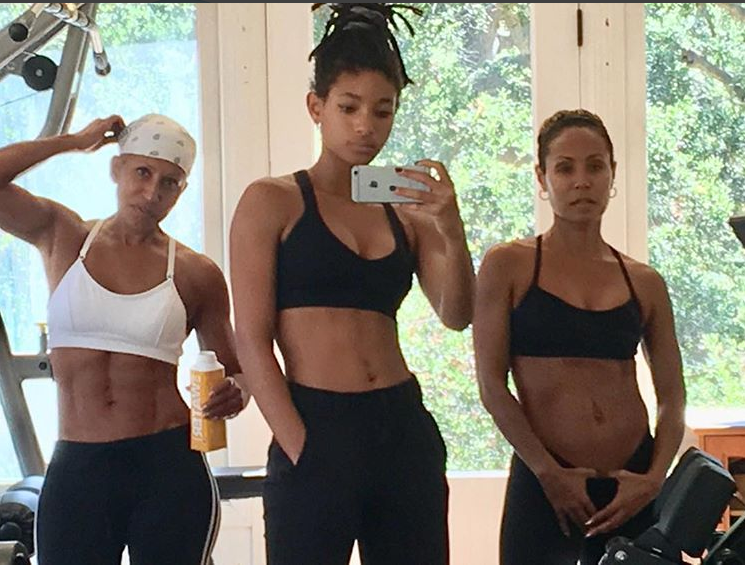 This time, the celebrity women are stunting hard in the gym, inspiring others to get off the couch and into the exercise room. Over the weekend, Pinkett Smith, 47, shared a photo of her daughter, Willow Smith, 17, and mother, Adrienne Norris, after a workout in the gym.
The "Whip My Hair" singer strikes a powerful pose between the two older women, holding the phone while taking the photo. Draped in a black sports bra and matching shorts, Willow Smith flosses her toned physique. Norris, 64, stands to the left of her granddaughter and showcases her own flat stomach underneath her white sports bra, black pants and white head scarf. Pinkett Smith stands to the right of her daughter, flashing her hourglass physique and sporting a black sports bra and shorts.
Pinkett Smith proudly captions the photo, "That three generational thing."
Several celebrities were just as impressed as fans who gawked at the photo with awe. Oscar-winning actress Halle Berry (Monster's Ball) lauded the women by saying on Pinkett-Smith's IG page, "So inspiring, such gorgeous women."
Kim Kardashian concurred as she posted fire emojis in the comments section.
What do you think about the Pinkett Smith clan? Does it make you want to rethink your workout and gym regimen — or come up with one in the first place?