It's noon on a Saturday at B.T. Harvey Stadium, and the Morehouse College Maroon Tigers are playing the Albany State University Golden Rams. Twenty young women on Morehouse's cheerleading team run onto the track brimming with game day excitement.
Dressed in maroon and white uniforms, they line up in formation, ready to cheer their team to victory. Kickoff signals the start of the game, and the crowd roars.
Captain Atia Williams calls a cheer. "L-E-T-S G-O, Tigers, let's go! L-E-T-S G-O, Tigers, let's go! L-E-T-S G-O, Tigers, let's go!"
The squad moves perfectly in sync, matching their words to their motions while never missing a beat. They continue cheering, dancing, stunting and flipping for three more quarters of the game.
Win or lose, the cheerleaders always bring their A-game and play an integral role by cheering the teams on through wins and losses while keeping school spirit high.
Spelman College women have been devoted to cheering on Morehouse's athletic teams since 1969.
"The Morehouse cheerleading team uplifts the spirit of the players, keeps the game energized and encourages interaction with fans," said junior Leland Jackson, who plays defensive end for the Morehouse Tigers. "Games would not be the same without our cheerleaders."
Atia Williams, a graduating senior majoring in biology, is captain of the cheerleading team.  "Cheering has been a part of my life since I was younger and just being able to keep that up while being in college has been a good experience for me," she said.
While the cheerleaders are beautiful and spirited, it takes more than a pretty face to wear the maroon and white uniform. Being chosen for the 20-member squad is no easy feat, and not everyone who wants to join qualifies to make the cut.
"You have to have a positive attitude and be able to work well with other people in a group setting," said current cheer coach Bryana Cleveland, 27, a member of the Morehouse cheerleading team from 2009 until she graduated in 2013 from Spelman with a degree in economics.
"We also look to ensure that you've cheered in high school at an intermediate level," Cleveland added. "You have to be able to catch on pretty quickly to cheer and dance material. Our stunts are intermediate to advanced. You also have to have good grades with at least a 3.0 GPA."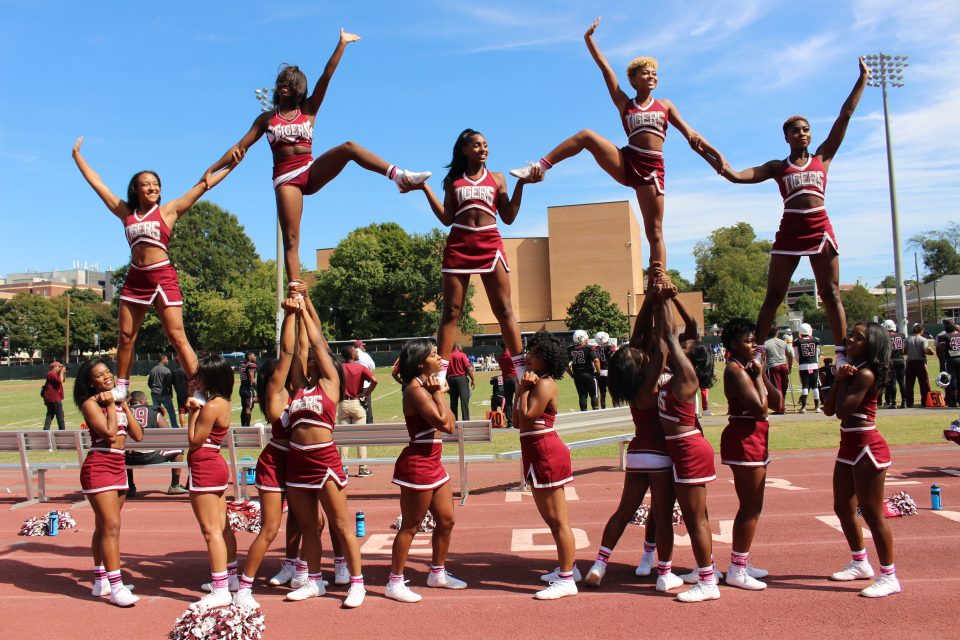 Once they make the squad, these young women quickly realize the power of sisterhood. Team members spend time bonding with each other and build relationships that last long after graduation.
"Cheering for Morehouse was one of the greatest experiences of my life," said Heather Joi Kenney, captain of the Morehouse cheerleading team from 1999 until she graduated in 2001.
"We created a sisterhood called Cheertron almost 20 years ago, and I think it has allowed our alumni sisters to stick together and build a legacy that is enduring," said Kenney, now the head cheer coach at Vance County Middle School in Henderson, North Carolina. "I love to hear people talk about Cheertron because it lets me know that we've created something spectacular."
Cheerleading is one small slice of life at historically Black colleges and universities. From Morehouse to Howard University, Spelman to Florida A&M University and beyond, HBCUs are institutions where Black leaders are grown and developed. They produce thousands of successful Black graduates who go on to excel in diverse career fields.
There is a vibrant culture at these institutions, which fosters the importance of education, friendship, community — and, in the case of the cheerleading team, a lasting feeling of pride and sisterhood.
Watch the Morehouse cheerleading team in action during a football game in the video below. You can support them as they cheer on the Morehouse Tigers this basketball season.