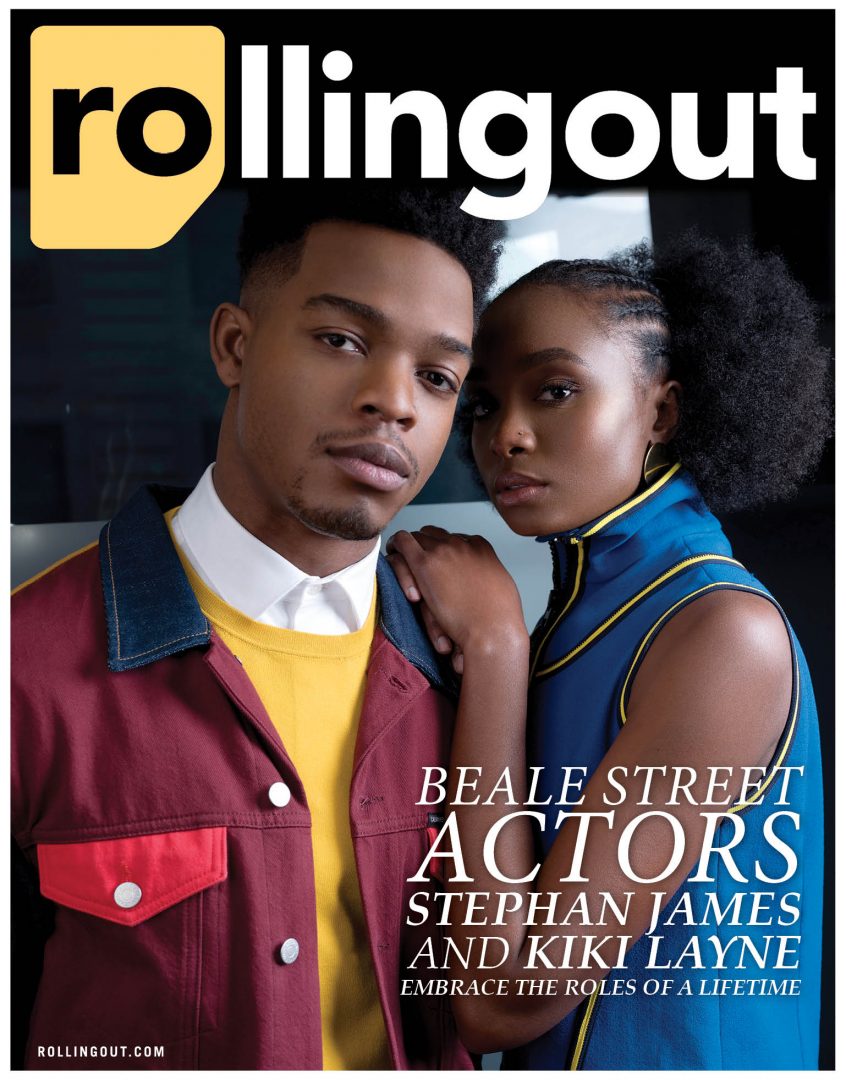 On the last day of November, while gazing out of her hotel suite's window down at the bustling New York streetscape below, Kiki Layne offered an audible caption to the unspoken energy in the room.
"I can't even explain how excited I am right now," she said.
Layne wasn't alone in that sentiment, which became a common refrain for all of the journalists who had gathered on the third floor of Essex House, a posh Manhattan hotel across from Central Park.
People were genuinely excited.
It was easy to understand why Layne would be excited. She was set to make her big screen debut in If Beale Street Could Talk, the highly anticipated follow-up for Oscar-winning director Barry Jenkins.
The film, which will hit theaters Christmas Day, is based on author James Baldwin's 1974 novel of the same name. Layne plays Tish Rivers, a 19-year old Harlemite who discovered a perfect love in her childhood friend Alonzo "Fonny" Hunt (expertly played by rising star Stephan James). That love would face the ultimate test the moment Fonny is falsely accused of rape.
That thematic dichotomy speaks to one of the many reasons Baldwin is so beloved. It was also one of the primary reasons Jenkins leapt at the opportunity to tackle the project.
"Mr. Baldwin has many different modes," the director shared. "One of those modes is the protest, the anger. And then there's the lush, the romantic, the hopeful. I think with If Beale Street Could Talk, you find the best pairing and balancing of those two things. It was a challenge worth undertaking."
Consider that challenge met. The film has already garnered three Golden Globe nominations, including one for best motion picture, one for Jenkins for best screenplay and one for Regina King, who plays Sharon Rivers, for best supporting actress.
When the autopsy of this film is concluded, it will be impossible to celebrate any of the accolades without paying proper due to the performances offered by Layne and James. The chemistry between the pair serves as the heartbeat of the film. It was also something that had to be quickly established due to a breakneck shooting schedule. According to Layne, the pair understood how their connection — or lack thereof — would essentially make or break the film.
"I think for us, we knew how important it was for us to establish a connection that would translate on-screen," she revealed. "It was essential for Stephan and [me] to figure out who these characters were because their love for each other is so essential to who they are as people. In order for us to tap into that in an honest way, we knew that we would have to just dive right in and figure out how to drop walls between us that would ordinarily take more time to develop."
"We both accepted the importance of the material and were just willing to give ourselves to each other," James added. "And also when you have a guy like Barry Jenkins, who helps you break down those walls and helps you find sort of an intimate space despite being on a film set, that can be kind of crazy at times."
Déjà vu
The beautiful on-screen love established by Layne and James felt instantly challenged by a justice system that has a way of seemingly stacking its deck against Black men. Brian Tyree Henry — who stars in the critically acclaimed FX hit "Atlanta" — plays Daniel, Fonny's recently paroled friend, who serves as the poster child for all that's wrong with the justice system in America. Having the opportunity to provide a face for such relevant themes of social justice was certainly not lost on Henry.
"I really appreciate [Barry Jenkins] giving me the opportunity to be a part of this, especially as it relates to my character, Daniel. The weight of those scenes was pretty amazing," Henry explained. "We really get into what it means to be a Black man in America. Even though the film is set in the 1970s, what Daniel is talking about with Fonny could be any Black man in this country today. It could be me having a conversation with my nephew. It could be me having a conversation with my best friend. Daniel is the story of so many people of color, of so many Black men in this country just experiencing this strife. There were moments where it got a little hard for me to continue because the rage would build up and the sorrow would build up because everything he's saying is the truth."
That truth is powerful and palatable and, according to Layne, it's why this film is even worth watching. "I know it's going to come across like I'm just trying to sell a movie, but I really think that everyone should go out and see this," she shared. "Not only is this a beautiful love story, but I think there are so many themes that resonate with where we are today. We need more stories like this, and I just appreciate the vision of Barry Jenkins and James Baldwin. I gave my all, so I can only hope that myself, Stephan, Regina, Coleman [Domingo] and every person connected to this project did it justice. In my heart, I believe that we did."
Words and Images by DeWayne Rogers