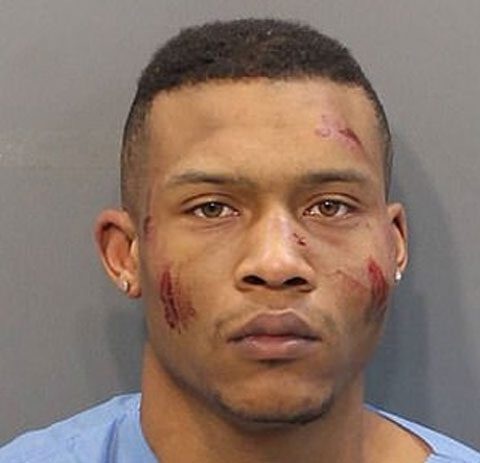 Charles Toney, 25, suffered a brutal beating by police on Dec. 3, 2018, near Chattanooga, Tennessee. While he was handcuffed, an officer identified as Hamilton County detective Blake Kilpatrick beat him viciously and was later joined by another officer who also got in a few licks against the handcuffed suspect. That encounter with police went viral, and now Toney, who was facing serious charges, has had those charges dropped by prosecutors.
Toney was an aspiring rapper called Interstate Tax and is also known as Ace Boogie on Facebook, was pulled over by Kilpatrick on an outstanding warrant. The warrant was for drug possession charges, and his arrest that day was part of a warrant roundup by local police.
But according to Lee Merritt, a well-known social justice attorney and activist who is representing Toney, the arrest should never have happened in the first place. Merritt contends that he had made arrangements for Toney to turn himself into law enforcement that very day.
But when Kilpatrick picked up a nonresisting Toney, the officer delivered a beating that was caught on video by a bystander. When Toney was booked, he was examined by the jail medical staff, who noted that he had no injuries other than "swelling in mouth, jaw or neck." In addition, other bruises on Toney were described as within normal limits by the medical staff.
Because he was the subject of a handcuffed beating by police, Toney was hit with a series of charges that included assault against a police officer, resisting arrest and tampering with evidence. Toney as able to make bail the next day and immediately went to a hospital, where the medical staff discovered what jail medical staff missed. According to Merritt and hospital records, Toney's injuries were far from what would be called "within normal limits."
His injuries included a collapsed lung and fractured ribs, a broken nose and finger. When these injuries were revealed, at first a police official claimed that Toney was injured in an auto accident before his arrest — a claim that Merritt denied and was proven to be false. It has now been announced that prosecutors have dropped all charges against Toney stemming from his arrest.
In addition, a U.S. Department of Justice civil rights abuse investigation has been initiated. Kilpatrick has been placed on desk duty pending the outcome of the Justice Department investigation. Merritt said he intends to bring a lawsuit against Kilpatrick and perhaps even the police department itself for the abuse of his client. Kilpatrick is also the subject of a pending $40 million wrongful death lawsuit for killing a suspect.
Video of the assault can be seen below in this report from ABC-13 in Houston: