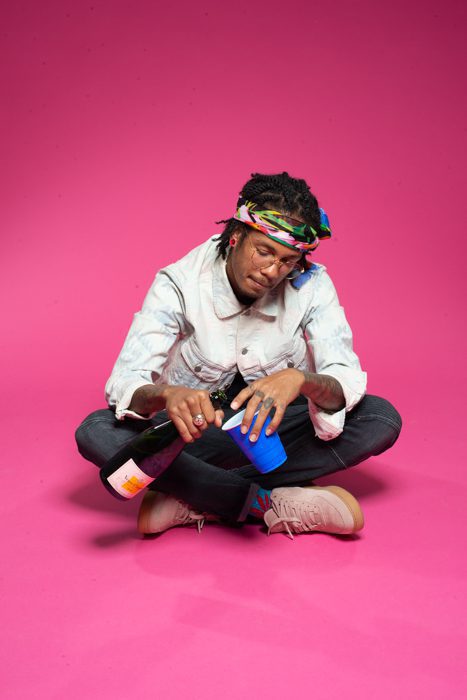 Chris Crack has a style and delivery that is unorthodox, yet his approach is traditional with respect to the genre of hip-hop. His voice is distinct, and it's clear that he has a firm grasp on the influence rap has on the masses.
He raps, "Aye, who you tryin' to impress, let's play a game called being yourself" on his song "Came, Saw, Left Early." He is currently carving out a spot for himself in rap and carrying on the tradition of a substantive rapper from Chicago. We spoke to the Chicago West Sider recently about why he started rapping and how the experience has been for him thus far.
What motivated you to become a rapper?
When I started rapping nobody was rapping, so I decided I wanted to do music to express myself. 

What was the first song you recorded? How was that experience?
I definitely don't remember the first anything I did because I wasn't taking it serious at all until meeting [Chicago rapper] Tree. He showed me that a person who I see and talk to every day can be internationally known.

What do you think makes Chicago rappers stand out? Why are you different?
It's because Chicago hardens you and gets you prepared for the real world. If you can make it here, you can literally make it anywhere. I stand out because I'm not what you think of when thinking a "Chicago rapper."

Why should people pay attention to you?
Because I have something not only real to say but it's [also] a little different and from a different perspective than everybody else.

How would you describe your music?
I would describe my music as big girls and BBQ sauce.

What words do you have for those looking to follow their dreams?
If somebody tells you not to do something or tells you that you can't, do it 10 times harder.

What do you have coming up as far as new projects?
I have a project coming up called Thanks Uncle Trill.

What producers have you worked with?
I've worked with a couple bigger-name producers, can't really say who because I don't wanna disturb the flex. Ya feel me?
Check out Chris Crack's video for "Came, Saw, Left Early" below.