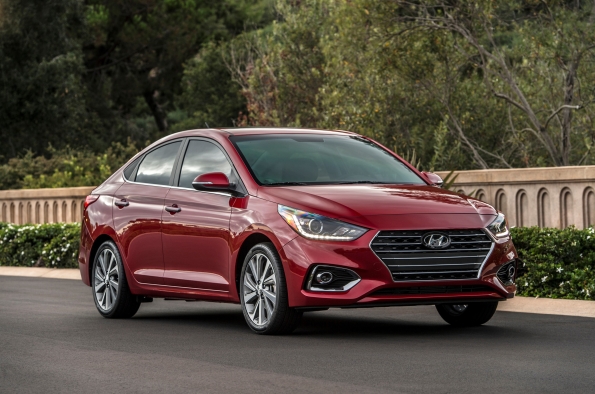 The all-new Hyundai Accent Limited is the ultimate sedan.
Hyundai has been an underdog in the industry for a long time. With heavy-hitters like Chevy, Ford and Honda, it's hard to make a mark in consumers' minds. But with Hyundai steadily building better and more attractive cars at affordable prices, it is becoming the breakout star, especially among college students and recent grads.
The auto industry has begun to shift its focus toward SUVs, but Hyundai has grabbed the spotlight back with its latest release. The Accent's previous design was already awesome, but this new version takes the cake.
As a recent college grad myself, here are my three reasons the all-new 2019 Hyundai Accent Limited is a great choice.
Exterior
Let's start with the outside. The Accent Limited comes standard with LED headlights and taillights, heated exterior mirrors, side mirrors with integrated turn signals and a sunroof, to name a few of the many qualities. The beauty of this car rivals some of the most expensive luxury vehicles on the road and in the showroom. Whether you're driving to campus for class or to interviews in search of that first post-college job, you'll arrive at your destination in a stylish whip. 
Interior and technology
On the inside, upgraded amenities include automatic temperature controls with an auto defogging system, heated front seats and Proximity Key with push-button start. In terms of tech, there's a 7-inch touchscreen display audio system, Sirius XM with Android Auto™ and Apple CarPlay™ and six speakers, smartphone, USB and MP3 auxiliary input jacks and dual USB charging. Having these features will keep you comfortable and connected while you ride. Your friends will always want you to be the designated driver with connectivity like this.
Gas mileage
This car's gas mileage is incredible. A full tank of gas could last a student a week or more, depending on how much they drive. With the Hyundai Accent Limited, you get 28 mpg in the city, 38 on the highway and a combined mpg of 32. This sedan also takes regular gas, so you don't have to worry about paying more to fill up.
Last but not least, the 2019 Hyundai Accent Limited's price tag may be its most attractive feature. As shown, it is reasonably priced at $20,090. For those with a smaller car-buying budget, Hyundai also offers two lesser-equipped but equally impressive models in the Accent SE at $14,995, and the Accent SEL at $17,345. With prices like these, college students and newly minted grads will be able to get to wherever they're going in style while keeping more of their coins in their pockets.