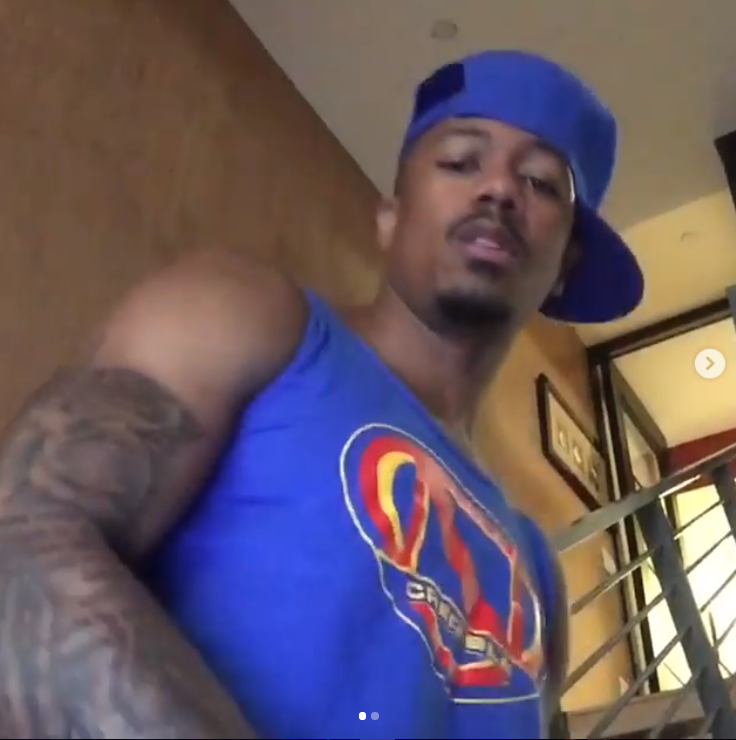 And the Black community exhaled. Actor and MTV host Nick Cannon finally said publicly what many African American social media users have been complaining vociferously about for the past several months:
When will the scorching hot spotlight, which has melted one Black icon after another, begin to shine in the direction of former media mogul Harvey Weinstein? According to multiple reports, the Oscar-winning Weinstein is one of the most prolific sexual predators in modern Hollywood history, allegedly abusing scores of women over a period of three decades.
Cannon posted a photo of billionaire businesswoman Oprah kissing Weinstein at a private gala. Weinstein came to be the face of the earth-shifting #MeToo movement after being accused of sexually assaulting hundreds of major Hollywood actresses and ruining the careers of many others who spurned his advances.
Cannon was making a reference to intense scrutiny and career destruction that has befallen the likes of Bill Cosby, R. Kelly and Michael Jackson. The "Wild N Out" host posted a photo of Oprah and Weinstein, which was accompanied by a question that asked: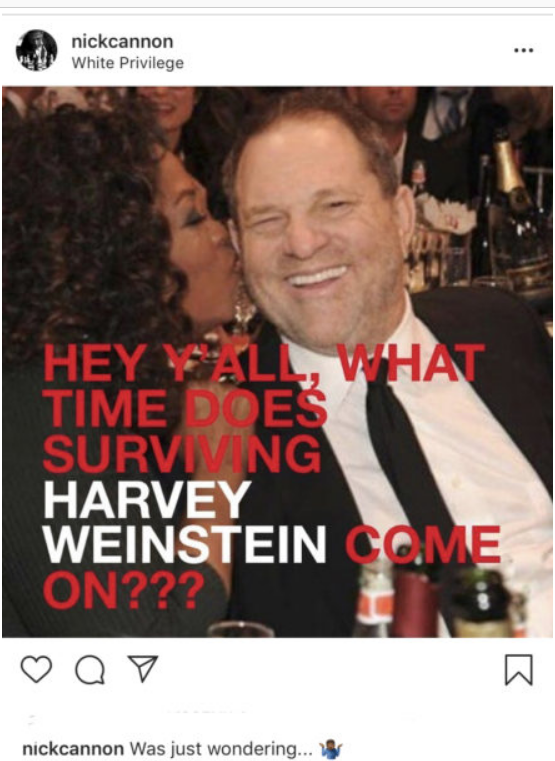 While Cannon was "just wondering," he got mixed reactions from some of his Instagram followers. This was definitely a direct swipe at Oprah's "After Neverland" show featuring the two Michael Jackson's alleged victims at the center of the HBO "Leaving Neverland" docuseries.
One distressed follower penned this thought to Cannon:
"I'm here for them ALL being hung out to dry & there are MANY! However are we to minimize the pain and exploitation of BLACK GIRLS/WOMEN/CHILDREN at the hands of BLACK Men who are predators? All because they are black? As a survivor, I'm trying to understand the use of this logic."
Sympathetic to her plight as well as her journey towards healing, Cannon responded with this thought:
"I never mentioned anyone's name other than Harvey Weinstein. This post was just asking about him and ALL the women that did and didn't survive this sexual predator. If you read my previous post or my published academic essays about toxic male behavior in the black community you will see I am an ally and advocate for your fight and voices like yours, but this particular post was about something entirely different. Nothing but love peace and respect Queen."
Nick Cannon's previous post, shown below, centered around celebrating females worldwide during International Women's Day on Friday. The Drumline actor captioned the photo in this way:
https://www.instagram.com/p/BuxWeOOBT8I/?utm_source=ig_embed