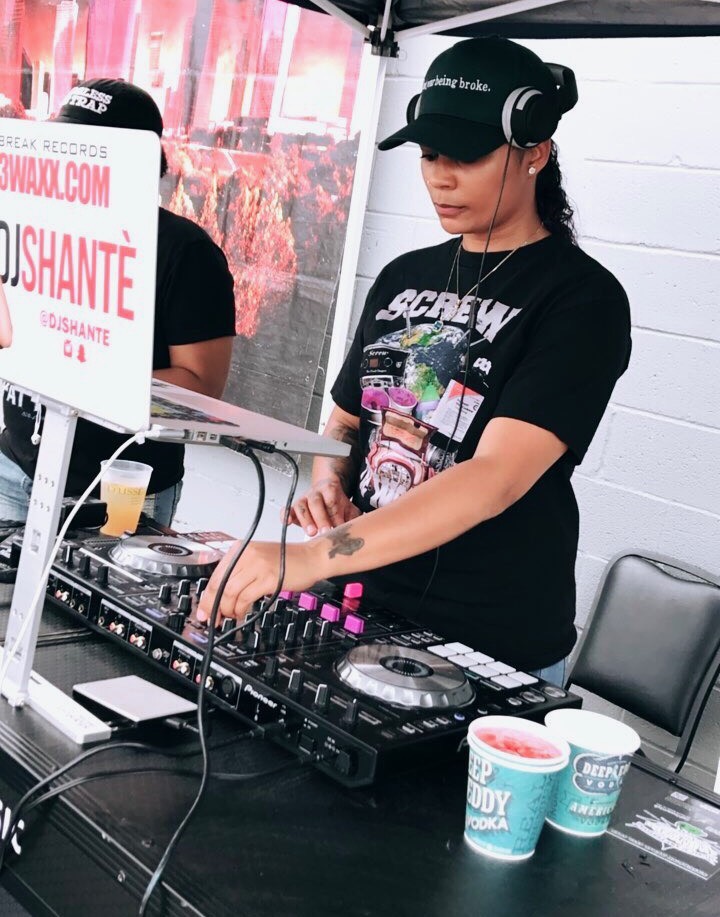 Since 2016, DJ Shante, who was born Shante Williams, has been an on-air mixer for Houston's 93.7 The Beat. Not only is she bringing the heat on the radio, but she is also bringing the crowds to the dance floor as the house DJ at Commoner, Revolver and Bar 5015. This talented DJ is also is known for creating platforms that enable local artists to be recognized on the radio and in the clubs.
When did you start deejaying?
I started deejaying about five years ago. My dad and brother were both DJs. I didn't really think I would be a DJ, too. I was already hosting parties, and my homeboy mentioned that he could see me as a DJ. I bought all my equipment and [have] been at it ever since.
Which three musicians do you feel changed the world?
Travis Scott, Drake, Beyoncé
Who is your favorite artist and song that you like to play?
Megan Thee Stallion's "Big Ole Freak"
Where's the best place for you to go for food at 2 a. m. in Houston?
At 2:00 in the morning, I'm going to Mai's (Vietnamese food).
What new artist are you playing now?
There is a new artist I have been working with. His name is Billy Racks out of Houston. He just dropped a project called Religion. He's really dope and going to definitely take off.
What makes the experience at 93.7 The Beat special for you?
Just walking in the studio and being able to talk on the mic and talk to Houston and the world. This station and iHeart [Radio] are all over the world. It's not just Houston-based. That's a crazy experience for me, just knowing that I have that opportunity to do that.
The best way to move a crowd i s…
Reading the crowd. You drop some songs and see how it's going. If you want to stay in that lane or that BPM (beats per minute) stay with that and read the crowd throughout the night.
The odd track I throw in my mix to throw the crowd off-guard is …
"Melodies From Heaven" by Kirk Franklin
Practice and research are important because …
If you aren't practicing, you are going to sound like crap. You've got to research to be on top of the music so you know what's hot and what's not.
What song or artist would you recommend to start your day?
Starting my day, recently I've been jamming Solange's new album, When I Get Home.
What song or artist would you recommend for exercising?
Working out, I've been listening to Meek Mill. All that screaming and yelling he does just keeps me motivated.