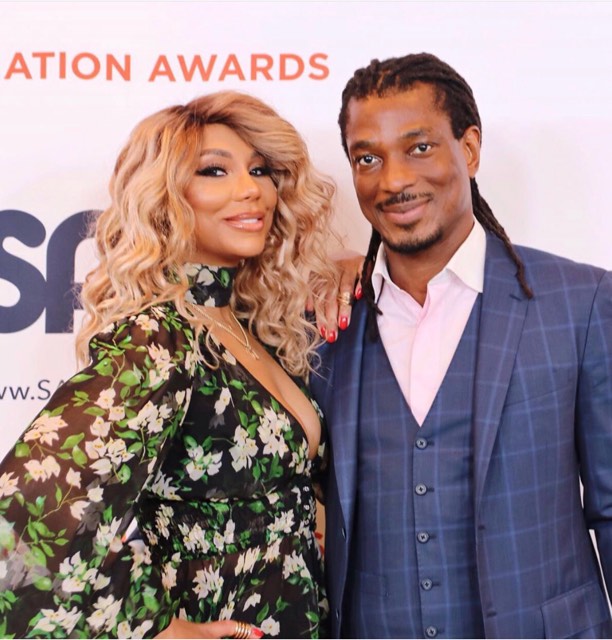 From feuds with other artists, to being let go from a prime position co-hosting "The Real" on Fox, to being in constant conflict with her sisters, frequent clapbacks with social media followers and finally a nasty divorce, Tamar Braxton was a woman that couldn't hide her issues.
Although it was obvious there were issues beneath her glammed exterior, Braxton remained a fan favorite, and people continued to root for her. After allegations of domestic violence in her marriage became public, the singer filed for divorce and focused on her son and her career. Following a brief stint as a single woman, she showed up on blogs with a whole new "snackable" boo named David Adefeso.
While Braxton was very vocal about Adefeso's physical attributes, he seemed equally smitten with her high-energy and over-the-top personality. Recently, Adefeso released a statement on his social media proclaiming his love had resulted in a change in his lady's behavior. He also suggested his affection was responsible for helping her see the error of her ways in various situations and had been a form of therapy for her emotional and dysfunctional familial experiences from her past.
"When I met my @tamarbraxton 12 months ago she was angry, distraught and almost-completely broken. She'd lost her family, her friends, her job and was estranged from her mom and sisters who she loves so much. While her behavior was a significant cause of these misfortunes, it took me a while to recognize that there were other equally valid causes– finally culminating in the continuing psychological damage brought on by working on a TV show she feels utterly shackled to due to contract terms.
"This is what I inherited so I had a choice: to continue the emotional and psychological abuse she had endured for almost three decades by being aggressively controlling and manipulative or to be a kind, gentle and loving friend and lover to the woman I love. Well I chose the latter, and the results have been outstanding! (s)"
Adefeso goes on to say other black men should consider loving their women through their issues as opposed to bailing on them at the first sign of irritation.  "So gentlemen, we do not abandon our sistas when things get tough, and especially when they need us the most. We love them through it, we support them through it and we protect them through it! #blackmenstandupforblackwomen"
Right before Adefeso's post, Braxton issued a public apology to her former "The Real" co-hosts as well as any family members or fans she'd offended in the past.
What do you think? Was Adefeso's love enough to change Tamar's attitude?
See Adefeso's entire post below: