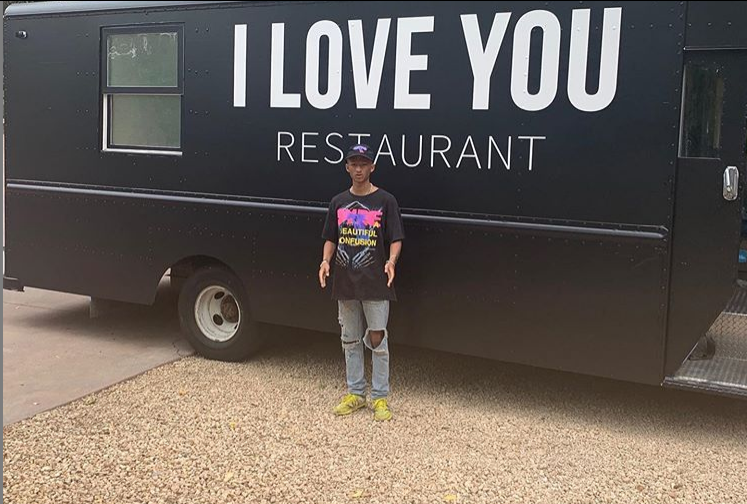 Jaden Smith is taking philanthropy to the next level.
Months after using his company to help to provide clean water for the beleaguered citizens in Flint, Michigan, the eldest child of Will Smith and Jada Pinkett Smith is paying it forward again by providing free vegan meals to the homeless.
On Monday, July 8, 2019, the 21-year-old rapper, actor and activist launched a pop-up food truck called "I Love You Restaurant" in downtown Los Angeles that gives the homeless "healthy, vegan food for free," according to a series of posts on Smith's Instagram page.
The Pursuit of Happyness and Karate Kid actor vows that the "I Love You Restaurant" is the first of many pop-up food trucks.
"I Love You Restaurant is a movement that is all about giving people what they deserve, healthy, vegan food for free," Smit captioned the photo. "Today we launched our first one-day food truck pop-up in Downtown L.A."
https://www.instagram.com/p/BzopIZ4AcML/?utm_source=ig_embed
Smith also posted a short video on his Instagram page of volunteers handing out paper bags of food to the homeless in Skid Row in downtown LA, one of the largest and most notorious homeless populations in the country.
https://www.instagram.com/p/BzopDsuAFS4/
Many celebrities were floored by Smith's humanitarian gesture.
"This is so dope. I love what you are doing, man," said superstar comedian Kevin Hart in the IG comments section, while "Empire" actress Taraji P. Henson added in all caps: "PROUD OF YOU, YOUNG MAN!!!!!"
"WOW. ICON ENERGY," sultry singer SZA said, as Nick Cannon left praying hands and power fist emojis. Swizz Beatz, who is married to singer Alicia Keys, also praised Smith.
Singer Jordin Sparks added, "This is amazing. Blessings upon blessings to you."
Rapper YG dropped four fire emojis, Kid Ink dropped two, and Lala Anthony wrote, "Amazing!!!!" Kehlani noted: "Bless you [for real]."
Travis Barker left a clapping hands emoji. Sofia Richie did, too, adding, "This is awesome!" And Juicy J called the mission "dope," noting, "I would like to be [a part] of this."
Philanthropy and love of the community are in Smith's DNA. Just last week, Smith joined actor Shia LaBeouf's charity fundraiser for his theater school, Slauson Rec., a free-of-charge performing arts program for anyone who wants to practice and pursue the arts.