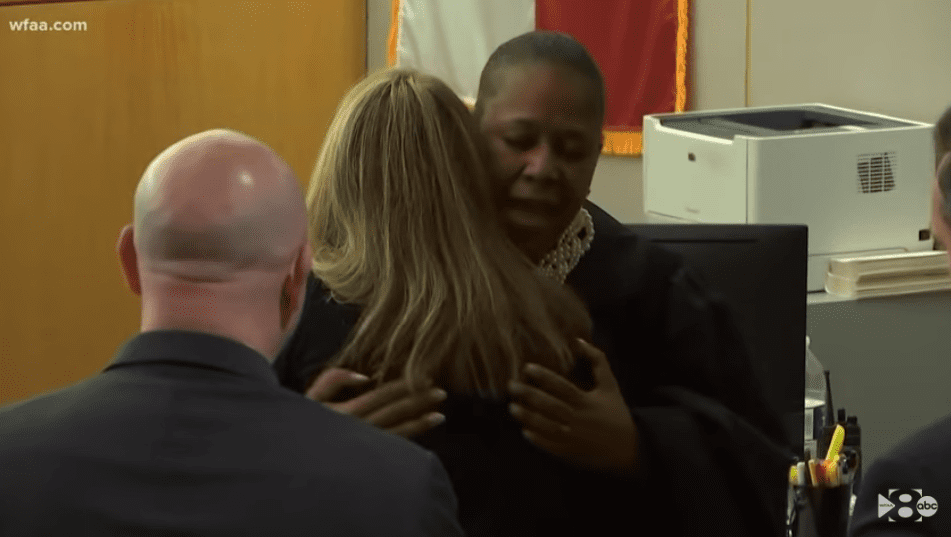 An angry rumbling within the Black community began soon after former Dallas, Texas, police officer and convicted murderer Amber Guyger was sentenced on Wednesday, Oct. 2, 2019, to 10 years in prison for killing her neighbor Botham Jean. The collective rage was directed at the principle Black people involved in the Guyger trial, which can probably be summarized most succinctly in this sizzling tweet from Bishop Talbert Swan:
When a Black bailiff combs Amber Guyger's hair, Black judge hugs her, and the victim's Black brother declares forgiveness, it satisfies the demand that Blacks suffer phlegmatically so our pain neither offends wypipo's sensibilities nor sparks their guilt or fragility.

Disgusting pic.twitter.com/2QVhMAcc7O

— Bishop Talbert Swan (@TalbertSwan) October 3, 2019
Many Black observers registered repulsion and repugnance at a judge in the case, who hugged and gave a Bible to Guyger. One Twitter responder even went so far as to refer to Judge Tammy Kemp derisively as "Judge Mammy Tammy."
This followed the Black bailiff setting off emotional fireworks for tending to the tresses of the convicted killer — a White woman who admits she hates Black people.
Guyger was not handcuffed, they said, so why didn't she comb her own hair? After all, Guyger never expressed contrition for her venomous diatribe about Black people in her texts and social media posts. The judge had not allowed Guyger's text messages into evidence during the trial for fear of prejudicing the court, but they were admitted on Wednesday, Oct. 2, during the sentencing phase of her case.
Others on social media, such as Shannon Sharpe, could not perform the mental acrobatics to bend their minds around the fact that Black people are expected to always gift forgiveness on people who rarely, if ever, collectively reciprocate those emotions.
What are the chances Botham Jean would have received 10 yrs for murdering Amber Guyger after entering her apt illegally? What are the chances some of her family would hug him as his family hugged her? Blk ppl are always expected to be compassionate but rarely receive compassion

— shannon sharpe (@ShannonSharpe) October 2, 2019
One local Dallas reporter, who is White, said he had "never seen anything like that in 20 years of covering courts."
Most of all, however, some legal experts insisted that Kemp acted outside the boundaries of her judicial position.
According to The Washington Post, several legal experts deemed the hug was "not only rare but inappropriate." Kenneth Williams, a professor at the South Texas College of Law in Houston and a 30-year legal veteran, told the Post that the judge "has indicated an affinity or sympathy for the defendant."
NAACP legal defense and educational president Sherrilyn Ifill wrote to the Post, "A judge is not an average citizen. She is not the victim. She is not the prosecution (technically 'the people'). She must, especially in a case that arouses passion and conflict like this one, stand for impartial justice. She may speak words from the bench. This is too much."
Kemp hugging Guyger was "unorthodox, inappropriate and wrong," attorney and MSNBC legal analyst Midwin Charles wrote on Twitter.
Click here to check out the video of the judge hugging Guyger and the blistering reactions from Twitter: