Why Kim Kardashian is begging Texas gov not to execute Rodney Reed
After about a decade of being at the epicenter of pop culture as the queen of reality TV, Kim Kardashian West has finally found her raison d'être: freeing the wrongfully convicted from life imprisonment and death sentences.
Kardashian, 38, is on a mission to stave off the execution of a Texas death row inmate, Rodney Reed, who is due to be executed in November.
The reality-star-turned-criminal-justice-reform-advocate, Kardashian West recently emerged from watching Just Mercy an emotional wreck. The film is based on the memoir of attorney and social justice activist, Bryan Stevenson, who has exhaustedly been appealing the wrongful conviction of another man, Walter McMillian, who had been serving time for murder.
Reed has spent 21 years on death row after being convicted in the 1996 rape, strangulation and murder of Stacey Stites in Bastrop, Texas, about a 30-minute drive southeast of the capital city of Austin.
I just saw the movie Just Mercy, the film about Bryan Stevenson's book starring Jamie Foxx & Michael B Jordan. wow I cried!!! I know it doesn't come out until January but you all have to see this!!! It's a true glimpse into the injustice that still happens today.

— Kim Kardashian West (@KimKardashian) October 19, 2019
Kardashian said watching the searing film, starring Jamie Foxx and Michael B. Jordan, reignited the flame she has for Reed's case.
After watching the movie I opened up my computer & opened up my email about a case I had recently been investigating, @FreeRodneyReed. I have been hearing about him and his story for the last week. On Nov. 20, Texas will execute Rodney Reed. I believe he is innocent.

— Kim Kardashian West (@KimKardashian) October 19, 2019
Kardashian made a public appeal to Gov. Greg Abbott to provide another reprieve for Reed through her Twitter platform which boasts 62 million followers.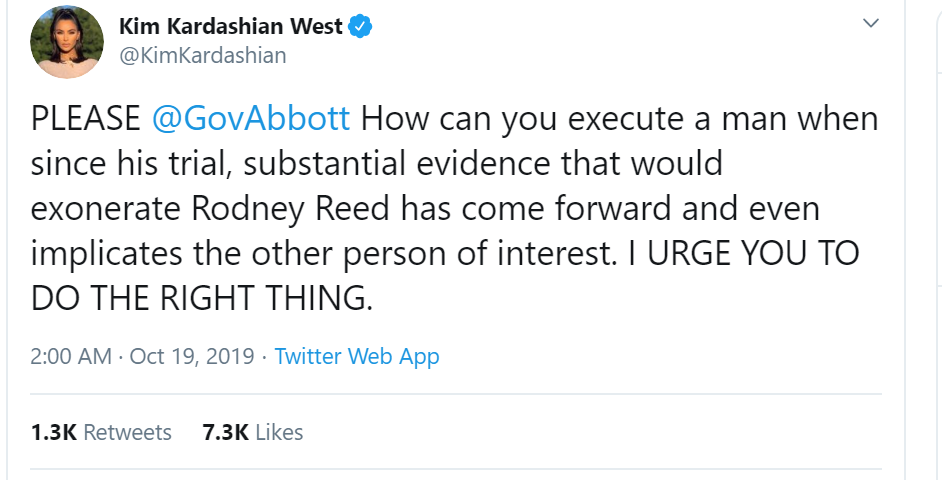 Kardashian is now joining forces, even if merely symbolically, with a team of justice advocates who have not only resolutely stated Reed's innocence, but believe Stite's former fiance, a White police officer, should be listed as a suspect.
#RodneyReed is an innocent man awaiting execution in Texas on November 20th, 2019. The world knows he is innocent & its time to use our collective voices to let @GregAbbott_TX hear that. Please call: 512-463-2000 & tell him to STOP the execution of Rodney Reed. @FreeRodneyReed pic.twitter.com/UOVFmbRuro

— NCADP (@ncadp) October 10, 2019
— Kim Kardashian West (@KimKardashian) October 19, 2019
#RodneyReed, who maintains his innocence, has been on death row for the past 21 years for the murder of Stacey Stites in Bastrop, Texas. Since his trial, there is substantial evidence that exonerates Reed and implicates Stites' fiancé. https://t.co/L9FyjlJ102

— Innocence Project (@innocence) October 12, 2019