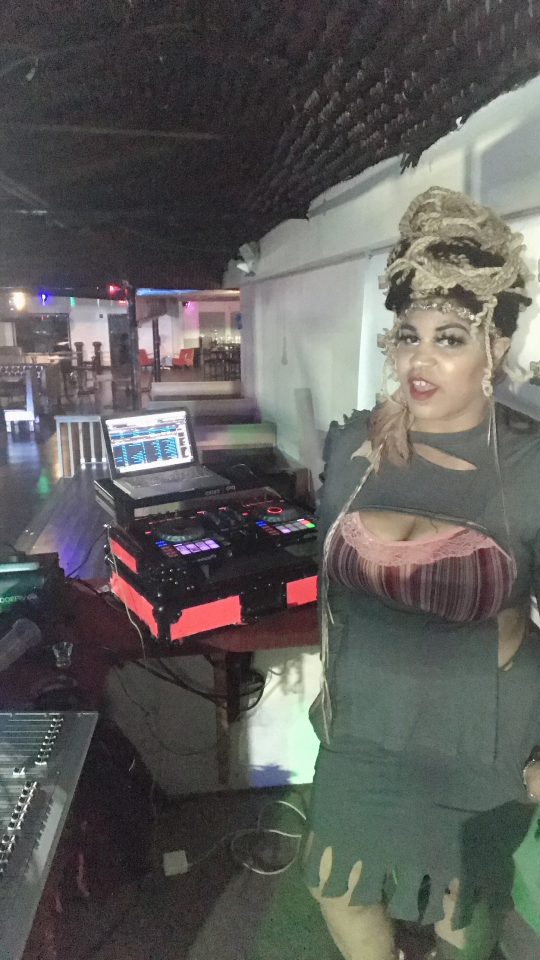 DJ Sixx
Name: Angie Fugett
Current city: Atlanta
Style/Genre: Depends on the venue/mostly urban
Current venue: The Office Gentlemen's Club
DJ Sixx started blazing her own trail in Atlanta as a popular live venue DJ and the only female DJ to spin music in adult entertainment clubs.
Rolling out recently caught up with DJ Sixx to learn how she got into the DJ business.
How did you come up with your DJ name?
I got the name DJ Sixx because of my height (6 feet). I've been this tall since fifth or sixth grade.
When did you start DJing?
When I parted ways with an independent record label I was signed with, my first job was with a company called Untapped Talent as a KJ – karaoke jockey. In between singing, I would DJ to keep the crowd interested. I gained a following being known for turning up.  I  met DJ KBass who works in strip clubs. He let me play during his set so I could get the feel for working a crowd. Searching Craigslist for places looking for female DJs, I landed my first official DJ job at Club Wax.
What's your process for selecting a song to play during your sets or at a gig?
I read the crowd and determine what I feel they would respond to and build from there. No one auto-set will please every crowd and every club is different. I create the perfect club experience by reading the crowd and getting a response.
What DJ do you admire for making an influence on the DJ culture?
I really felt I was official when DJ Jelly came into Club Wax while I was spinning. I was a little nervous and I said, "I know I probably don't do this like you do," and he said, "You're doing your thing though, you're good." I realized then I had my own style.
In what location are you currently spinning?
The Office Gentlemen's Club.
What makes the experience at The Office Gentlemen's Club special?
The club is special because of the people that come to drink and get dances. Most of the music played is urban, but we do get into reggae, African and even pop.
What type of equipment do you use?
My DJ setup consists of a MacBook Pro and a Pioneer-DDJ-SR2 in a hot pink box I painted myself.
Music for Special Occasions
Exercising: Fast music, usually rap.
Reading: No music. I will retain nothing.
Start my day: My music.
Weddings: Bride and groom's choice; couples are very specific on their wedding day.
Best in the city:
To eat: Mama's Restaurant, Fox Bros BBQ, Yacht Club
To drink cocktails: Yardhouse
Favorite drink: Tequilla and margaritas
Top city venues and spaces to listen to good music: MJQ
Best late-night breakfast spot in the city: Dwarf House in Hapeville and Majestic
Social media handles:
@SixxStarEnt and @1Sixx on Instagram; @SixxStarEnt on Twitter.